Elvis Presley Movies

1957 Jailhouse Rock Movie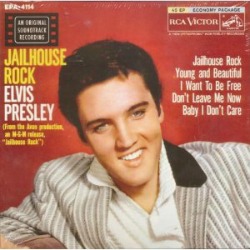 Elvis Presley Movies made in 1957 were "Loving You" and the Jailhouse Rock Movie.
These two and the 1958 "King Creole" have always been my favorites.
If you ever wondered why Elvis was so popular, watch this movie. He defines cool.
Critics often down played Elvis' acting but he is nothing less than superb in this film. It really shows how gifted an actor he really was.
I could really care less what the Hollywood critics had to say about Elvis back then - and even today. They're always throwing cheap shots at Elvis' acting abilities.
But Hal Wallis, the producer on nine of Elvis' movies, including "Loving You" and "King Creole" said it best -
"An Elvis Presley picture is the only sure thing in Hollywood" - Hal B. Wallis.
Sadly the memory of his many talents are often clouded over by the goofy so called top impressionists, and those silly trinkets some try to pass off as collectibles.
Elvis Presley Movies - Cool One liner's.
The Elvis Presley Jailhouse Rock lyrics are pretty cool but the part where Elvis and his co-star, Judy Tyler, were involved in a kissing scene was one of his best lines in the movie.
She mentioned "Cheap tactics" after an unwanted kiss and Elvis simply replied....
"That ain't tactics honey...That's just the beast in me."
Elvis' acting skills in this movie are on full display and the range of emotions he goes through from a happy-go-lucky laborer to a hardened ex-con was pretty amazing.
And the musical performances by Elvis are simply outstanding. The "Jailhouse Rock" number is one of the best choreographed and filmed dances ever and drew high approval from one of the movie industries best dancers. Read the facts below.

Elvis Presley Movies - A few cool facts about the Jailhouse Rock movie.
The dance sequence, choreographed by Alex Romero, drew applause from Gene Kelly, who just so happened to be visiting the set.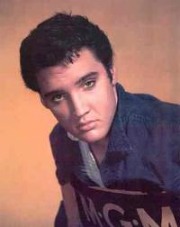 AFI's list of the top 100 songs in American cinema has "Jailhouse Rock" listed at number twenty-one.
Elvis's band in the film is his real-life band including Scottie Moore on electric guitar and Bill Black on stand-up bass. Both have been with Elvis since his beginnings in Memphis at Sun Records.
Jerry Leiber and Mike Stoller wrote 4 songs ('Jailhouse Rock', 'I Want to Be Free', ' Treat Me Nice', and 'You're So Square') in 5 hours after their music publisher, under deadline, locked them in their hotel room.
Leading lady Judy Tyler never saw the premiere of this movie because she died in a car wreck July 4th, 1957, three days after filming was completed.
Elvis refused to watch this movie because of Judy Tyler's tragic accidental death.
---
A favorite Patriotic movie from 1942 - Yankee Doodle Dandy!

Return to Classic Old Movies Main Page

Elvis enjoys Blue Christmas with Martina McBride

Return Home from this Elvis Presley Movies page