Connie Francis Biography

Favorite Songs & Vinyl Record Memories
---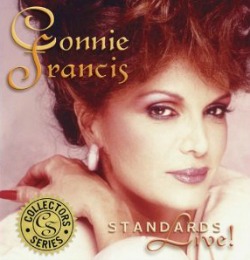 This Connie Francis Biography includes songs, lyrics and videos from the top-charting female vocalist of the 1950s and 1960s.
When we were young there were always some women we dreamed about. They excited our imaginations, inspired us and certainly entertained us. For me, Connie Francis was that lady.
Of all the singers that I listened to when I was young, she was the most beautiful singer with the most beautiful voice.
---
Connie Francis Biography
Favorite female singers.
---
Connie's songs were the one's you wanted to hear on the radio. She has recorded in several different languages, including Spanish, Italian, German and Japanese.
Patsy Cline is my favorite female country singer and Connie Francis is my favorite female pop singer.
There are many talented female singers today but Patsy Cline and Connie Francis set the standard for everyone else. However, I should not leave out Vikki Carr.
She sings in Spanish like no other and her emotion in a song is beyond compare so I have also included a special page for her on this site.
There are few singers who really sing with their heart and mean it. Connie Francis' "Don't Break the Heart That Loves You" is a perfect example but she has many others as well.
These three ladies sing with their heart and they are my very favorite female singers.
What did Connie consider her biggest mistake?
---
Early in her career, Connie was introduced to Bobby Darin. Darin was just starting out in the business and his manager arranged for him to write some songs for her.
After several weeks Bobby and Connie developed a relationship but her strict Italian father would separate the couple whenever possible.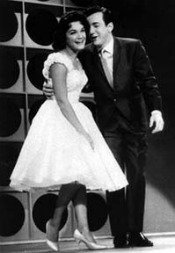 Bobby suggested that he and Connie elope after one of her shows. When her father found out he ran Darin out of the building at gunpoint.

He told Bobby never to see his daughter again. Connie would only see Bobby two more times. She later learned of Bobby's marriage to Sandra Dee while driving into the Lincoln Tunnel with her father when a radio DJ announced the marriage.
After her father made a negative comment about Bobby being out of their lives, she wrote in her autobiography that at that moment she hoped the Hudson River would fill the Lincoln Tunnel and Kill both her and her father.
She later wrote that not marrying Bobby was the biggest mistake of her life.
---
From 5 Star to International Superstar.
---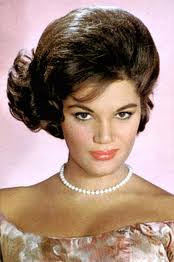 Connie Francis was the first artist to regularly record in other languages. In the 1960s her songs were so successful in other countries she was voted the #1 singer in ten countries.
Her popularity outside of the United States has helped maintain her career. Over the years she has recorded in fifteen different languages.
In 1960, she was named the most popular artist in Europe, the first time a non-European received this honor.
Connie Francis was the first female artist to score a No. 1 Billboard Adult Contemporary single with "Together," and topped the same chart the following year with my favorite Connie Francis song "Don't Break the Heart That Loves You."
Her first hit song "Who's Sorry Now?" was named one of the Songs of the Century. Connie Francis, the first female pop star worldwide, was inducted into the Hit Parade Hall of Fame in December 2007, a charter first-ballot member...but has yet to be inducted into the Rock-n-Roll Hall of Fame.
How ridiculous is that?
There are groups and individuals in the Rock and Roll Hall of fame that have done no where near what Connie has done for the music industry.  Are you kidding me with Rap groups in the Rock-n-Roll Hall of Fame. 
Connie Francis is a "real" American "icon", yet in other countries she appears to be more respected.  Pitiful...Shame on us.
---
---
Ever thought of having your own website? I built Vinyl Record Memories "from scratch" with SoloBuildIt! Click below to find out more....