Rockabilly Vinyl Record Memories

Scotty Moore & Eric Clapton
A Tribute to the King.

---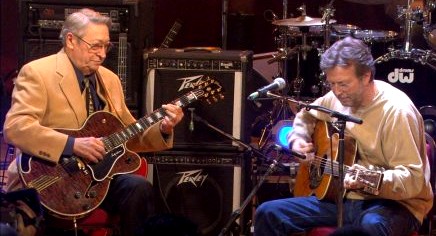 They called it Rockabilly before they called it Rock and Roll. The 1950s rockabilly vinyl record memories began as a spontaneous outburst of spirited three-chord songs, tiny record labels, primitive studios, fiercely partisan audiences and wild-eyed, driven performers who weren't even sure that their musical careers would last the week.

The "rebellious youth music" we know as rockabilly was born in the '50s, from 1955-1959, and enjoyed a great revival in the '80s and '90s. Pioneers like Gene Vincent, Elvis Presley, Jerry Lee Lewis, Carl Perkins and Eddie Cochran, to the next generation of stars like Link Wray, Dave Edmunds, The Stray Cats and BR5-49, to the unlikely artists who have been influenced by rockabilly, including Conway Twitty and The Beatles.

Rockabilly had its roots in country, blues, folk, hillbilly, R&B, boogie-woogie and most other indigenous Deep South forms of popular song that you could strum three chords along to or howl down a cheap microphone.

Today, rockabilly is better than ever, spreading around the globe from Europe to Japan, and others playing the music and living the life from Memphis to Helsinki to Tokyo.

There's still good rockin' tonight!

---
"…Struggling Southern boys with ten dollar guitars and stars in their eyes, combining what they heard on hillbilly radio stations with what they heard on black rhythm and blues stations with what they heard colored folks singing in the cotton fields and then throwing in a gut-wrenching gospel feel they got when they went to church and heard their fire and brimstone preachers screaming and shouting about salvation…" (Bill Poore, Rockabilly: A Forty-Year Story)


---
Great Rockabilly Songs of the past are still with us today. Listen to these two guitar legends, Scotty Moore and Eric Clapton and their Rockabilly vinyl record memories tribute to Elvis.

It was December 2004 and London's famous Abbey Road Studios played host to a stellar line-up of legendary guitar gods. This was a special tribute concert in honor of The King, with musical direction from his first guitarist, first manager and life-long friend, Scotty Moore.

In this Abbey Road Tribute Eric played with Scotty on three original Elvis Presley Rockabilly Songs..."That's All Right," "Mystery Train," and "Money Honey." making this small group format with Scotty simply "priceless."

Eric Clapton seems so relaxed and thoroughly enjoying the whole experience and Scotty Moore looks right at home.

---
Rockabilly Vinyl Record Memories.
Clapton's reaction...breathtaking stuff!!
---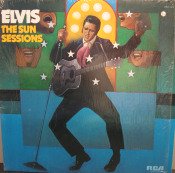 Clapton said it himself in the bonus interviews that he could hardly believe he was singing Elvis tunes, strumming an acoustic guitar like Elvis did and Scotty Moore was playing nearly note for note his original parts.... breathtaking stuff!!

Carl Perkins and Scotty Moore are national treasures, and it's odd that both had to go to England to be respected properly for their Rockabilly music.   

Two of those videos with Scotty and Eric are here for you to enjoy.

The first video below lets you see how talented Scotty Moore remains, fifty years after the release of that first song. Enjoy the first video and continue with the Scotty and Elvis tribute story below.

The object of this session was to invite many of England's rock performers and Scotty's friends that had been inspired by the music he had recorded with Elvis. 

---
Where would Scotty's career have gone without Elvis?
---
On the other hand, do you believe Elvis' success in the beginning was also due to those special Gibson hollow-body guitar licks by Scotty Moore? 
Guitar licks that re-ignited the Rockabilly world. 
We'll never know...but I do believe it actually took Scotty, Elvis and Bill Black on bass, to jump start the career of the most successful entertainer of all time.  Just my opinion. 

Next up, a fantastic session with Scotty and Eric performing Mystery Train in perfect "Sun Records" style.
Scotty Moore played lead guitar on Elvis's very first Sun Recording. On July 7th, 1954 an Elvis Presley record was put on the air for the very first time.
That record was "That's All Right" and was released on July 19th, just two weeks after it was recorded. And we all know what happened next...

Rolling Stones Guitarist and founding member Keith Richards said, "Everyone else wanted to be Elvis, I wanted to be Scotty."

---
Go to the Elvis Presley Home Page

Return Home from Rockabilly Songs

---