Elvis Guitar Classics

Featuring the 1968 Comeback Special.
---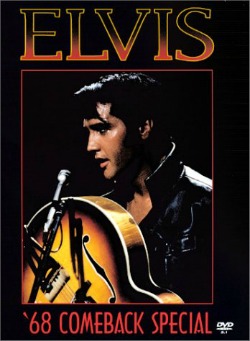 Highlighted in this 1968 TV Special are several Elvis Guitar Classics from his early days at Sun records. 
Songs are performed in a one of a kind setting showcasing the very best of Elvis' brilliant career. 

Five years before he achieved broadcast history with his legendary 1973 global "Aloha" satellite telecast, Elvis took the stage in what would become a high point of the King's career and a milestone of televised musical performances.

Backed against the wall of irrelevance Presley managed to redefine his image and forever claim his spot in rock history with a single hour of television. 

Many believed Elvis felt threatened that his career was in decline,  but those close to him believed the King sought nothing less than to reclaim his throne.

From the show's opening shot, a close-up of Presley snarling his way through the first few lines of the blues scorcher 'Trouble,' the '68 Comeback Special demands attention.  

Five decades later, what has since become known as Elvis' '68 Comeback Special looms as the Memphis icon's most substantial achievement as a stage performer.  

---
Looking fit and relaxed, and dressed in black leather, he covers a shrewd song list encompassing early rockabilly hits, including two of my favorites here.  
Elvis is in rocking form, tearing up the stage with fabulous performances.

You'd be surprised how good he really was on the guitar.
---
The man who re-created the 50s Elvis image.
In a move slated to recapture the raw Elvis of the 1950s, Producer/Director Steve Binder reunited the star with Scotty Moore and DJ Fontana. Bassist Bill Black had died in 1965.
Elvis performed informal sessions in front of a live studio audience, where he could re-create his rebel image wearing a black leather outfit.  
Binder also brought in Presley's friends Alan Fortas, Lance LeGault and Charlie Hodge to encourage Presley and make him feel at ease.
---
A history making sit-down Jam Session.
Presley responded and was is in rare form throughout, attacking his early rock hits with abandon and dialing back to heartthrob mode for ballads like 'Love Me Tender' and 'Can't Help Falling in Love.'
The Jam session was exciting and explodes with raw talent. And despite his guitar skills being a revelation, it's how he attacks the music with so much energy and is what really makes the '68 music special so historically important.

---
Elvis guitar classics - "Baby What You Want Me to Do." 
Presley sings many of the songs he was famous for including: "That's All Right", "Heartbreak Hotel", "One Night", "Love Me Tender", and "Blue Christmas." 
He also reprises Jimmy Reed's "Baby What You Want Me to Do"  and includes another Elvis Guitar Classic "Tryin' To Get To You" a lesser known, but with some exciting guitar playing by the king. 
This 1968 "Elvis" special finds the most significant figure in rock history at his very best and staking his claim as one of the greatest performers of all time.

---
Elvis Guitar Classics - Some interesting history about Elvis' Guitar.
With guitar in hand,  Elvis appears relaxed on stage. It just seems so natural to him.  Pay particular attention as Elvis sings and looks at the audience and backup musicians as he plays.
Nearly all guitar players are constantly looking down at the guitar and watching their fingers while playing. Not Elvis.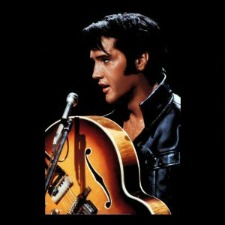 He just gets absolutely lost in the sounds he's making, reflecting in what Scotty Moore once called "nervous energy."  

The guitar Elvis is shown playing is a sunburst Gibson Super 400 CES, the electrified version of the big-bodied acoustic beauty that Gibson first began producing in 1934.
Scotty Moore's original Gibson Super CES can be heard on the Jailhouse Rock and King Creole recordings, the albums that accompanied two of Elvis' best films.

In 1964 Moore got a second Super 400 CES that he played on the '68 Comeback TV special, where Moore briefly swapped the guitar for Elvis' Gibson J-200 acoustic for a handful of songs when Elvis played electric. 

That is the guitar you see Elvis playing on these two songs and also on the Blue Christmas song.

Musicians on stage for the '68 Comeback Special.
The role of each musician at the two sit-down performances was:
Elvis Presley: vocals, guitars (acoustic and electric - He and Scotty Moore use the same ones and swap them)

Scotty Moore: guitars (acoustic and electric)

D. J. Fontana: drumming, using a guitar case

Alan Fortas: guitar back-slapping, occasional vocals

Charlie Hodge: acoustic guitar, occasional vocals

Lance LeGault: guitar back-slapping, tambourine
Elvis did some great things after this special, but nothing that captures the raw power of his performances on this '68 Comeback Special.
---
Return Home from Elvis Guitar Classics.