Gene Vincent Vinyl Record Memories.

Be-Bopa-A-Lula Rockabilly Classic!
---
Finally, one of our favorites. The Gene Vincent vinyl record memories return to the mid-50s when this cool cat arrived on the scene with his Rockabilly classic, Be-Bop-A-Lula.
Recorded in Nashville on May 4th, 1956, "Woman Love" was actually the a-side to Be-Bob-a-Lula. "Suggestive" lyrics caused DJs to flip it over, not realizing they were now promoting a song originally written about a stripper.
Gene Vincent, born in Virginia in 1935, has become an immortal rockabilly idol on both sides of the Atlantic. He belongs to the elite circle of the greatest and most influential musicians of his era.
His appearance in the film "The Girl Can't Help It" (see photo and video below) made him known beyond the hard core of rockabilly fans to a wider audience.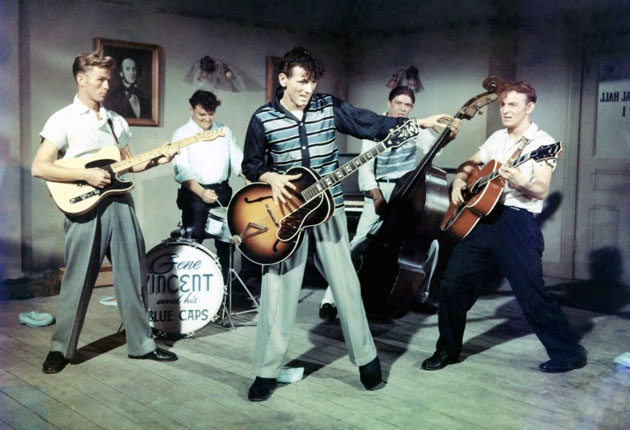 Elivs' Bassist Thought It Was Elvis Singing.

Gene Vincent was considered by many to be Rockabilly's greatest vocalist and provided one of the most impressive stage shows in the early years of rock. His backing band the Blue Caps, particularly lead guitarist Cliff Gallup, was a major influence on rockabilly and its descendants.
These boys were way ahead of the curve. Drums and electric bass; long hair, screaming-serious talent. He was the first rock star to wear a leather outfit.
After hearing "Be-Bop-A-Lula," Elvis' bassist, Bill Black, accused the King of making the record in secret. If you listen to the song a few times you can hear similarities.
Gene Vincent and His Blue Caps had only five charted hits from 1956 through 1958, but he and the Caps simply rocked too hard for radio. It was those legendary '56 sides, however, that kept Vincent viable as a performing artist, both here and in Europe where he was instrumental in establishing the rock craze in England.

It was also in England where Vincent was injured in a car accident while traveling with his friend and rockabilly buddy, Eddie Cochran. Cochran died in the accident over sixty years ago in 1960. He was just 21 at the time.

A Rockabilly Icon With A Sad Ending.
---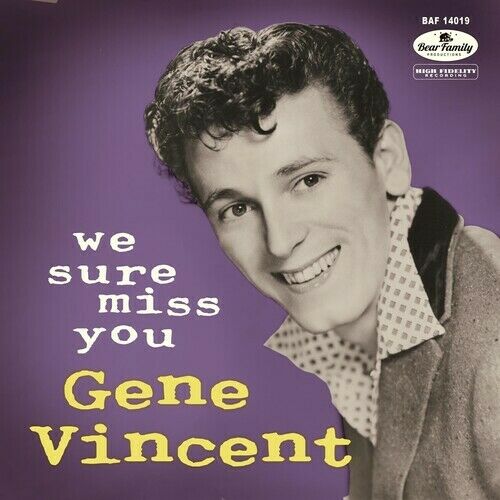 Gene Vincent was a lot more than Be-Bop-A-Lula. His music was unforgettable and widely collected today. By the late Sixties, Gene had fallen victim to changing times, financial mismanagement and his own worsening addiction to alcohol.
In October 1971, a sick Vincent went on a three-day bender that ruptured existing stomach ulcers and he died soon after. He was 36. Posthumously, he was inducted into the Rock 'n' Roll Hall of Fame and the Rockabilly Hall of Fame. With his death, the music world lost one of the great stars of his era.
Half a century has passed since his death, but his fans still worship him like an ambassador from the Olympus of Rock & Roll. Enjoy this classic Be-Bob-A-Lula clip with Jayne Mansfield, from the 1956 movie, "The Girl Can't Help It."
Gene Vincent Vinyl Record Memories.

(Gene Vincent Fans - Are You Ready For This?)
 I was at a garage sale this past week on July 27th, 2023 and noticed a couple of boxes of vinyl records. Other than vinyl records purchased new in the 50s, and beyond, most of my finds are from private individuals or estate sales, so this find was certainly an exception.

---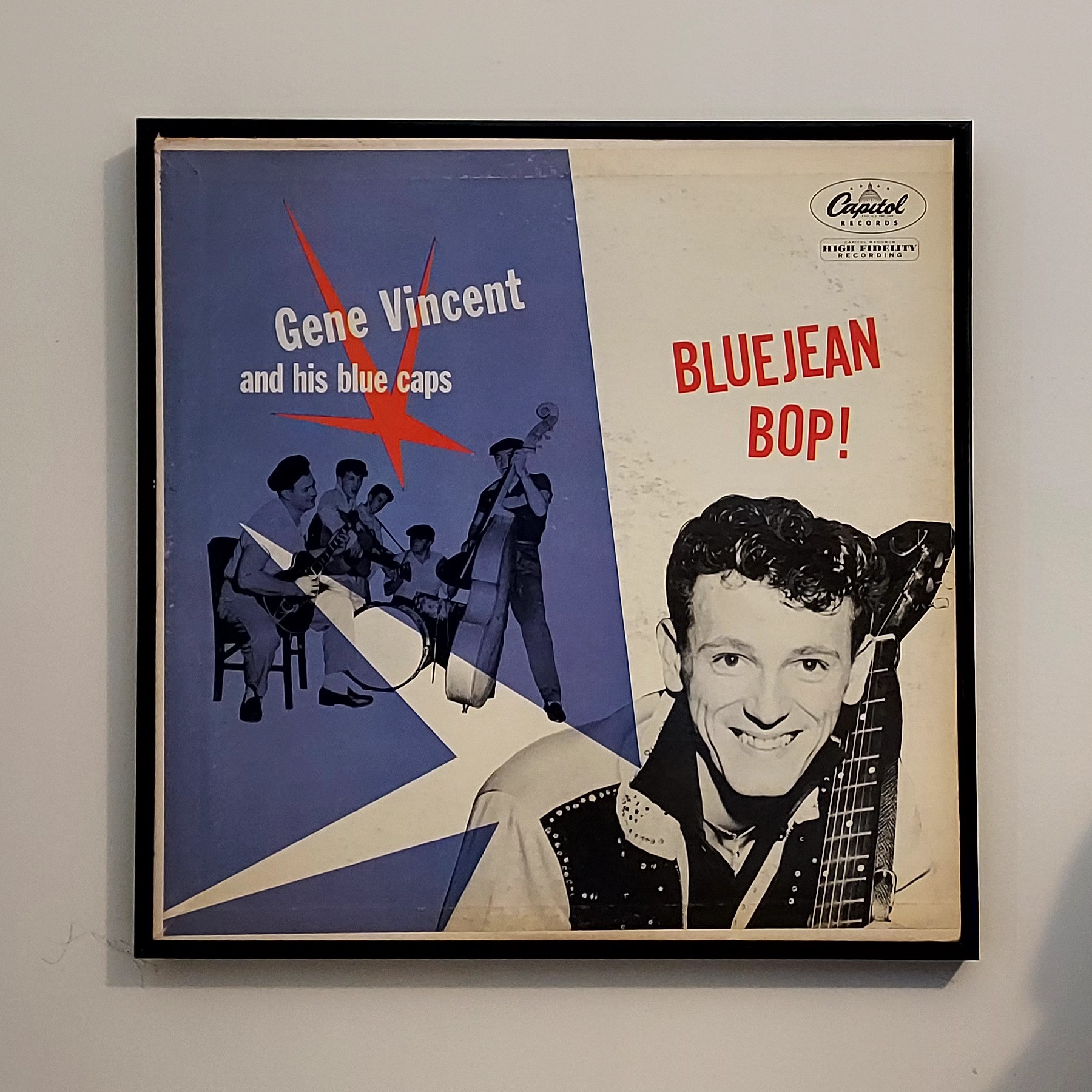 Like with most garage sales, some records were laying flat on a table, and some were in boxes nearly stuck together.
I took a casual look as most were in very poor condition but noticed one had no split seams across the top so I pulled it out for a closer look. (I nearly passed out as I pulled it from the box). It was an original Gene Vincent 1956 LP album in very good condition. Not mint, not excellent but a very nice clean album. 

No split seams, no writing on the album and the vinyl record inside the album cover was also in good condition. There are reissues of this album on the market, this one is an original.  A quick check on a popular record site listed this album at a median price of $30.00 and high of nearly $200.00.
I tried to get it for a couple of bucks (you have to ask) but the lady insisted on the $3.00 price. I would have paid ten but I had to try for the two bucks. People at garage sales and have these vinyl records have no idea of their value. And 99.9% of garage sale records are in very poor condition. Most claim "they're are coming back, they're collectibles."

I Got Lucky. Don't know how this original Gene Vincent album survived. I got it home, cleaned up the vinyl record, added a new paper sleeve insert, and framed it to hang on my hobby room wall as you can see in the photo above titled "Blue Jean Bop." Click on the photo for larger view.

I also have a few Gene Vincent 45 rpm vinyl records I purchased new. Lotta Lovin' and the original 45, Be-Bop-A-Lula are still in my collection over 60 years later.

---
Classic Original Gene Vincent Second Album.
(A buyer beware side note)
---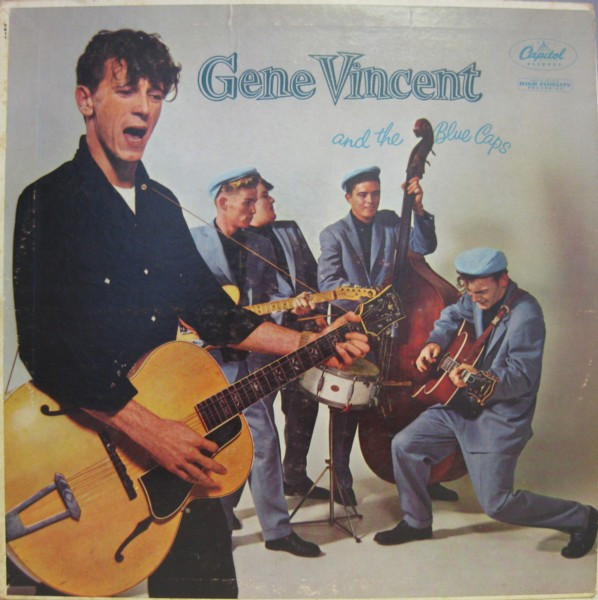 Here is an example of Gene Vincent's second album listed for sale for $114.99 on an online vinyl record site and the listed condition of the album. This is exactly how the ad was written.
Title: Gene Vincent And The Blue Caps - Self-Titled - Capitol Records T-811 - 1957 - Original Release - Scranton Pressing - VERY RARE EARLY ROCKABILLY!
** JACKET INFO CONTINUED: All seams have been VERY NEATLY clear taped (by us) to preserve this GEM. There was a split middle bottom 2" and a split from top opening 2" and some other small spots on top edge. Spine taped only for preservation and is still readable and clean (catalog number at bottom has been worn off a bit). "BOB" had to put his name on it under Gene's name on front. Light ring wear.
If the owner is able to get his price good for him. Who am I to judge. If someone is willing to pay $115.00 for an album in this condition they can purchase my three dollar garage sale album for twice that. And that might be a bargain.

---
Ever thought of having your own website? I built Vinyl Record Memories "from scratch" with SoloBuildIt! Click below to find out more....

---
Looking for that special song, artist, or group on this site?

Top of Page