Girl Group Vinyl Memories

Favorite Girl Groups &
Songs of the '50s & '60s

---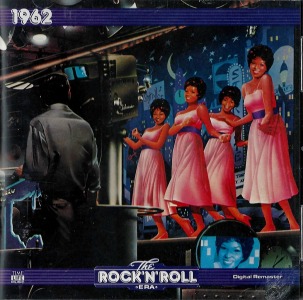 Tucked between the early street corner Doo Wop groups and the mid-60s British invasion was the phenomenon we now refer to as our Girl Group Vinyl Memories.

With names like the Teen Queens, Chantels, the Ronettes, Shangri-Las, Shirelles, and The Crystals, they offered vocal harmonies that was eagerly embraced by a wide audience. 

Starting in 1958, all-Girl Groups became more visible and started to hit the charts with regularity.  A great beginning for all the girl groups that would provide future hits and respect from the all boy groups.

---
Girl Group Vinyl Memories.
A Video Tribute to 60s Girl Groups.
Dressed in pink prom dresses and behive hairdos, three ladies from the present return to those fabulous girl group vinyl memories and pay tribute to the 60s girl-group pop. 
Take time to smile a little and watch Carrie Underwood, Kristin Chenoweth, and Christina Applegate in a 60s medley from 2009 All-Star Special.

Continue below for more content and videos.

Girl Group Records Addressed Themes of
Special Importance To Teenage Girls.
---
It marked the first time a music was centered around adolescent girls, with lyrics that were mostly innocent and naive – of the "girl–dealing-with-boy" variety. 
This was an exciting era where teenagers were becoming a significant group and the girl group sound and style would occupy a prominent position, emerging in 1956 and dominating the pop charts from 1960 to 1963.

Most girl  singers really were girls, with ages ranging from early teens to eighteen in the most popular groups.
---
Song Lyrics Were Centered Around That Perfect Guy.

Most of their songs, from the Dixie Cups' "Chapel of Love" to the Angels' "My Boyfriend's Back" and the Chiffons "He's So Fine," focused on the males in their lives and the promise of a satisfying relationship with that perfect guy.
As countless broken-hearted teenage girls cried into their pillows, the "Chantels" delivered an exciting sound in 1958, the year the song "Maybe" rose to #15 on the pop charts, and #2 on the R&B charts.
The song would set the standard for many other harmony groups.

The "Chantels" deeply romantic and melancholy declarations of unrequited love, resembled in some ways, the sweet voiced sounds of the urban black teenage boys singing street corner doo-wop under the lights.  

Songwriters and record producers took notice that something new was in play. A female voice was emerging despite all the talented male groups and singers.

The era of the male Doo Wop was not fading, however,  the "girls" were definitely moving the spotlight with more girl group vinyl memories.

---
Female Songwriters Were Co-writing Hit Songs
For All Girl Singers.
A number of Girl Group hit songs were co-written by female songwriters, including Carole King and Ellie Greenwich. Rock and Roll had a new female sound that was producing a string of hits.
If, up to that point, male voices and male songwriters dominated the popular music scene, things were changing.
Studio Session Players - A Big Reason Songs Become Hits.
---
I have long been a big fan of Session players (studio musicians).   Most notable was a group of session players known as The Wrecking Crew from Los Angeles.  
The Girl singers rarely if ever performed material they had written themselves and rarely if ever played the instruments featured on their recordings, a job left to studio musicians.
This was also true of other famous bands and artists.  For example, The Wrecking Crew performed on all the Beach Boys biggest hits.
Brian Wilson requested these players after hearing the magic they created on Phil Spector productions like Be My Baby, Da Doo Ron Ron and He's a Rebel. 
So the lady doo-woppers had their day in the sun, as the gentlemen doo-woopers had had before them.  And then exited the stage.
---
---
Ever thought of having your own website? I built Vinyl Record Memories "from scratch" with SoloBuildIt! Click below to find out more....