Elvis Presley Biography
Growing up with Elvis - My Story
---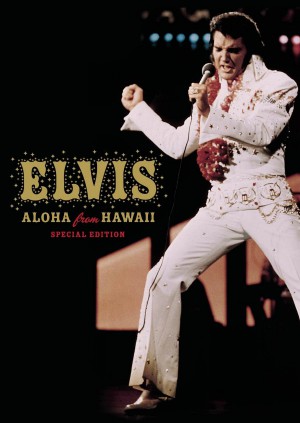 My Elvis Presley Biography including favorite songs, albums, and song lyrics and why his charisma and raw talent can still make any woman "All Shook Up" after all these years.
This Elvis Presley Aloha from Hawaii music concert video below was broadcast live via satellite around the world on January 14, 1973.
It was seen by over one and a half billion viewers worldwide and remains the most watched broadcast by an individual entertainer in television history.
The broadcast was viewed by 51 per cent of the viewing figures and was seen in more US households than man's first walk on the Moon. 
In fact, with a world population of less than four billion at the time, the show's producer Marty Pasetta was proud to state: "It was seen by every third person on Earth."

It remains my very favorite live performance song by Elvis and is the way I will always remember Elvis. Elvis' life came to a tragic end four years after this concert.
---
Elvis Presley Biography - Growing up with Elvis.
My story about growing up in the early Elvis years begins below the video. But first, please enjoy this classic performance by Elvis.

And watch closely toward the end of the song as Elvis shows his approval of the orchestra and background vocals. Elvis definitely had this crowd mesmerized by this performance.

---
Elvis and my ducktail haircut - The beginning
Elvis was the sound track to my life throughout my teenage years. So many of the things I did for the first time - going on a date - kissing a girl - driving a car - I did with Elvis in the background.

I first heard Elvis Presley back in the early fifties. His style to me was definitely rockabilly. When I heard his first big song in 1954 called "That's All Right(mama)" and saw a picture of him, I was ready for my first ducktail haircut.
That didn't really happen until I turned thirteen in 1957. By then I had seen all of Elvis' current movies at the time (3) and bought or borrowed all of his 45's. Over fifty years later I still have many of Elvis' 45's and LP's.....and my ducktail haircut.
Elvis' songs were the coolest I'd ever heard and it wasn't long before I even tried to dress like him. Pin-stripped & tear drop pattern shirts, flashy sparkle shirts, loud colors, and pants that were so tight at the ankles they nearly cut off the blood circulation.
We called them pegged pants. Between the brightly colored shirts, the pegged pants, and the ducktail haircut I just knew I couldn't be anything but cool!
The shirts all came from the first big discount store in Hamilton, Ohio named Rink's Bargain City, a former Roller skating rink. You had to shop there if you were going to dress like Elvis.
---
Elvis Presley Biography - What really happened during Elvis' first audition?
Elvis was a big part of my life growing up as a teenager in the fifties. Most accounts of Elvis' early life written on the internet today are all basically the same.

Everyone has read that Elvis went into a Recording studio in Memphis, Tennessee, recorded a song for his mother's birthday, and then became a star.

But did you know that when he first sang for Sam Phillips it just didn't work out.  Sam was not satisfied with what he heard from Elvis.  Elvis left and did not return.

So How did Elvis really begin? Let me tell you the real story with excerpts from the vinyl LP "The Complete Sun Sessions" and story lines by Scotty Moore and Sam Phillips.  
Click on the link to the Elvis Presley Story below.  
---
Favorite Elvis Presley Songs, Duets and Cool Videos.
James Burton, Elvis & The Wonder of You.

Favorite Elvis Presley Movies - Jailhouse Rock

Blue Christmas with Elvis and Martina Mcbride

Are You Lonesome Tonight - A Norah Jones Tribute to Elvis

Blue Suede Shoes lyrics - Includes A Cool Color Video

Who's The Best Guitarist on the Classic Song Mystery Train?
Elvis Guitar Classics - '68 Comeback Special with Elvis on guitar.

Guitar Man from 1967 - Elvis and Jerry Reed.

James Burton - Elvis' guitarist from 1969 until 1977

Go to Ricky Nelson Songs page from here

Return to Home Page from this Elvis Presley Biography Page
---
Top of Page