The Royal Teens
Vinyl Record Memories
The story behind Short-Shorts.

---
Most of us remember The Royal Teens for their 1958 #3 song Short Shorts. As a teenager I loved the song and back then could easily relate to the opening line with the wolf whistle and the phrase "Ooh Man, Dig That Crazy Chick."
Yes, 1958 was a very good year for rock 'n' roll - Elvis was hot; The Danleers cooled us off with "One Summer Night," The Elegants beamed through our transistors with "Little Star," Bobby Darin rocked our Saturday nights with "Splish Splash," and Jerry Butler and The Impressions kept us dancin' close with "For Your Precious Love." 
And suddenly there was this fantastic saxophone solo and this cute girl struttin' around on stage singing "We wear Short Shorts." The song was an instant hit behind a great band and a novelty tune with few words.   
Dreams sometimes came true during this magical excursion through our musical youth. You could form your own street corner group and practice the harmonies of Dion and The Belmonts with your neighborhood pals, while singing under the street lights.

However, there was one other song the group released in 1959 that I favored more than their big hit. 
The 1959 song "Believe Me" by The Royal Teens has always been my favorite and believed it deserved better than its #26 place on the charts. 

It should have been a national top 10 hit, but for some unexplained reason, stalled outside of the New York-New Jersey area. 

So you be the judge on which song you enjoy more and I'll tell the unique story below about "The Royal Teens"  and one member with an eventual connection to The Jersey Boys.

---
The Royal Teens - 1956 - The story begins.

The Royal Teens were formed in 1956 by Bob Gaudio and Tom Austin. Tom met Bob when they both played in a band in Hackensack, New Jersey. Bob played piano and was 15. Tom was 16 and played drums. 
They didn't much care for the music selection of the band and decided to start their own band. They teamed up with two other guys, Bill Crandall, who played saxophone and bassist Billy Dalton. 

Crandall was only 14 and a tremendous talent. He had already won many contests playing saxophone.

They called themselves "The Royals." They played block dances, VFW and CYO dances during 1957.

---
Local gigs pay off with a new car and "The Three Friends."  

Two or three times a weekend, they would play a CYO dance from 8PM to Midnight, then play at parties after Midnight and weekends. They would pass the hat around for money. Tom saved his money and bought a brand new 1957 Ford Fairlane. 
At one CYO dance they met a group called "The Three Friends." They were a Doo-wop group with a local hit and were guest stars at the CYO. They didn't play instruments so "The Royals" were asked to back them up.

"The Three Friends" loved the way The Royals played and asked if they would be interested in playing instruments on their upcoming recording.

The band agreed and met "The Three Friends" manager, Leo Rogers, at 1650 Broadway. He asked the boys if they would be interested in doing backup work for some local groups and of course, they said yes.

Tom Austin graduated from high school, but his buddy, Bob Gaudio,  was still in school. Leo encouraged Bob to write his own songs and that's really where his heart was.

---
Let's Call it "Short Shorts"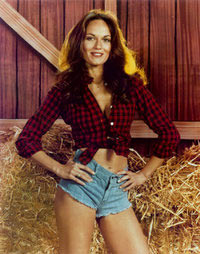 Gaudio got Tom involved with the writing and they wrote a song but had no title. They were riding around in Tom's '57 Fairlane and passed Luhmanns Ice Cream store on Washington Avenue in Bergenfield.

Two girls were wearing super short cutoff denim jeans when they came out of Luhmanns. Bob was riding shotgun and noticed the two girls right away. The two immediately looked at each other and said "Let's call it Short Shorts."

---
King Curtis and the amazing 14-year-old Sax player. 

That very night they were scheduled to be in the recording studio with The Corvelles, The Three Friends, some other groups, and two girl singers.
They recorded the instrumental track to the song. The engineer and sound-man said they created a new beat with that driving sax solo. 

A major saxophone artist at the time, King Curtis, was in the studio and said "Who's playing that Sax, it's unbelievable." And, here it was, this skinny little 14-year-old, Bill Crandall.
---
The Story behind the short shorts lyrics.
In a 2008 JBB interview with Tom Austin he explained how the lyrics to Short Shorts came about.
He said "After we played our instrumental for Leo Rogers, he asked where the words were. Bobby and I looked at each other and Bobby jumped up from the piano and motioned to me to go outside with him."

We walked into the men's room and started figuring out where we could put some words in. "Bobby said, "Let's keep it simple" and we did. Lyrically, there's not much to this song, just this stanza repeated three times.

Boys: Who wears short shorts?
Girls: We wear short shorts
Boys: They're such short shorts
Girls: We like short shorts
And that was it. Tom and Bobby were hoping Leo would like the words because they wanted to keep the essence of the song being an instrumental. It worked!

The song can certainly fall into the bubblegum category based on the words, but musically the song is more than kids stuff, with two mighty saxophone solos by a 14-year-old and a guitar break separating the choruses.

A Name change, Big name tours and one member leaves the band.

When it came time to release their first recording is when their manager, Leo Rogers, told them there was already a group called The Royals. Since they were all teenagers  they became "The Royal Teens."
Released on the small Power label, owned by manager Leo Rogers, ABC Paramount soon picked up the master and the song then appeared on the charts in January of 1958, rising to the #3 spot.  

---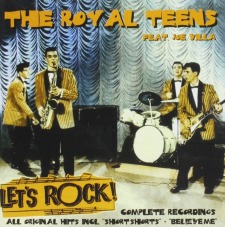 Not bad as the song only took about 20 minutes to record. And just like that, the group went from the local scene to having a big hit record and touring with some of the biggest pop groups on the charts.
They were at CYO dances one week and the next week on a Florida tour with Billy Haley and the Comets, Jerry Lee Lewis, Buddy Holly and the Crickets, and The Everly Brothers.

Prior to the tour, Bill Crandall had to leave the band. Since he was only 14, his dad would not let him go on the road. Bill was replaced by Larry Qualiano, who was 17 and had just finished at the Manhattan Shcool of Music.
---
Who was the "Cool Chick" in the short-shorts?
Her name is Diane Costello (stage name Diane Lee) and she was from Forest Hills in Queens at the time. 
She was not a member of the group but was chosen to sing with the group by their manager, who felt a girl in the group would help sell the song and be better for personal appearances. I think he got that right.

Her voice was over-dubbed to make it sound like there was more than one girl on the record. 

Diane toured with the group for many months, made the movie "Let's Rock" singing Short Shorts and did a few American Bandstands. She appeared through out Florida and the Mid-West on tour with The Royal Teens.   

Diane claims to have a demo record of a song she wrote where the Royal Teens were backing her...with credit on the label, but the song never was released. I have nothing to back that up. 

If Diane Costello happens to see this page she is welcome to contact me and correct the entries. I welcome her approval and/or corrections. 
---
The Royal Teens journey ends and New careers begin.
In 1958 The Royal Teens were promoting their new song when they met Frankie Valli and his group, The Four Lovers. A short time later Bob Gaudio grew tired of touring and left The Royal Teens.
It was about a year later Gaudio joined "The Four Lovers." In 1960 Gaudio, along with  lead singer Valli, formed the Four Seasons Partnership.  Bob Gaudio, Frankie Valli, Tommy DeVito and Nick Massi became The Four Seasons.

---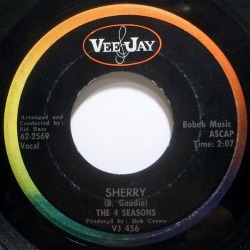 It was in 1962, about 15 minutes before a group rehearsal that Bob Gaudio wrote the Seasons' first #1 hit, Sherry. The song was released on Vee-Jay records and produced by Bob Crewe.
Gaudio and Crewe would go on to write most of The Four Seasons big hits, including "Big Girls Don't Cry", "Walk Like a Man", "Dawn (Go Away)", "Ronnie", "Rag Doll", "Save It for Me", "Big Man in Town", "Bye Bye Baby", "Girl Come Running", "Beggin'", and "Can't Take My Eyes Off You" (the first big success under Valli's name as a solo performer).
Gaudio stopped touring with The Four Seasons in 1971 to concentrate on writing and producing.
---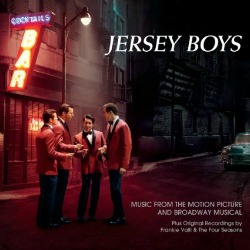 Bob Gaudio was instrumental in mounting Jersey Boys, a musical play based on the lives of the Four Seasons, which opened on Broadway on Nov. 6, 2005.  Music and lyrics were provided by Bob Gaudio and Bob Crewe. 
 He sent his old friend, Tom Austin, tickets to the opening. After 35 years Gaudio chose not to forget his pal and original Royal Teens member. They did have a special bond.

---
Tom Austin memorializes the event with a classic painting.
When Tom left The Royal Teens he maintained a successful career in real estate but never forgot his other passion, painting.
After viewing the Jersey Boys Broadway play he returned to selling houses but kept thinking of his friend and what he could do to capture the experience.
So he went back to New York to take a picture of 52nd Street, the theater, the restaurants, and the buildings that were on the street. He did the painting and presented one to Bobby and one for Frankie Valli.
A photo of that painting titled "Short Shorts season"  can be viewed if you click on the link or the photo below.  It will take you to Tom's web page and a photo of Frankie Valli, Bob Gaudio and Tom signing the painting.  
There is also a contact page to inquire if  Tom Austin has any prints available.  Permission has been granted to use this photo on this site only and it is copyright protected.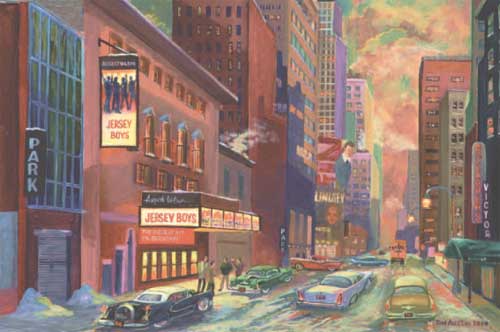 ---
The Royal Teens & Bob Crewe -  Where are they now?
Sadly, two of the original Royal Teens members and Bob Crewe are no longer with us. 
Bill Crandall (the amazing sax player) would later perform with the contemporary Messianic group, Jerusalem Rivers before passing away in 1998.
Billy Dalton died of an apparent heart attack on Saturday, October 8, 2011, 3 days before his 71st birthday.  
On June 20, 2014, Warner Bros. released the film version of Jersey Boys, directed by Clint Eastwood.
The 1960–1965 Four Seasons membership were inducted into the Rock and Roll Hall of Fame in 1990.
Bob Gaudio is a member of the Songwriters Hall of Fame and Tom Austin continues to play local events as an original member of the Royal Teens.
It is important that I mention Bob Crew. He was an American songwriter, singer, manager, and record producer. He was known for producing, and co-writing with Bob Gaudio, a string of Top 10 singles for the Four Seasons.
More important for me, because in 1957 he co-wrote "Silhouettes" by The Rays. It was the first song I danced to as a teenager with my first girlfriend, Pat R.  
Fond memories of  the song "Silhouettes" and those early teen years are still with me to this day. 

Bob produced and wrote or co-wrote dozens of other top hits. He is credited as the Jersey Boys show's lyricist.
In 1985, Crewe was inducted into the Songwriter's Hall of Fame. 
Bob Crewe died in September, 2014. He was 83.

---
Side Note: I have written a very long page, however, there is much more to The Royal Teens history than I have written.
The songs were a part of my teen years and I never really knew the remarkable story behind the Royal Teens.
One site in particular, The Jersey Boys Blog (JBB) revealed some incredible facts about this group that I was unaware of.

For more information about the founding members of The Royal Teens, Tom Austin and Bob Gaudio, please read the Jersey Boys Blog here.
Ever thought of having your own website? I built Vinyl Record Memories "from scratch" with SoloBuildIt! Click below to find out more....

Return to the Golden Oldies main page.

Street Corner Serenades at Doo-Wop classics.

---