The "Orange Blossom Special"

Johnny Cash Train Song Memories. 
---
The Orange Blossom Special train song is a fiddle tune about a passenger train of the same name. It was a deluxe passenger train operated primarily by the Seaboard Air Line Railroad between New York City and Miami starting in 1925. Its last run was in 1953.
The song was written by Ervin T. Rouse in 1938. It is considered the best known fiddle tune of the twentieth century and is often called simply The Special.
I purchased the Orange Blossom Special album new in 1965 and it looks the same as when I bought it. It still has plastic wrap on the cover and the record itself would be considered mint as it has no flaws what so ever.
---
A Fiddle Tune or Johnny Cash Tune?
---
I believe if Johnny Cash had not recorded this song it may never have received the industry wide attention it so deserved.
The song has long been a bluegrass favorite and when you view this first video you will certainly understand why the song was written as a fiddle tune.
The first video includes Vassar Clements & Del McCoury Band, along with some of the best fiddle players together at the Grand Ole Opry House in 2003.

I would have to believe that if you play the fiddle and have never played this song, you are not really a fiddle player...

When you watch the video you will have more appreciation for what was written on the back of my 1965 Johnny Cash album below.
Then please listen to Johnny's original version at the bottom of this page and you can decide. Both are great, but Johnny did have a better opportunity to put the song on an international stage for all to enjoy.

Orange Blossom Train Song
Some very special artists on this great album.

---
The story below is exactly how it is written on the back of the original 1965 Album by Johnny Cash titled "Orange Blossom Special." The only difference is I have broken up paragraphs and added sub-titles, so it would not be so hard on your eyes.
Also take note of the two very special artists playing with Johnny. Charlie McCoy is on Harmonica and Boots Randolph is playing the fantastic Saxophone part.
Both would go on to play on hit songs for other artists and each also had individual albums of their own.

---
The Orange Blossom Special Story Begins.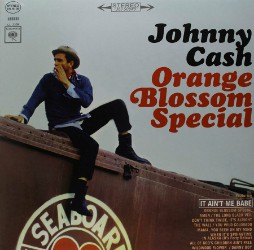 The gentleman quietly walked into our dressing room during intermission at our show in Miami a few years ago, five years to be exact. He had the kind of magnetism that makes you turn around and look, and everyone did.
There was something else about this man, though---his humbleness, and the way he stood in a corner out of everyone's way. He stood with his hat in his hands, waiting to be acknowledged, and I spoke to him.
The face wasn't familiar, but there was a distinction about him that commanded attention. His rugged, tanned face and arms gave him the appearance of an athlete, but his snow-white hair showed that he was well past thirty-nine.
After I stood up and introduced myself, I was very embarrassed when he called me "Mister Cash." I usually can cover my embarrassment by replying, "Mister Cash is my daddy." This time I was afraid it might sound disrespectful.
His name, he said, was Ervin Rouse, and he hesitatingly went on to say that a few years ago he had written a few songs himself, but that I had probably never heard them. I felt the name should ring a bell, and offering him a chair, I asked what songs he had written.
He honestly tried to avoid answering by saying they were just a bunch of old tunes. I asked him again what songs he had written, and he replied in a beautiful Southern seaboard dialect that a Southerner such as myself enjoys hearing. He said finally that probably his best number was a fiddle tune.
I sensed his honesty and finally asked him point blank: "What fiddle tune, Mr. Rouse?" Evidently people had not believed him in the past when he mentioned his songwriting, so he reluctantly said: "Well, I guess my biggest one was the Special." I didn't raise my eyes when I asked politely: "You mean Orange Blossom Special?"
This time his answer was a question, and everyone in the dressing room knew as I did that this man was sincere.
That question was: "Did you ever ride on the Atlantic Coast Line? I've been up and down it many times, and even out West on the Southern Pacific, but I'm pretty well settled here in the sandy land now.
He went on to say that that night, or rather that day, he had traveled for miles across the Everglades in a machine he built and called a "swamp buggy." Then somewhere near Miami, he borrowed his sister's bicycle and rode about ten miles to our show.
---
When Ervin Rouse did Orange Blossom Special Train Song, they "Tore The House Down."

---
The second half of the show was about to begin, and Mother Maybelle Carter was tuning her guitar to go on stage.
He turned to her and said: "Mother Carter, I know you may not remember me, but I met you years ago and worked a show with you in Virginia. My name is Rouse, ma'am. I used to sing a little, and play the Special---the Orange Blossom Special, that is---and probably the only other one of mine that most anyone ever heard was a little tune I wrote for my dear mother, called "Sweeter Than the Flowers."
Of course she remembered, as did all of us sitting around listening. He added, "The Special belongs to everybody by now, I guess, but it used to be my best number."
I asked Mr. Rouse to by my special guest on the show that night. The house was packed for two shows, and when he did Orange Blossom Special they tore the house down. It was hard to coax him to encore, and when he did, I asked him to sing "Sweeter Than the Flowers."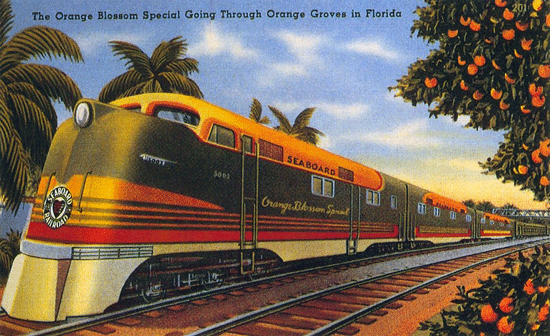 At first I thought he was going to flatly refuse. He said, "It's just too sad, and it hits too close to home, and I'm not in the mood for it." However the audience wouldn't let him stop. His sincerity and his magnetism automatically commanded complete silence throughout the auditorium as he sang "Sweeter Than the Flowers."
The customers in the coffeehouses in New York and other big cities haven't seen Ervin Rouse. The tidal wave of discoveries of folk-music performers missed this man. Most of the young folk-music authorities throughout the country have not seen him perform.
And I doubt if Mr. Rouse has heard a few of the countless recordings of his songs. He said he wouldn't know what to do if anyone asked him to prove that he wrote either of the two numbers.
Since that night I have seen the man many times and spent many hours talking to him and listening to him sing. He's probably past sixty, and I don't think he would mind telling you so, but his voice is as clear as it must have been thirty years ago.
If you went looking for Ervin Rouse, you would have a hard time finding him. He might be miles out on the Everglades alone with the nature he loves, hunting, fishing and trapping. Or, you might be lucky enough to find him in a garage somewhere near Miami where he makes his "swamp buggies," rugged amphibious vehicles that are powerfully propelled by a giant six-foot fan.
They go across the Everglades as smoothly as if they were on a freeway. Mr. Rouse makes them and sells them to hunters and fishermen who want to go into the Glades.
He's been everywhere, including New York, where he quit rambling temporarily, but rode back to Miami on the Seaboard Line. I didn't ask him, but I a compelled to believe that he must have gone home to the life he loves on a train he called the "Orange Blossom Special."
At least from the way he sings the words, I'll say that he definitely did, and give him credit for having lived every minute of it, plus much more that the song didn't tell.
And I'll just bet that right now---somewhere down in Florida---he's got sand in his shoes---clean, white sand.
...Johnny Cash
---
Enjoy the Song on this video. It's the original recording and I've added the lyrics so you can sing along.
Look a-yonder comin'....Comin' down that railroad track
Hey, look a-yonder comin'...Comin' down that railroad track
It's the Orange Blossom Special...Bringin' my baby back
Well, I'm going down to Florida...And get some sand in my shoes...
Or maybe Californy....And get some sand in my shoes
I'll ride that Orange Blossom Special...And lose these New York blues
"Say man, when you going back to Florida?"..."When am I goin' back to Florida?...I don't know, don't reckon I ever will."
"Ain't you worried about getting your nourishment in New York?"...
"Well, I don't care if I do-die-do-die-do-die-do-die."
Hey talk about a-ramblin'...She's the fastest train on the line
Talk about a-travellin'....She's the fastest train on the line
It's that Orange Blossom Special...Rollin' down the seaboard line

---

Visit The Highwaymen Page for more favorites

Return To the Johnny Cash Page

Return to Home Page.