Patsy Cline
Vinyl Record Memories.

"You Belong To Me"
From the album Sentimentally Yours.

---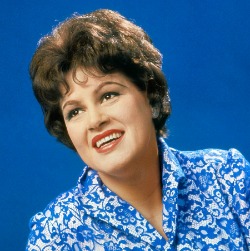 The Patsy Cline vinyl record memories will always be considered some of the very best in country music by a female artist. She's had the most legendary life of any female country singer.

Perhaps this is due to an early death just after she had entered her prime. Patsy Cline's songs are not just  "country songs." They're the songs of women's feelings.

She was the voice of the average woman....the waitress at the diner, the woman working swing shift at the local factory, the counter girl at the all-night truck stop, or even the stay-at-home mom who stops to wonder what happened to all her dreams. Patsy Cline was their voice.

Not only did she have "the" voice, but she was able, through her phrasing and voice control, to put such feeling into her songs. Listen to most Patsy Cline songs on a dreary rainy night and tell me you don't feel the heartbreak in her songs.

We all love "Crazy" by Patsy Cline, and many consider this, along with "I Fall To Pieces" her signature songs, but my equal to those two is her style of singing on the song "You Belong to Me." Her #1 song, "She's Got You," is another that will tug at your heartstrings.

These are some of the best Patsy Cline songs she recorded. Her death at such a young age deprived the world of a wonderful artist. She was only thirty years old when she died. She remains my favorite female country singer. And so it goes...

"Give me a old dusty dark bar with Patsy on the jukebox and a cold one at the ready. It just doesn't get any better than that."
Who's The Famous Background Singers?
---
When you watch the video and listen to this beautiful song it's easy to pick up on the Jordanaires in the background.
Authentic, oldies style background vocals. As close to Country Doo-Wop as you're gonna get.
This is from a time when a singer's vocal talent was more important than how "sellable" their appearance was.
Patsy Cline Vinyl Record Memories.
The beginning...

---
She began recording in the mid-'50s, and although she recorded a lot of material between 1955 and 1960 (17 singles in all), only one of them became a hit. The song was "Walkin' After Midnight" and was a Top 20 hit.
Because she was tied to a publishing company that limited her to recording songs from that one company, she couldn't follow up "Walkin' After Midnight."
---
The Turning Point In Patsy's Career.
---
When her Four Star contract expired in 1960 she signed with Decca Records-Nashville and was under the direction of legendary producer Owen Bradley.
Cline began selecting material that was both more suitable and of a higher quality than her previous recordings. Bradley was not only responsible for much of the success of Patsy's career, but also for the careers of Loretta Lynn and Brenda Lee.
---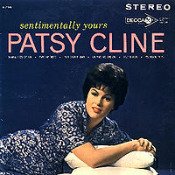 The turning point in her career was a song cut at the very first session, "I Fall to Pieces." Patsy was at liberty to record what she wanted and the results were evident as the song reached #1 in the country charts and #12 on the pop charts.
Her producer Owen Bradley managed to craft smooth orchestra arrangements with strings and other instruments not typical of country recordings at that time.
---
Patsy's Silky, Torch Song Style of Singing...
---
Bradley also used backup vocals by the Jordanaires. Remember the Jordanaires? They were also singing background vocals for Elvis at the time. You can hear pianist Floyd Cramer on her songs, along with harmonica player, Charlie McCoy.
Owen Bradley helped smooth her voice into the silky, torch song style for which she is famous.
Enjoy the Patsy Cline vinyl record memories as they are added to these pages in the future and especially enjoy the above video of my favorite song by Patsy Cline.
"You Belong To Me" was recorded on Patsy's last album on August 7th, 1962,  titled, "Sentimentally Yours."
---
---
Top of Page