Patsy Cline
Jukebox Memories

Is "Crazy" the Best Jukebox Song, ever?
---
The song "Crazy" from our Patsy Cline Jukebox Memories collection was written by Willie Nelson in 1961. The song was written for country singer Billy Walker, but he turned it down and Cline picked it as a follow up to her first #1 big hit "I Fall to Pieces."

"Crazy" was released off the 1961 Patsy Cline album "Showcase" and spent twenty-one weeks on the charts, peaking at #2 in 1962 and later became one of her signature tunes. 

The song will always be a reminder of just how good she was at expressing emotion in a song. Her rich contralto voice, along with her exceptional vocal phrasing have made her one of the most iconic and influential singers of the 20th century. 

When you listen to the emotion that Patsy delivers on the Crazy lyrics her voice sounds richer, more confident, and certainly more mature than when she first started out.

---
Why did Patsy Dislike The song "Crazy" When She First Heard It?
As the story goes there was a bar on Nashville's music row called Tootsie's Orchid Lounge. Willie Nelson was there quite often with friends Kris Kristofferson and Roger Miller, both unknown songwriters at the time.
Nelson met Cline's husband, Charlie Dick, at the bar one evening and pitched the song to him. Charlie took the track home and played it for Patsy, who absolutely hated it at first because Nelson's demo "spoke" the "Crazy Lyrics" to a faster tempo than what Cline later recorded as a ballad.
Owen Bradley, Patsy's producer, loved the song and arranged it as the ballad it was recorded as. Cline was recovering from a recent auto accident when she first attempted to record the song and had difficulty reaching the high notes at first due to her broken ribs.
---
Famous Session Players on This All Time Patsy Cline Favorite.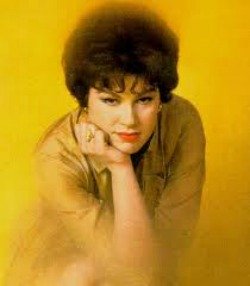 The music was recorded and Patsy came back the next day to record the vocal, which she did in one take.
When you listen to the song pay close attention to the background and session players.
Again, the Jordanaires do wonders with the background vocals, and none other than Floyd Cramer of 1960 "Last Date" fame, plays the piano that brings everything together. Cramer also played piano on Elvis' first national hit, "Heatbreak Hotel."
With Owen Bradley's arrangement, Patsy Cline singing, The Jordanaires on background vocals and Floyd Cramer on piano, is it any wonder this song remains a true classic nearly 60 years after it was first recorded.
---
Patsy Cline Jukebox Memories.
Is This The Best Jukebox Song, Ever?

Willie Nelson claims it is on more jukeboxes and remains the #1 song on jukeboxes everywhere! Don't know how true that is but I wouldn't find that hard to believe.
Of all the Patsy Cline Jukebox Memories, and there are no Patsy Cline songs I do not like, "Crazy" & "You Belong To Me" have always been my favorites.

Enjoy this Classic song on an original 78 rpm Decca Records pressing played on this 1947 Wurlitzer Jukebox.  
---
Patsy Cline Jukebox Memories
Songwriter - Willie Nelson (1961)

Crazy, I'm crazy for feeling so lonely
I'm crazy, crazy for feeling so blue

I knew you'd love me as long as you wanted
And then someday you'd leave me for somebody new

Worry, why do I let myself worry?
Wond'ring what in the world did I do?
Crazy for thinking that my love could hold you
I'm crazy for trying and crazy for crying
And I'm crazy for loving you

Crazy for thinking that my love could hold you
I'm crazy for trying and crazy for crying
And I'm crazy for loving you
---
---
Ever thought of having your own website? I built Vinyl Record Memories "from scratch" with SoloBuildIt! Click below to find out more....