Patsy Cline Song Memories
"I Fall To Pieces" Vinyl Record Memories
---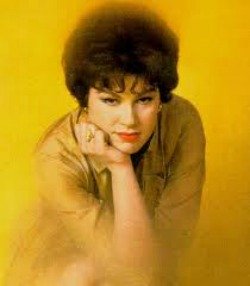 Patsy Cline song memories returns to 1961 with her first #1 song, I Fall to Pieces, and along with "Crazy" in 1962, became two of her most-recognizable hit singles. Both will forever be classified as Patsy Cline country music standards.

I Fall To Pieces was released as a single in 1961 and was featured on her Decca studio Album Patsy Cline Showcase.
It was not only her first #1 country hit, it was her second hit single to cross over to the Pop charts.

The Lyrics were written by Hank Cochran and Harlan Howard and was originally offered to Brenda Lee by producer Owen Bradley. At the time, she found the song too country for her pop style.

After the song was turned down numerous times Bradley asked rising country star Roy Drusky to record it, but he also turned it down stating that it's not a man's song.

Patsy Cline overheard Drusky's argument with Bradley and asked if she could record it instead.
---
Patsy Cline Song Memories
Second Thoughts On Famous Background Vocalists.

When Patsy began recording the song in November of 1960, she had second thoughts after she discovered the Jordanaires would be her background vocalists. Cline was afraid the Jordanaires would drown her sound out and initially was not very friendly upon meeting them in the recording studio.
She also argued with Bradley because he wanted the song recorded as a Pop ballad and Patsy felt that didn't suit her style. After several arguments the song was recorded in the style that Bradley wanted it. After listening to the playback she ended up loving the Owen Bradley style song, just as Owen had originally wanted it recorded.
Enjoy the Patsy Cline "I Fall to Pieces Lyrics" about how a woman's lover doesn't want them to be together, yet the woman can't understand why, explaining that every time he walks by she "falls to pieces."
---
Patsy Cline Song Memories - I Fall To Pieces
From the album "Patsy Cline Showcase"
Released January 30, 1961
Written by Hank Cochran and Harlan Howard
I fall to pieces, each time I see you again
I fall to pieces, how can I be just your friend?

You want me to act like we've never kissed
You want me to forget (to forget)
Pretend we never met (never met)

And I've tried and I've tried, But I haven't yet
You walk by and I fall to pieces
I fall to pieces, Each time someone speaks your name
I fall to pieces, Time only adds to the flame

You tell me to find someone else to love
Someone who'll love me too (love me too)
The way you used to do (used to do)

But each time I go out with someone new
You walk by and I fall to pieces
You walk by and I fall to pieces
---
---
Ever thought of having your own website? I built Vinyl Record Memories "from scratch" with SoloBuildIt! Click below to find out more....



Enjoy classic oldies Best Cover Songs.

Return to Home Page.
---