Mystery Train
Vinyl Record Memories

Who's the Best on this classic
Rockabilly Song from 1955?

---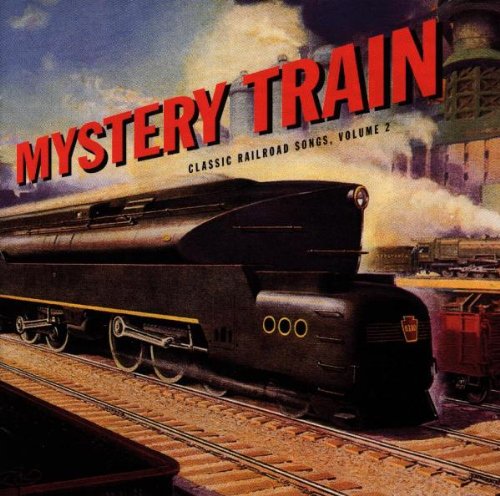 Who's the best guitarist on this classic Elvis Presley song?
Recalling some of my favorite Mystery Train vinyl record memories I'll start with the original by Elvis and continue with other great guitarists including Eric Clapton, James Burton, Hank Marvin and Brian Setzer for a special Mystery Train challenge.  The song was written by Junior Parker and Sam Phillips and released on August 20th, 1955.

Elvis was only 20 years old at the time. There were two guitars and one upright bass.
The result is a masterpiece in music history...Elvis played rhythm guitar, Scotty Moore on lead guitar and Bill Black on bass.
As you listen to the original recording it's as if Scotty Moore's guitar is actually that train coming round the bend.
It's my very favorite rockabilly song by Elvis and brings back old Rockabilly vinyl record memories as Scotty and Eric Clapton do an Elvis tribute in the second video below.
Mystery Train Vinyl Record Memories.
"The Sun Sessions"
---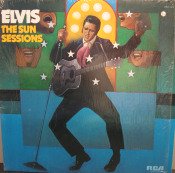 I purchased the album "The Sun Sessions" new in 1976 a year before Elvis' death and Mystery Train was the main reason. I played all songs on the album once and then played Mystery Train and That's All Right (mama) several times again.

I then recorded the album on a reel to reel tape deck and have never again played the album. Today it is framed and hangs on a wall in my home office, along with many of my other favorite albums.

Scotty Moore was Elvis' original guitarist on the song so I started with him first. There's no quality videos of Scotty and Elvis in the original recording, so I made a slide show video for you to enjoy.

Listen to the sound that Scotty produced over 55 years ago on the first video above, and then the second video below you can view with Eric Clapton. It's amazing how easy Scotty makes this look...And how close it sounds to the original recording.

---
Scotty Moore and Eric Clapton
A Tribute to Elvis.

---
For the second video challenge I'm cheating here a little showing guitarist Scotty Moore in a second video with Eric Clapton.

This is actually a tribute to Elvis but what I want you to notice is the similar sound quality that Scotty produces while playing with Clapton as he did with Elvis.
Amazing is the word that comes to mind. Enjoy Scotty and Eric in this tribute to Elvis.

Hank Marvin - A True Stratocaster Master.

---
Hank Marvin is well respected in the guitar world for his fabulous guitar arrangements and music execution.

His metallic echoed picking on a red Fender Stratocaster - with generous employment of tremolo arm - is often regarded as the sound that inspired numerous guitar heroes such as Jeff Beck, Pete Townshend, Eric Clapton and, of course, Mark Knopfler, all of whom cite Hank as a major influence.

The Shadows scored five No.1 hits that included the legendary "Apache" with Hank Marvin on lead guitar.

How could anyone question Hank playing this tune...Absolutely marvelous. 

Enjoy yet another Mystery Train Challenge and great cover of this classic Rockabilly tune.

Brian Setzer - Rockabilly in Japan!

---
If you're ready for some some cool rockabilly sounds, coupled with the lightening fast fingers of Brian Setzer, then grab some nails and glue, then tighten down everything in the immediate area.
Brian gives the crowd in Japan something to get excited about. A great performance.

Brian is playing his Gretsch Longhorn, with Mark Winchester on slap bass and Bernie Dresel on drums.
Recorded live during the "Brian Setzer Orchestra's" tour of Japan, I just couldn't pass up this live performance. Brian is one of my top ten guitar players ever.

You might say I'm not sticking to the 50s, 60s and 70s, as I originally indicated on my home page but who could deny the fabulous Brian Setzer a chance to play Mystery Train the way he plays it.

Besides I never did say that I didn't like today's music, just very little of it. Every decade has great music and we all have our favorites.
I just leave the bad stuff alone. I consider Brian one of my Rockabilly stars....

---
James Burton
Lead guitarist for Ricky Nelson and Elvis.

---
What can you say about James Burton except that he is a legend in the guitar world. James first played for Ricky Nelson and then was Elvis' lead guitar player from 1969 until the death of Elvis in 1977. Click here to read all about James Burton.

Return to Elvis Presley Biography
Return to Guitar Favorites main page.
Top of Page