Lonely Blue Boy
Oldies Music Lyrics
Conway Twitty - The Rock-n-Roll Years.



---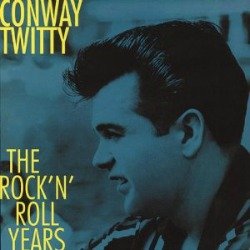 The Lonely Blue Boy oldies music lyrics was written by Ben Weisman and Fred Wise and would be Conway Twitty's last Top Ten song from his Rock-n-Roll years before he ventured into Country music.
The song has always been my second favorite by Conway and was one of the main reasons I purchased his first Compilation album titled "Greatest Hits" in 1960. 
I still have that album today in excellent condition and that is the album shown at the beginning of the video.  
This song gives you an idea of just what Conway sounded like in the early years.  As the song begins to play, step back for a moment and relive those vinyl record memories, reminding us of those multi-colored teardrop shirts with turned up collars and the cool duck-tail haircuts.  
In this Lonely Blue Boy song and especially his #1 song, It's only make believe, you can hear Elvis' influence on Conway in these two songs and many of his early Rock-n-Roll releases. His voice got better with age as he moved into Country Music. 
---
Lonely Blue Boy Oldies Music Lyrics
Elvis' "King Creole" Movie.
The song was originally written for Elvis Presley for his movie "King Creole" in 1958.  The song was titled "Danny" after Elvis' character but was dropped.  The song titled "Trouble" in the movie appears to me to be the replacement for this song.
It was later picked up by a British rock'n'roller Marty Wilde and became the B-side of one of his recordings.
Under a new title, "Lonely Blue Boy", it became a #6 song for Conway Twitty.
---
Lonely Blue Boy
Recorded 1959 - Conway Twitty
written by Ben Weisman & Fred Wise

My name should be trouble
My name should be woe
For trouble and heartache is all that I know
Yeah lonely, lonely blue boy...is my name
My life has been empty
My heart has been torn
It must have been raining the night I was born
Yeah lonely, lonely blue boy...is my name
Well I'm so I'm so afraid of tomorrow
And so tired,so tired of today
They say that love is the answer
But love never came my way
I'm writing this letter to someone unknown
So if you should find it and if you're alone
Well, lonely lonely blue boy is my name
Remember lonely, lonely blue boy...is my name
---
---
Ever thought of having your own website? I built Vinyl Record Memories "from scratch" with SoloBuildIt! Click below to find out more....

---
Return to Golden Oldies main page.
---
Top of Page