Little Darlin Lyrics.

The Diamonds 1957 Doo-Wop Classic.
---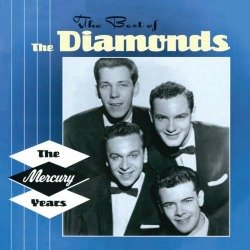 The Little Darlin Lyrics was written by Maurice Williams and became the 3rd best selling vinyl record of 1957, remaining at #2 for 8 weeks.
Maurice Williams was the lead singer of The Gladiolas. His version of the song made the Top 50 on the R&B charts. The Gladiolas changed their name to Maurice Williams and The Zodiacs and produced a #1 hit in 1960 with the classic "Stay."
The Diamonds were a Canadian vocal quartet of the 1950s and early 1960s and originally performed mostly cover versions of songs by black musicians. Their 16 charted songs included "Why Do Fools Fall In Love" making it to #12 in 1956 and "Silhouettes" charting out at #10 in 1957.
The original members were Dave Somerville (lead), Ted Kowalski (tenor), Phil Levitt (baritone), and Bill Reed (bass).
---
Little Darlin Lyrics - Some Cool facts you may not know.
Two of The Diamonds songs, Little Darlin' and The Stroll were featured in the Box-Office hit release "American Graffiti" in 1973. I still have that original double album I purchased new.
The dance called "The Stroll" began in black communities to the song "C. C. Rider" by Chuck Willis prior to the song by the same name.
The Stroll was then written around a comment made by Dick Clark who said someone needs to write a song instructing kids just how to dance "The Stroll."
Two writers, Clyde Otis and Nancy Lee, did just that. The song became a #4 Billboard hit record in 1958.
---
Little Darlin Lyrics - The Diamonds reunite for 2004 PBS Special.

In 2004 the original members were invited to sing in Atlantic City for "Magic Moments- the best of 50's Pop" (PBS). The video below is this magic moment.
Bill Reed made his last appearance in Atlantic City in that PBS production of "Magic Moments - The Best of 50s Pop" as the original bass for the Diamonds. Bill passed away October 22, 2004.

Founding member and Tenor Ted Kowalski died on August 8, 2010. He's the one that put the handkerchief over his head. He said Gene Kelly told him to do that.
Another true Diamond is gone.  Dave Somerville passed away July 14, 2015.  As lead singer of the Diamonds his voice defined the Diamonds' sound.
---
The Best Oldies producer in the world!
The creator/producer of the show was TJ Lubinsky. Lubinsky's classic Philly Soul and '60s Rock and Roll oldies are some of PBS's most successful fundraisers.
He is also the creator and executive producer of "Doo-Wop '50" and over 30 national television specials since 1998.
He is at the top of my list of people in the music world I would enjoy meeting and talking with.

---
Little Darlin' Lyrics
Written by Maurice Williams
Recorded in 1957 by The Diamonds

Eye, yi-eye-eye-eye
Yi-eye-eye-eye
Ya-ya-ya-ahh
Little darlin', oh, little darlin'
Oh-oh-oh where a-are you?
My love-a, I was wrong-a (la-la-la-la-la-la)
To-oo try to lo-ove two
A-hoopa, a-hoopa, hoopa
Kno-ow well-a that my love-a (la-la-la-la-la-la)
Wa-as just fo-or you, oh only-ee-ee-ee you

SPOKEN: My darlin', I Need you (la-la-la-la-la-la)
to call my own...and Never do wrong
To hold in mine...your little hand (la-la-la-la-la-la)
I'll know too soon that all is so grand
Please...hold my hand
My dear-a I-I was wrong-a
To-oo try to lo-ove two
A-hoopa, a-hoopa, hoopa
Know well that my love-a (la-la-la-la-la-la)
Wa-as just for you, oh only-ee-ee-ee you
---
---
Ever thought of having your own website? I built Vinyl Record Memories "from scratch" with SoloBuildIt! Click below to find out more....


Return to Doo-Wop main page

Return Home.