Burgers and Fries
Vinyl Record Memories.

"It was simple and good back then,
never thinkin' that it would end."
---
For all nostalgia lovers the Burgers and Fries vinyl record memories is another classic that turns back the clock to another time and another American culture.
Back to the time when poodle skirts were in, hair was slicked back in a duck tail and, most importantly, when burgers and fries and cherry pies were accompanied by a delicious milk shake!
What an absolute perfect song....A sentimental tune, always pleasing to hear....a warm relic of a bygone era. 

The song was written by Ben Peters and released in October 1978 as the second single and title track from the album "Burgers and Fries."

The song is about a young man's reflection of a failed relationship and remembering the simple things in life, such as Burgers and Fries, Cherry Pies and drive-in movies on moonlit nights.
The lyrics are a reminder of all the good times growing up during this special time in history.  

---
Burgers and Fries Vinyl Record Memories


("I'm still the same ole me, and that's all I'll ever be.")



---
Charley Pride recorded the song in the late seventies, but the lyrics will take you back to those wonderful teen years during the fifties and early sixties.

It's a time in our lives we should all cherish. 

A time when all you needed was friends.

It's a feel good sing-a-long walk down memory lane.

As you listen to this wonderful old song, sit back, relax and return to a favorite point in your life...and realize there may come a time in your life when memories begin to fade.

But with a little help, these Burgers and Fries vinyl record memories will dust the cobwebs from your past and take you back to that time when life was so much fun to be a part of.   

---
Burgers and Fries or Hot Dogs and Apple Pie?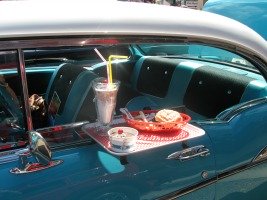 The hamburger is so all-American and well-loved that by comparison even baseball, hot dogs and apple pie rank a distance second to my Burgers and Fries hamburger world.
We eat them year-round, at any time of the day or night, plain or fancy. So this song is an ode to hamburgers...with a little nod to their eternal sidekick, French fries. Every night is a good night for burgers and fries.
Return with me back to those simple times with Burgers and Fries, Cherry Pies and the drive-in picture show...in a world we used to know.  Watch the video and sing along with the lyrics. Then please continue reading below for some special memories from the past.

---
Burgers and Fries and Cherry Pies
Recorded by Charlie Pride 1978
Charted #2 Billboard Hot Country singles
Written by Ben Peters

All The Great Burgers And Fries Memories.
As the song begins and I close my eyes, I can still see my two sisters listening to Top 40 hits on their transistor radio while hanging laundry on Saturday mornings with our mom. 
The drive-in movie was the place to go when I got my first car, a 1957 chevy.  Listening to this song, I can relate to every word....but especially the second verse;

---
"Makin' our love with the moon above at the drive-in picture show. When it was burgers and fries and cherry pies in a world we used to know."

Do you remember when Beehive hairdos were all the rage?
Those were the days when doo-wop, from "Rama-Lama-Ding-Dong" to "Shimmy Shimmy Ko-Ko Bop," provided the sound track of our lives. (from the book "Doo-Wop, The Music, The Times, The Era by "Cousin Brucie" Morrow.)

---
Duck-tails & Pony-Tails
Cruisin' The Drive-in Restaurants.

The 1950s were the golden age of the American automobile, we wanted to do our cruising in style.

No matter where you lived, you were never far from a soda shop or drive-in restaurant where friends could meet and talk about who had the hottest car in town.
 
The U.S. automakers, with their drag-strip ready chevy's, Ford's and Dodge's, were ready to oblige, and the drive-in restaurant was the main menu for the weekend hot spots

A typical fifties date: Sharing favorite sundaes and burgers with your steady girl, while listening to nickel a play music coming from those brilliant chrome-trimmed jukeboxes.

---
Cruisin' At Its Best And Cheapest.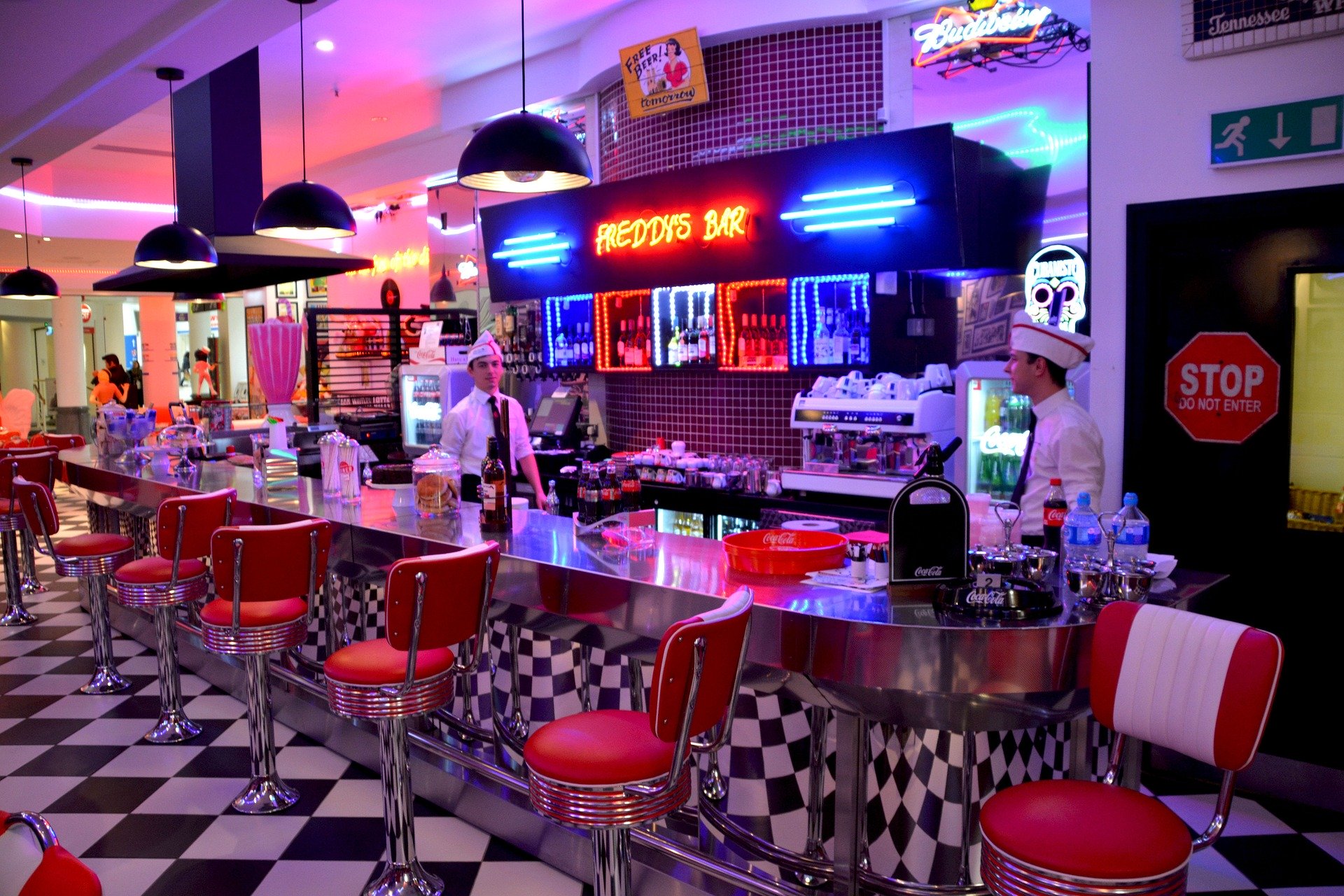 The coolest Burgers and Fries spots in Hamilton, Ohio were Frisch's and Carter's, located on Rt 4 (Dixie Hwy), right across the street from each other.
If you had a cool car and a steady girl (The original cupholder in a poodle skirt) these were the places to be seen on any night of the week.
You could also head down to Frisch's Mainliner in Cincinnati, about thirty minutes away, but well worth the drive when gas was less than thirty cents per gallon.
The added bonus: When you arrived, there were lots of new carhops to flirt with.
Friday and Saturday nights produced an endless supply of cool cars parading between the two hot spots, stopping at each for a quick coke, or maybe settling in for some Burgers and Fries to check out all the girls.
---
Remember Your Favorite Cruisin' Spots?
The evenings were alive with rumbling sounds of Chevys, Fords and Dodges creating the most bad-to-the-bone brigade of muscle cars on any given night.
The deep throaty sound of the highly modified engines equipped with the popular Isky and Crane roller cams, definitely got your attention when the cars entered the drive-in parking area.      

And as some may not know, you really don't drive into the restaurant but your car literally does become your table, with servers coming right to your driver's door window...Some on roller skates.  

I believe this song should be played every half hour at all Burger joints and during intermission at Drive-in movies.

---
What's your take on this great old nostalgia tune?
Recorded in the late seventies, the lyrics and melody fit so well with those special times growing up in a much different world than we experience today.

Because of the song title I decided to add information about what it was like to visit one of those cool drive-in restaurants back in the late fifties and early sixties.

I hope you enjoyed my little trip back in time and can see how much I enjoy writing about what teens did in a world without computers, iPads and cell phones. 

Got a favorite memory or current drive-in that still has that fifties look and sound? Let me know...I'd love to write about them. 


Visit our golden oldies main page.
Don't miss our Doo-wop street corner pages.
Ever thought of having your own website? I built Vinyl Record Memories "from scratch" with SoloBuildIt! Click below to find out more....