Gene Thomas Oldies Music Lyrics

"Baby's Gone" Vinyl Record Memories.
---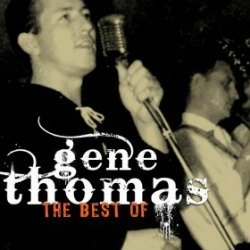 It has been nearly 60 years since I first heard this wonderful old song.
A song I heard only a few times back in 1964, but from the first note of this memory filled song I was swimming in a sea of nostalgia.

The Gene Thomas Oldies Music Lyrics to the song "Baby's Gone"  was co-written by Roy Orbison and Bobby Goldsboro.

It may not be familiar to those outside of Texas, but once you hear it I think it will end up on your  oldies  list with the question; "Wow, how come I 've never heard this great old song before." 

I would challenge those who listen to this song, and wonder as I have, why this well written and perfectly delivered song by Gene Thomas, has been lost in time for over a half century.

At least it has been for me.

The song, Baby's Gone was recorded by Gene Thomas in 1963 and only made it to #84 on the charts. The song and the artist deserved better national play.  It remains to this day another rare golden oldie you never hear played on the radio.   

---
A Memorable and Nostalgic Classic From 1963.

"Baby's Gone"  holds a special place in the hearts of many, as it captures the essence of lost love and heartbreak. With its soulful melodies and heartfelt lyrics, the song takes listeners on an emotional journey through the ups and downs of a failed relationship.
The song explores the pain and longing one feels when a loved one leaves, leaving behind only memories. The hauntingly beautiful melody and heartfelt vocals make "Baby's Gone" a timeless piece that continues to resonate with listeners even after all these years.
Released during a time when classic love ballads dominated the charts, "Baby's Gone" stands out as a true gem. Its lasting popularity and continuous appeal is a testament to the enduring power of its message and the beauty of its composition.
Whether you're a fan of 1960s music or simply appreciate heartfelt and emotional songs, "Baby's Gone" is a must-listen. It transports you back in time and reminds you of the universal emotions that connect us all. So sit back, close your eyes, and let the enchanting sounds of "Baby's Gone" take you on a journey through the bittersweet memories of lost love.
---
Gene Thomas Oldies Music Lyrics.
My "Baby's Gone" Story Begins.
Some years back I was looking for some oldies information that was not even related to this Gene Thomas song when I ran across a blog that drew my interest.

I always enjoy other people's views on music history and noticed on this certain blog a heading titled "Forgotten singers and songwriters."

I continued reading down the page and noticed a video with a picture of a 45rpm record and the title "Baby's Gone."
When I clicked on the video, the song began to play and  my memory flashed back to 1964 and Lackland AFB in San Antonio, Texas.

---
Baby's Gone Away - The Song I Vowed Never To Forget.
I was 19 years old and had just joined the Air Force in October of 1963. After basic training, I was assigned to military police training and spent an additional three months at the Base.

It was right after graduation in March of 1964 a dance was scheduled at an on-base facility open to all military personnel from all branches.  No live band but there was a jukebox that had to be fed quarters (5 plays) if you wanted to dance. 

It didn't take long to get tired of watching those Navy guys pump quarters into the Jukebox and listening to "Blue Navy" a zillion times.

This is my story and except for names and "exact phrases" this is pretty much how I remembered my last day on base. 

After about an hour, a girl approached and asked if  I would like to dance. I was shocked at her appearance. She instantly reminded me of my high school sweetheart, Pat, a wonderful young lady I dated for five years, and then a sudden breakup in our senior year of high school.   She was petite, pretty and had a bright yellow ribbon in her hair. I told her I didn't fast dance.  She said come with me.  

She took me by the hand and as we walked over to the jukebox she asked me to pick out a song. I asked her if she would pick us out a good Texas song.  She said where you headed and I told her my assignment was Clark AB, Philippines.

The initial conversation went something like this....

"Got a girlfriend...No, not really. Well, how bout I be your girlfriend for today.  I said, I'd like that. Well then,  I'll pick out my favorite Texas song and we'll just call it our song."
   
She dropped a quarter in the jukebox and pushed the same buttons five times.

---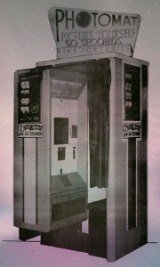 After the first couple of dances, she somehow got me to sit in one of those 25 cent photo booths and take some pictures.

She said that way I wouldn't forget her. We danced all five dances to her favorite song.....Baby's Gone.

Listen to the video,  with only a 45rpm record playing but I think you will be pleasantly surprised by what you hear.

Then please continue reading below the video and see how my story ends.

---
Gene Thomas Oldies Music Lyrics - Baby's Gone
Written by Roy Orbison & Bobby Goldsboro
Recorded in 1963 by Gene Thomas  

Baby's gone away
Baby's gone away
Baby's gone away
And left me lonely
Didn't say goodbye
Didn't tell me why
Just left me here to cry
With nothing but a memory
The pain I feel inside
Is more than I can hide
I need her by my side
Oh where can baby be
Won't somebody,  please
Bring her back to me
And she'll never
Be lonely anymore
A funny photograph
That made the gang all laugh
Two tickets torn in half
Our only reminder
A ribbon from her hair
Her little teddy bear
They're just waiting there
For me to find her
I miss her so tonight
I long to hold her tight
I hope that she's all right
Oh where can baby be
Won't somebody, please
Bring her back to me
And she'll never
Be lonely again
Baby (fading)
---
A Memory Filled Evening With A Sad Goodbye.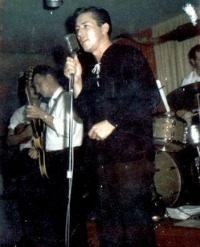 As the evening came to a close the girl's eyes began to water as we said our goodbye's.  She pulled the yellow ribbon from her hair and placed it inside my jacket.

She then asked me for my dance entry ticket and pulled hers from her purse. 
She tore them in half, gave me her half and said she would always remember this evening and hoped I would not forget her.

I vowed never to forget "Our song" and would remember her when I returned.  It was simply not meant to be.  As the years and decades passed her memory and the song faded.

I never remembered who sang the song and actually never heard the song again after leaving Texas.  I found out through the blog this song, along with Gene Thomas' bigger hit "Sometime," were both quite popular in Texas, Gene's home state. Listen to the song below in the video.

Both ended up #1 in several Texas cities.

I loved Gene Thomas' voice.  His recording "Sometime" which he also wrote, was covered by many, including the local night club bands where I grew up back in Southern Ohio.

Thomas' songs were recorded by dozens of country and pop stars, including George Jones, Don Gibson, the Everlys, Dean Martin, Eddie Raven, Freddy Fender, Paul Revere and the Raiders, Roy Orbison, Carl Smith, Mickey Gilley, Connie Smith, Johnny Lee, Charlie Louvin and Dottie West.

Sadly, Gene Thomas died August 26, 2012 in Fredericksburg, Texas. He was born in Palestine, Texas. Gene was 74.

Thank you, Gene Thomas for my special memories of this wonderful old song that I hope others will now have a chance to enjoy. 
---
---
Ever thought of having your own website? I built Vinyl Record Memories "from scratch" with SoloBuildIt! Click below to find out more....

Return To Oldies Music Main Page.
Top of Page