Grease Classic Old Movies

1978 Movie hit "You're the One that I Want"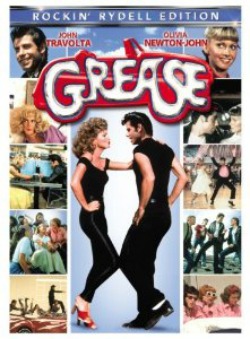 This Grease Classic Old movies musical is one of the most successful movie musicals ever.
One of the great movie soundtrack songs "You're the One That I Want" was written by John Farrar for the 1978 film version of the musical Grease.
The song was performed by John Travolta and Olivia Newton-John. The movie Grease is listed at #20 on the American Film Institute's list of the top twenty-five musicals in American cinema.
The single was a huge international hit, reaching number one in several countries.
It was the only single from the Grease soundtrack to top both the US and UK pop charts.
It reached #1 on the U.S. Billboard Hot 100 for one week in June 1978, where it sold over 2 million copies.
Still popular with a re-release twenty years later.
A re-released version of the single reached #4 in the UK in 1998, the twentieth anniversary of the film's debut.
The follow-up to the Travolta-Newton-John duet "You're the One That I Want," "Summer Nights" reached No. 5 on the Billboard Hot 100.
And it was an even bigger hit in the UK, spending seven weeks at No. 1. Combined with an earlier nine-week run with "You're the One That I Want," the Travolta-Newton-John duet team spent 16 weeks at No. 1 during 1978 in the UK.
In 2010, Billboard ranked it No. 9 on their "Best Summer Songs" of All Time" list.
AFI's classic movies list of the top 100 songs in American cinema has the song "Summer Nights" from the movie "Grease" at number 70.


Grease Classic Old Movies - Was it really like that?
When you watch this movie and grew up in that period the story brings back a time when the teens were really just "boys and girls", and not very sophisticated in the ways of today's goofy world.
The movie brings back fond memories of the clothes worn at the time. Poodle skirts, bobby socks, saddle shoes and cool buttoned down striped shirts for the boys.
During this time period boys actually wore underwear under their clothes and the most anyone saw from girls was a droopy bra strap.
The movie Grease will not disappoint you. John Travolta is wonderful as Danny Zucko and Olivia Newton-John makes a perfect Sandy.
---


Is this 1957 movie Elvis at his Best? "Jailhouse Rock"

Return to Classic Old Movies Main page

Return Home from Grease Classic Old Movies
Remember when your 

cup holder sat next to you
and wore a poodle skirt?