Party Doll Oldies Music Lyrics

Buddy Knox Rockabilly Classic from 1957
---
The Party Doll oldies music lyrics was written by Buddy Knox and Jimmy Bowen. 
Knox was 15 years old in 1948 when he wrote the original verses to the song behind a haystack on his family farm near Happy, Texas.

Buddy attended Happy High School, graduating in 1950 with a class consisting of 15 boys and 9 girls. After high school, Knox attended West Texas State College (WTSC), in Canyon, Texas.

---
Two childhood friends join Buddy Knox and create the hottest band around. 
While in college, Knox met two other students, Jimmy Bowen and Don Lanier. According to Knox, it was Lanier who brought them all together. 
Lanier came in from Dumas, Texas and  it didn't take Buddy long to find out he was a guitar player. Lanier and Knox would get together in the dorm, pick and sing and raise hell.
The next year Jimmy Bowen came in. Jimmy grew up with Donnie in Dumas, so they were old friends.   

They didn't have a name for the group but all had orchid colored shirts, so they decided Rhythm Orchids would best fit their group.  

The group refined their sound at college parties, played in local clubs for beer and food, developed a big following and became the hottest local band around. 

In 1956, they went to see a local group called The Teen Kings, featuring future superstar Roy Orbison. The group had just recorded Ooby Dooby for the Je-Wel label.

This is the story of the sounds these historically important figures created during those early days. 
---
Party Doll Oldies Music Lyrics - The Story Behind this #1 Song from 1957.
After the concert, Knox and Bowen asked a member of the Teen Kings where they had recorded the song. 
Orbison told them it was a little studio at 1313 West Seventh in Clovis, New Mexico, the same studio where Buddy Holly recorded several of his early hits, including "That'll Be the Day".

A few days later Knox, Bowen and Lanier found themselves at Norman Petty's studio in New Mexico. Petty recorded only a few acoustic demos before sending the boys home.

Knox recalls, "I don't think Norman really spotted the potential at the time. I don't think he was really alert to what was happening in the music business as far as our type of music was concerned."

However, Petty saw promise in the young band and called them back to record with his drummer Dave Alldred.

---
For the $60 they had in their pockets, they spent three days recording three songs that would change their lives forever.
Recording Party Doll took eight hours. "I bet we did "Party Doll" 57 times before we got it right," Knox told "Accent West." 

Bowen added that Norman Petty had needed eight hours to get a two minute and two second A-side out of four half-ass musicians.  

Jimmy Bowen was on stand up bass, Don Lanier on lead guitar, and Buddy was on rhythm guitar and lead vocals. Knox said "We didn't have a drummer, but a boy by the name of David Alldred, who joined the band later, was a session player for Norman Petty, so we used him."
Besides Lanier's jangly Tex-Mex lead guitar solo, the record's most distinctive sound came from Dave Alldred's slap-back drum. "My drum was a paper box stuffed with cotton," Alldred told the "TV Radio Mirror" in August of 1957.

A young girl from the Clovis High School band sat in on cymbals and Buddy"s sister and two of her friends sang background vocals.

Buddy Knox and Jimmy Bowen turn $60.00 into pure gold. 
From that one session Buddy Knox would receive two gold records in 1957, one for "Party Doll" (written Knox and Bowen) and sang by Knox and the other that Jimmy Bowen sang and co-wrote with Knox called "I'm Sticking With You."

---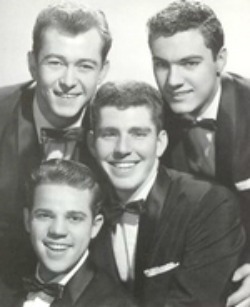 "We didn't know what we had just done," Knox recalls, " All we wanted to do was record our music and sell it around the college. This was just a fun trip for us."
It should be noted that the Jimmy Bowen song started as the flip side to "Party Doll" but eventually both artists attracted the attention of Roulette Records which then released the sides as two separate records with different B-sides.

---
Jimmy Bowen and Don Lanier - The Hidden Stars.
Bowen's song ultimately hit the charts on its own, peaking at No. 14 on Billboard's Hot 100 chart. Bowen's version sold over one million copies, and was awarded a gold record.
However, Jimmy Bowen's singing career did not take off as well as that of Knox.  He eventually abandoned his singing career, choosing to stay in the production end of the music industry.
In the early 60s Frank Sinatra hired Bowen as record producer for Reprise records. 
In 1964, Bowen brought his high school pal and original Rhythm Orchids member, Donnie Lanier to L.A. to become a contractor for his recording sessions.
After arranging musicians for Bowen's sessions as Dean Martin's producer, Lanier became in-demand as a musician contractor throughout the West Coast recording scene. 

In 1966 Bowen produced one of Sinatra's biggest hits, "Strangers In The Night." 

The song was a #1 hit in both the US and the UK, and won three Grammy Awards in 1967, including Record of the Year for Bowen.

Lanier also continued to write songs. His "Here We Go Again" became a hit for Ray Charles in 1967 and for Nancy Sinatra in 1969.

He also continued to play lead guitar, contributing to records by Lee Hazelwood, Phil Everly, Bill Haley, Dean Martin and more.
---
The Jimmy Bowen and Donnie Lanier Hit Parade Continues.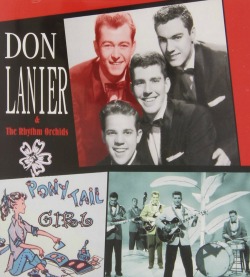 Beginning in 1971 Bowen became president of a series of record labels. His success stories over the years included Glen Campbell, Kenny Rogers, Hank Williams Jr., George Strait, Suzy Bogguss and Garth Brooks.
In 1983 Bowen worked with Conway Twitty and helped make his album "Merry Twismas" a number one album.
Bowen brought Lanier to Nashville when he took over MCA Records in 1984. Lanier became renowned and respected in Music City for his "ears," that is, his ability to hear future hit songs. 
In addition to George Strait and Reba McEntire, he found tunes for many of the other MCA artists of the 1980s including Patty Loveless and Loretta Lynn.  

---
A Final Thought - Remembering Buddy, Jimmy and Donnie. 
Mention Jimmy Bowen or Don Lanier to the average person and you may get a blank stare, but anyone in the music industry would instantly recognize the remarkable talents of these gifted individuals.
Still remembered for the enduring classic Party Doll, Buddy Knox was the first rockabilly singer-songwriter to score a number one pop hit, and enjoyed stronger follow up success than many of his peers.
Rockabilly Hall of Fame member and Rock-n-Roll legend Buddy Knox died on Valentine's Day, 1999. He was 65.
Don Lanier was an American songwriter and composer, original member of  The Rhythm Orchids and lead guitarist on the song "Party Doll."

Don Lanier died July 23, 2014. Don Lanier was 78.
As of this writing, July 2016, Jimmy Bowen currently lives with his wife Ginger in Phoenix, Arizona.
---
---
Return to Oldies Music Main Page.
Visit your favorite Doo-Wop pages here.