Carl Perkins and Friends
Carl Perkins wrote "Blue Suede Shoes"
and became
the rockabilly king forever!
---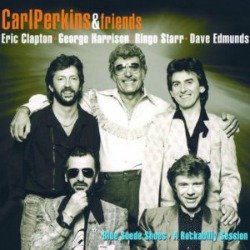 Carl Perkins and Friends is a Rockabilly Session taped in London in 1985 with fellow Rockabilly artists George Harrison, Ringo Starr, Dave Edmunds, Eric Clapton and others. 
The Rockabilly Sessions I have included on this site describes the amazing Rockabilly world of Carl Perkins and the legends of Rock & Roll who admired him and followed his music style.
In 1985, 30 years after his only #1 hit, Carl re-recorded "Blue Suede Shoes" with two members of the Stray Cats, as part of the soundtrack for the movie, Porky's Revenge.
---
Carl Perkins and Friends - Greatest Rockabilly Night of All Time!
That same year, George Harrison, Eric Clapton, and Ringo Starr appeared with him on a television special taped in London called Blue Suede Shoes: A Rockabilly Session.
It was simply Carl Perkins and Friends.
Anyone who knows me understands how big an Elvis fan I am but let me say this about Carl Perkins and Blue Suede Shoes.
Anybody who still associates this song with Elvis needs to hear Carl tear into it with his heart and soul in this Carl Perkins and Friends video performance.
The second video is simply the greatest version of this rock n' roll classic ever performed by anyone! 
This was Carl Perkins at his finest and when filming was over, Perkins said, "Nothing in the music business has even come close to this for me."
"At times I felt I was going to break down crying."
Carl's Career and Newest Fans, The Beatles.
"Blue Suede Shoes" sold 2 million copies before Elvis Presley even got his hands on it.
It became the first record ever to hit the pop, country, and rhythm and blues charts at the same time - a song Perkins said he wrote after playing "a gut-bucket barroom" called the Roadside Inn. 
"One night I heard this boy tell the girl he was dancing with, "Watch out, don't step on my suedes". "It kind of stuck to me," said Perkins, who pulled out a paper sack the next morning and wrote on it....
"Well, it's one for the money, two for the show... " 
Touring England with Chuck Berry for the first time in 1964, Perkins found an eager new audience, the Beatles, who invited him to Abbey Road Studios for a recording session. 
On the last night of the tour, Perkins attended a party that turned out to be for him. Carl ended up sitting on the floor sharing stories, playing guitar, and singing songs while surrounded by The Beatles.
Over 20 years later Carl would share the stage with his Rockabilly friends including George Harrison, Ringo Starr, Dave Edmunds, Lee Rocker, Eric Clapton and Rosanne Cash.
Here is a memorable "Blue Suede Shoes" with Carl Perkins and Friends.

A Few Facts You May Not Know About Carl Perkins.
Carl played lead guitar on the Judds 1989 #1 hit "Let Me Tell You About Love," also written by Perkins.

Jerry Lee Lewis played piano on Perkins hit "Matchbox.
Carl Perkins also played lead guitar on Johnny Cash's smash single "A Boy Named Sue" which was No. 1 for five weeks on the country chart and No. 2 on the popular music chart.
Ringo Starr recorded "Honey Don't," "Matchbox" and "Everybody's Tryin' to be My Baby,"  all written by Perkins.
Ricky Nelson covered Perkins' "Boppin' The Blues" and "Your True Love" on his 1957 debut album Ricky.
During 2004, Rolling Stone magazine ranked Perkins number 69 on its list of the 100 Greatest Artists of All Time. 
In addition, "Blue Suede Shoes" was chosen as one of The Rock and Roll Hall of Fame's 500 Songs that Shaped Rock and Roll, and as a Grammy Hall of Fame Award recipient. 
His pioneering contribution to the genre was also recognized by the Rockabilly Hall of Fame.
---
The Coolest Rockabilly Cat of all - Carl Perkins.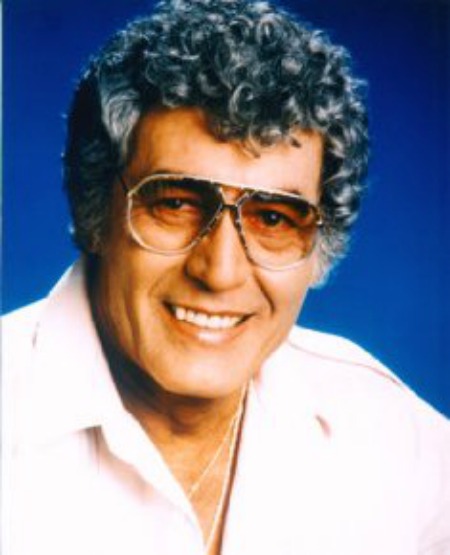 In the end, he was satisfied with a career that never yielded a hit album. All these boys -- Elvis, Jerry Lee, Roy Orbison -- they all lost their wives, their families, Carl said in a 1996 interview.
People say: "What happened to you, Carl? All of them went on to super stardom. Where'd you go?" I say, "I went home. And that's a good place to be."
Home with family and friends is a good place to be, but in my opinion, Carl was the original Rockabilly super star and rightful owner to the title "King of Rockabilly."

I love Doo-wop and cool oldies but I enjoy Rockabilly music just as much, and maybe more,  mainly because of Carl Perkins. 
---
Carl's close friend George Harrison sings Everybody's Tryin' to Be My Baby.
Rockabilly Classic - "Your True Love" featuring George Harrison.
George Harrison asks Carl to demonstrate the "Les Paul Echo" the Rockabilly Way.

Next Rockabilly Surprise - Ringo Starr - Honey Don't.

A Smokin' Guitar on "Matchbox Lyrics."
Eric Clapton's Hot guitar licks on "Mean Woman Blues."
A Really Cool Jam Session with Carl and his Friends
Rosanne Cash - "My Baby Thinks He's a Train 
Mystery Train - "Who's the best on this classic rockabilly tune"?

Ever thought of having your own website? I built Vinyl Record Memories "from scratch" with SoloBuildIt! Click below to find out more....

Top of Page