Your True Love Rockabilly Lyrics

Featuring George Harrison Rockabilly Style!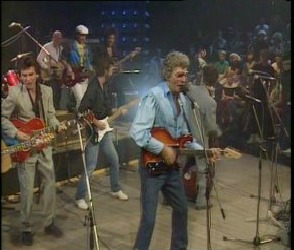 Your True Love Rockabilly Lyrics was written by Carl Perkins in 1957.
Nearly 30 years later Carl is singing with his rockabilly buddies George Harrison and Dave Edmunds in a live performance in 1985.
George Harrison was my favorite Beatle...He is also on my list of my favorite guitar players. These videos should tell you why great music is alive and well in pure Rockabilly style.
This is a great side of George Harrison without the Beatles.
It's pretty obvious these guys are having a ball. Don't think anyone is thinking about a paycheck or record sales while they were making this special. Just doing what they love with great rockabilly friends.
You think they might have felt 20 years younger that night?
If you're a fan of Carl Perkins and if you hold these two "Beatles" George and Ringo close to your heart, then you will love this show and the videos on the Carl Perkins and Rockabilly pages that will show Ringo at his very best.

---
Your True Love Rockabilly Lyrics - 1957
Written and recorded by Carl Perkins
True love (your love)
Your True love (your love)
True love, baby
That's what you give to me

True love (your love)
Your love (your love)
True love, baby
That's what you give to me

God made the world
And he made it round
I got my baby
And I'm glad I found

Her love was meant for me
And my baby, she'll always be
True love (your love)
Your True Love (your love)
Your True love, baby
That's what you give to me

True love (your love)
Your True love (your love)
Your True love, baby
That's what you give to me

Love was made, I don't boast
When He made you, He made the most
You've got that certain touch
To me, baby, you mean so much

You give me true love (your love)
Your true love (your love)
Your True love, baby
That's what you give to me

George Harrison Guitar
True love, your love
Your true love, your love
Your True love baby that's what you give to me

Well the big, the little, young and old
All need somethin' to have and hold
When I found you I found that
You got the lovin' I can't forget

True love, your love
Your true love, your love
True love baby that's what you give to me

George Harrison Guitar
True love (your love)
Your True love (your love)
True love, baby
That's what you give to me

True Love baby
That's what you give to me
---


George Harrison asks Carl to demonstrate the "Les Paul echo" the Rockabilly Way

Go To Carl Perkins Main Page

Return to Home Page from Your True Love Rockabilly Lyrics Page