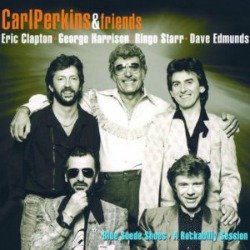 This Carl Perkins Rockabilly Session Part 2 was taped in London in 1985 and could very well have been the greatest assembly of rockabilly musicians ever put on one small stage.
Much has been said about how close to perfection the show was. And if you own the DVD it really is that good. If you wanna have some fun watch the Rockabilly sessions on these pages and let the 50's spill all over those cool blue suede's.
The late George Harrison, who was a great Perkins fan, starts off with Glad All Over playing his cool red Gretch Guitar. I love the way Ringo comes across relaxed and just rolls with the Rockabilly flow. You can tell Ringo is really into the music and enjoying himself.
And of course Roseanne's spiked hair and everyone's dated fabrics takes you right back to 1955. If you're a rockabilly fan you won't stop playing these videos.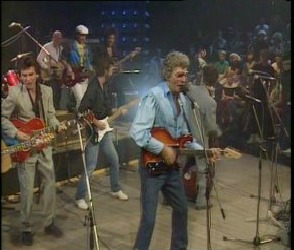 Carl Perkins was an innovator.
He came to Memphis with new and exciting ideas from a mix of country and blues music. He was a different type of rock musician.
He was once marked to be bigger than Elvis but was hampered by a car crash in the early touring days and poor marketing by Sam Phillips and others.
His beat and style of incorporating a variety of guitar licks into that rockabilly sound was truly cool and different.
The one thing that separated Carl Perkins from Elvis is that Carl never changed his style from rockabilly. Elvis did.
Enjoy this Rockabilly Session Part 2 with George Harrison singing Glad all Over and Carl Perkins doing Jerry Lee Lewis' Whole Lot of Shakin' Going on. You'll be back for more.