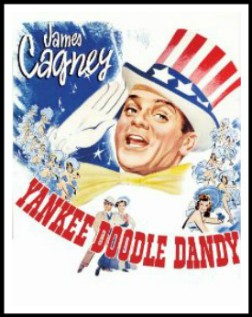 This 1942 Yankee Doodle Dandy Movie starring James Cagney as George M. Cohan has long been at the top of my list as one of the most patriotic films ever and is almost always shown each year on the fourth of July. 
Veterans day and Memorial day are equally great dates I pick to enjoy this great American classic. Watching the movie doesn't always happen exactly on those days for various reasons but I make the effort. The movie always makes me feel good and very proud to be an American.  

The film depicts a true reflection of George M Cohan, American Composer, Theater/vaudeville actor, playwright, singer, dancer and song writer.

During WWI and WWII he helped keep the troops moral up while providing entertainment.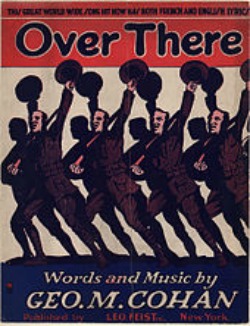 "Over There" is a 1917 song written by George M. Cohan, a patriotic song designed to galvanize American young men to enlist in the army and fight. 
It was popular with the United States military and public during both world wars. The song is best remembered for a line in its chorus: "The Yanks are coming." In 1936 President Franklin D. Roosevelt presented Cohan with the USA Congressional Gold Medal for his contributions to WWI morale, in particular 2 songs...."Grand Old Flag and Over there."

Cohan was the first person in any artistic field selected for this honor, which previously had gone only to military and political leaders, philanthropists, scientists, inventors, and explorers.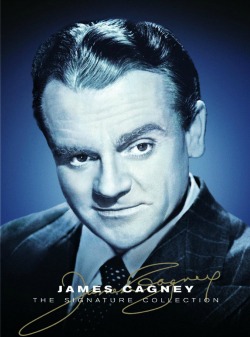 There are so many beautiful moments in this Yankee Doodle Dandy movie that will give any true patriot goosebumps and cause to tear up, but none more memorable for me than that famous dance down the White House steps.

Cagney's unique and seemingly odd presentation reflected the style that Cohan himself used and Cagney's natural dance style played out perfectly in the White House scene as follows.

Finally comes the White House visit. After Cohan has told the patient FDR his entire life story he is given the Congressional Gold Medal in a private presentation during the final scene in the film.

As he leaves the President's office the Yankee Doodle Dandy theme begins to play, a very heartwarming scene. 

Cagney's Cohan is walking down a marble staircase at the White House when he suddenly starts tapping and improvises all the way to the bottom.

Cagney later said he dreamed that up five minutes before the scene was shot:  "I didn't consult with the director or anything, I just did it."

Outside, he joins a military parade, where the soldiers are singing "Over There."  Not knowing that Cohan is the song's composer, they jokingly invite him to join in, which he does.
The last scene with the dance down the stairs is shown in this memorable short 4 minute film clip. 

Audiences didn't expect to see Cagney singing and dancing. He'd been a hoofer in his stage days, but danced only once in a major film ("Footlight Parade," 1933).

Now he had the lead in the life story of one of the most famous song and dance men of his day--a role everybody knew Fred Astaire had turned down.   

Cohan himself served as a consultant during the production of the film but due to failing health his actual involvement in the film was rather limited.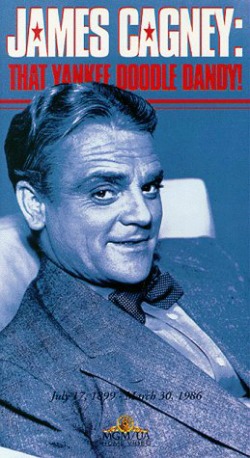 However, Cohan did see the film before he died.
Many of today's biopics focus on scandal and gloom but in the Yankee Doodle Dandy movie everything is upbeat and Cohan liked it.

According to historian Jay Robert Nash, "Cohan grinned, shook his head, and paid Cagney his highest compliment," ("My God, what an act to follow"!)

James Cagney won his only Academy Award for best actor for this film. What an amazing guy, Incredible talent! All I can say about him dancing down the steps is, "kids, don't try this at home."

The movie stars James Cagney, Joan Leslie, Walter Huston, Rosemary DeCamp.

Cagney received an Oscar for his rousing depiction of George M. Cohan, composer of the patriotic ditties Over There, Yankee Doodle Dandy, Give My Regards to Broadway and countless others, in this spirited Hollywood musical.

The movie will warm your heart and make you proud you were born in this great country.