Rockabilly Guitar Licks

Carl Perkins place in Rockabilly history.
---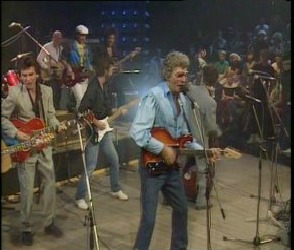 Rockabilly Guitar Licks were made popular in the mid fifties by Carl Perkins when he blasted onto the scene with his #1 hit "Blue Suede Shoes."
In July 1954, he heard Elvis sing Blue Moon of Kentucky on the radio, and headed to Memphis to see Sam Phillips. Phillips signed him, sent him to tour with Presley, and lit up the South with rockabilly fever.

Perkins would go on to release a masterful mix of rockabilly music that everyone imitated but few others could equal. Tunes like Blue Suede Shoes, Honey Don't, Dixie Fried, and Matchbox would offer more than the required slapback bass and studio echo, and speak for themselves.
 
These four tunes lifted Perkins to stardom, and underlined that rockabilly had way more musical chops to offer. Over the years many who grew up with classic rockabilly will forever acknowledge that Carl Perkins definitely owns a special place in Rockabilly Music history.

---
Carl Perkins
A Highly Influential Guitar Player.
---
Perkins, who died in 1998, was the composer of many rockabilly standards and other classics, as well as a highly influential guitar player, as you will see in this video.

This original London Rockabilly show, featuring Perkins, along with Ringo Starr, George Harrison, Eric Clapton, Dave Edmunds, Slim Jim Phantom and others, was recorded live at London's Limehouse Studios in 1985 and features Harrison & Starr in their first reunion gig since the '70's.

But even with all this star power, it's Perkins's show all the way. Not only can the man still play, but he's clearly basking in all the attention...as is Harrison, whose rare live performances should be treasured all the more now that he's gone. Life isn't always fair, but Perkins got love and recognition from the Beatles and countless others that would again highlight Perkins talents as one of the greatest rockabilly performers of all time. 

---
Carl Perkins Rockabilly Guitar Licks. 
---
Carl shows George how he created that Echo Sound at SUN Studios without any Reverb equipment. How he figured out a way to make his guitar sound like it did have reverb by tapping each note twice with his left hand.
Music historians should be excited and students everywhere should take notes and be enlightened with just the Rockabilly Guitar licks information on this video.
Watch closely as George stares in wonderment as Carl plays a little tribute to Les Paul, playing these Rockabilly guitar licks on the classic song, "World is Waiting For the Sunrise"
This video demonstrates how deep Carl's influence was on so many players...most especially his good friend George Harrison.
---
---
Ever thought of having your own website? I built Vinyl Record Memories "from scratch" with SoloBuildIt! Click below to find out more....

---


Next Rockabilly surprise - Ringo Starr - Honey Don't

Return to Carl Perkins Main page.

Visit the Hank Marvin page.

Return to Home page.