George Harrison
"Rockabilly Artist"
My favorite "Beatle"
Live with Carl Perkins.

---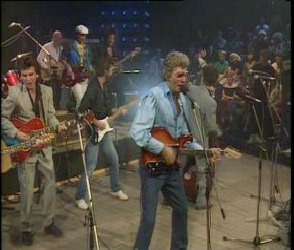 George Harrison, Rockabilly Artist and one of my favorite guitar players.
I consider George Harrison a true Rockabilly Star and this 1985 live performance with Carl Perkins and Friends is only a sample of his immense talent.
This is George Harrison at his absolute best, coming out of retirement and barnstorming through "Everybody's Trying To Be My Baby" like he's back in 1962 at the Cavern Club! 
How happy George looks playing along side his long time friend and Rockabilly King Carl Perkins?
Great musicians and singers can play and sing any kind of music. George Harrison knew and respected where Rock and Roll came from and Carl Perkins was one of the founding fathers of Rock and Roll and the Rockabilly sound.
This performance shows the love and respect George had for his hero and the real music that was in his heart.
---
George Harrison Rockabilly Artist - Was the authentic SUN echo used on this Special?
During the SUN recording days there was always a different sound Sam Phillips came up with on his records...the SUN sound. You just gotta love that SUN echo that they get from the mikes and the reverb.
George had made a quote in GP Magazine in 1985 about the sounds that they produced when he was playing with the Beatles.
"Those early sounds that we did, I just hated them. They sounded so puny. I mean, listening to James Burton playing on the Rick Nelson records... and we would come up with our stuff that was so feeble." (reflecting on The Beatles' early career) George Harrison, GP Magazine, 1985
What George was referring to was that Rockabilly type sound that James Burton produced while playing lead guitar with Ricky Nelson.
George recognized early on the quality and talent of Carl Perkins, James Burton and others and their place in the history of rockabilly.
George will always be one of my favorite musicians. He was a genuine and sincere artist.  And his cool red Gretch Guitar looks and sounds perfect playing those Rockabilly sounds. 
As you return here to watch the videos I add with George Harrison playing Rockabilly with Carl Perkins you will see how much he enjoyed playing this type of music.
It was nice to see Carl Perkins and his friend George Harrison do something like this before they passed. The folks in the audience definitely witnessed something special that night.
How can you watch this and not smile?
---
---


Rockabilly Classic "Your True Love" featuring George Harrison

Watch Brian Setzer on the Mystery Train Guitar Challenge

Read about James Burton Here.

Return  Home.

---