James Burton
Vinyl Record Memories.

Lead guitar player for Elvis and Ricky Nelson.




---
I enjoy many guitar players but one of my all time favorite's is James Burton. Some of you might say, James WHO. Please read on...
Burton was born in Dubberly, Louisiana in 1939 but grew up in Shreveport.
At 14 he was working club gigs and private parties. He even skipped school just to be able to play guitar. It wasn't the money, it was just for the thrill of playing.
---
Ricky Nelson discovers his Super Star Guitar Man!
He had enough talent at a young age that the producer of the Louisiana Hayride asked him if wanted to do some shows and join the staff band. He was only 14 at the time and played behind guys like George Jones, Billy Walker and Johnny Horton.
While he was in Hollywood playing in a band, Ricky Nelson heard him rehearsing, and he soon got a telegram and an offer to be on the Ozzie and Harriet show as member of Nelson's back up band.
---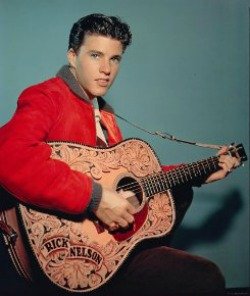 At the beginning,  James played rhythm guitar for Ricky and was actually living with the Nelson's. Ozzie and Harriet had invited him to stay at their home. He lived with them for about two years before getting his own place.
He played his first lead guitar recording with Ricky on one of my favorite Ricky Nelson songs "Believe What You Say." After that he played lead on every record Ricky Nelson made between 1958 and 1967.
This is what John Fogerty and George Harrison had to say about James and his early Ricky Nelson years.
"James Burton was one of my earliest guitar influences. The Rick Nelson stuff... things like 'Believe What You Say'... is just mind boggling". John Fogerty, GP Magazine, 1986
"Those early sounds that we did, I just hated them. They sounded so puny. I mean, listening to James Burton playing on the Rick Nelson records... and we would come up with our stuff that was so feeble." (reflecting on The Beatles' early career) George Harrison, GP Magazine, 1985.

---
The Elvis Years...Elvis' favorite guitar player.

In 1968, he was working with Frank Sinatra when Elvis called him and wanted him to do an NBC show that would later be know as the '68 Comeback Special.
He was so busy with studio work he was unable to work with Elvis, but a year later Elvis called again and James was available.
While talking to James on the phone Elvis told him that he watched the Ozzie and Harriet show just to see him play at the end of the show.
During his '69 performances, he always introduced James as his favorite guitar player.
---
"Play the Song James" | The Wonder of You... 
Las Vegas, 1970.
Another one of my favorites by Elvis, but watch Elvis show respect for his friend and favorite guitarist, James Burton. As he begins the guitar solo Elvis says, "Play the song James" and then points toward him giving him the stage.

Also,  notice that James is playing his famous "Pink Paisley" guitar that Fender created in 1969 as a special model for Burton. In the second video below, James explains in the interview what Elvis thought of the Pink Paisley when he first brought it on stage.
James Burton's many famous friends.
James played with Elvis as a member of the TCB band until Elvis' death in 1977.
He has also played with Glen Campbell, Johnny Cash, Merle Haggard, Buck Owens, Dean Martin, The Everly Brothers, Bobby Darin, Jerry Lee Lewis and many others.
James was inducted into the Rock and Roll Hall of Fame in 2001.
After reading this page and watching these two video clips it's not hard to see why I view James Burton as one of the best guitar players of all time.
When you see some of them old clips of Ricky Nelson singing on the Ozzie & Harriet Show and Elvis performing in Las Vegas, you'll at least know who the lead guitar player is standing next to them....James Burton.
---
"The King and I"
James Burton talks about Elvis.
Take a look at the following interview and listen to how Burton describes his friendship with Elvis.  James' comments reveals how much Elvis appreciated everyone around him.  


Return to Ricky Nelson Main Page

Go to Elvis' Main Page
Return Home from this James Burton Page




Top of Page