Jerry Lee Lewis Old Country Music Lyrics will give you "The Killer's" version on what I believe to be the very best recorded version of the classic Country Music song "Workin' Man Blues," originally released a year earlier by Merle Haggard.

In the Jerry Lee Lewis version released on the LP album, "She Even Woke Me Up to Say Goodbye," he adlibs during the instrumental break, "Down in Lou'siana, we call that boogie woogie!"

The Jerry Lee Lewis songs on these pages will reveal why I believe Lewis was, and still is, one of the top country singers of all time and also why he has been one of the most influential musicians in country music.

"Workin' Man Blues" was recorded by Lewis fifty years ago. To this day I cannot believe this song never charted and the album "Killer Country" only made it to #35 on the charts. When you listen to Jerry Lee's version you may agree...and you may not agree where the song should rank, but let me point out my view about Jerry Lee's version. 

Jerry Lee's recordings for Sun records were some real classics, but "Workin' Man Blues" represents the "Killer" on an entirely different level. I listened to Jerry Lee Lewis in the 50s and his sound gets me as excited today as it did at thirteen when I discovered "Whole Lotta Shakin' Going On" for the first time.

On the "Killer Country" album he hits high notes and falsettos in the middle of phrases without effort and his piano playing style is Jerry Lee at his best. Country, Classic Rock, Blues and Rockabilly, Lewis can do it all with ease.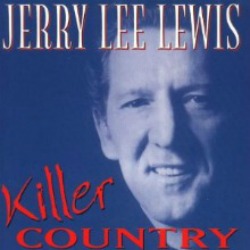 Merle Haggard wrote this song and it became a #1 hit for him in 1969.
When I learned that James Burton, one of my favorite guitar players, played lead guitar on this song for Merle, I liked it even more.  Read about James here.
When I listened to this version and learned Burton also played lead for Lewis, I was just blown away. One of the greatest Rock guitar artists and the greatest Rock and Roll Honky Tonk piano player of all time on the same song.
Merle wrote it, he owns it and got the seal of approval from his fans who made this a #1 song. He is without question one of the top Country Music artists of all time, and my favorite. But on this song....I like Jerry Lee's version. 
If you have never heard this version with Lewis' boogie woogie piano a word of caution...Grab something and hold on because you may just find it difficult to stand in one place. 
Jerry Lee plays with the energy and soul of a gospel singer, and incorporated much of this style into his music as well. 
Lewis' style of talking and laughing during the song makes it even more special.