Middle Age Crazy Lyrics

From 1977 Album "Country Memories."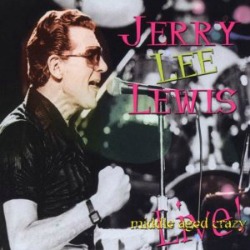 The Middle Age Crazy Lyrics was written by Sonny Throckmorton in 1977 and became a #4 hit song for Jerry Lee Lewis.
This is Classic Country, delivered by one of the very best in the business.
Jerry Lee's recordings for Sun are great Classic Rock sounds, but his Country music side puts him on an entirely different level.
As one individual remarked after listening to a Jerry Lee Lewis Country Album...
"This man's voice consistently puts the listener's goosebumps at strict attention, in a way that propels him beyond many country singers today, to a level just a shade below the King himself." 
Can't argue with that can you?
Over the years, I've always said Merle Haggard is my favorite Country music singer, but when you listen to Lewis and read what's said about his music it's hard not to realize that he truly was just a shade below the King.
As I enjoy comparing "Best Beer Songs/Bar Songs" ever written, this one fits right in.
Middle Age Crazy Lyrics - A voice that shines above Country Music's Best
For many of you who believe "The Killer" was just a Rock-n-Roll artist, listen to his Country songs on these pages and then judge for yourself how well he really tells a story with feeling.
I think you'll be surprised the emotion he puts into his songs.
The Middle Age Crazy Lyrics in this song seems as though it was written for Jerry Lee's Lifestyle, with the closing lyrics, "Trying to prove he still can".
---
Enjoy this Classic Country song from 1977.
Middle Age Crazy
Recorded by Jerry Lee Lewis
Written by Sonny Throckmorton

Today he traded his big 98 Oldsmobile
He got a heck of a deal...On a new Porsche car

He ain't wearing his usual grey business suit
He's got jeans and high boots...With an embroidered star

An today he's forty years old going on twenty
Don't look for the grey in his hair...'Cause he ain't got any

He's got a young thing beside him...That just melts in his hand

He's middle aged crazy
Trying to prove he still can
He's gotta a woman he's loved for a long long time at home
Ah but the thrill is all gone...When they cut down the lights

They've got a business that they spent a while comming by
Been a long uphill climb...But now the profits are high

But today he's forty years old going on twenty
And he hears of sordid affairs and he ain't had any

And the young thing beside him...You know she understands

That he's middle aged crazy
Trying to prove he still can

---
"That Kind of Fool" - Politicians Play this Several Times

Return to Jerry Lee Lewis Main Page

Return Home from this Middle Age Crazy Lyrics Page