To Make Love Sweeter For You Lyrics
From the LP album
"She Still Comes Around"
---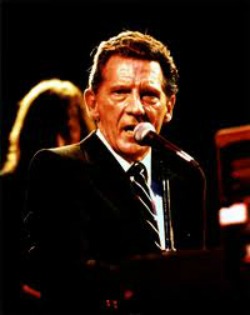 To Make Love Sweeter For You Lyrics was written by George Morgan and was released off the 1968 album titled "She Still Comes Around."

The song was Jerry Lee Lewis' third number one on the country chart and his first since "Great Balls of Fire" in 1957. The song would spend a total of thirteen weeks on the Country music charts. Lewis started his career with rockabilly and Rock & Roll and I believe he really was the only true competitor to Elvis Presley.

Some say Lewis might have gone down in history as the King of Rock & Roll if it weren't for his highly controversial marriage to his cousin.
Because Rock-&-Roll was marketed to kids, radio stations refused to play his music.  He was shamed by the public and decided to leave Sun records and stay in the shadows for a few years.
Although it slowed his career it did push Lewis into Country music and, in my opinion, turned out to be the best Jerry Lee Lewis songs ever recorded.

---
To Make Love Sweeter For You Lyrics
Jerry Lee's Country Classic.

---
Over the next thirteen years Lewis would place more than 20 songs on the Top Ten Country Charts, and many more in the Top forty. 
His last Top Ten hit was "Thirty Nine and Holding" released in 1981. Listening to any one of Jerry Lee's country collection albums makes one wonder why you don't hear more of this true Honky-tonk singer.

Of all the country singers of the post-Hank Williams era, Jerry Lee is undoubtedly one of the very best. His blues soaked delivery echoes the style that both Hank and Jimmie Rodgers pioneered.  

Jerry Lee Lewis is one of the finest vocalists and musicians around, and when singing country he's so convincing it's hard to believe he has not lived those songs.   

If you have not listened to Jerry Lee Lewis sing country very much please return here often as I continue to add more of my favorite Country songs by this immensely talented man.

Enjoy this great song and listen to how much feeling Jerry Lee puts into all his recordings.

And how about that album title..."She Still Comes around (to Love What's Left of Me)."  Pure Jerry Lee Lewis style.

---
To Make Love Sweeter For You Lyrics (#1 in 1968)
Recorded by Jerry Lee Lewis
Written by George Morgan

Well, I'd like to send an orchid...At the start of every day
For flowers show more beauty...Than words could ever say
You done so much for my world...Till all I want do
Is try my best in every way...To make love sweeter for you

A thousand special compliments..I pay to you each day
Your years would never tire of all...The sweet things I would say
You never would be lonely...Honey you never would be blue
Cause my one aim in life would be...To make love sweeter for you
You given me the faith that took...To make my dreams come true
That's why I want to live and breath...My every breath for you
You've cleared the windows of my life...And now that I see through
I'll do my best in every way...To make love sweeter for you

I'll do my best in every way...To make love sweeter for you
---
---

Be sure to visit the Golden Oldies Pages...
Don't Forget the popular Best Oldies Cover Songs pages...

Return to Home Page.

Ever thought of having your own website? I built Vinyl Record Memories "from scratch" with SoloBuildIt! Click below to find out more....