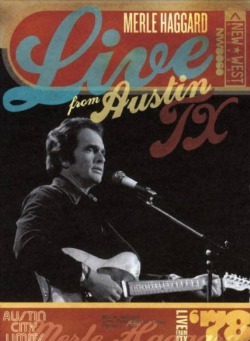 Merle performed Silver Wings during his first appearance on the popular Austin City Limits.

When he stepped onto that stage in Austin, Texas for the first time in 1978 Merle was at the top of his game.
He had already been named Entertainer of the Year by both the Country Music Awards and Academy of Country Music in the same year (1970). His recent release of a tribute to the Best Damn Fiddle Player in the World (My Salute to Bob Wills), sparked a renewed interest in western swing.
With his band, the Strangers, it was no stretch to say that he had the best live show in country music.
Haggard recalled the story of this mournful song to the UK magazine Uncut: "It was written on a plane – a 707 coming out of Phoenix, Arizona going to LA with Bonnie Owens," he said. "I looked out and those silver wings were just gleaming. I thought, what a great title for a song."

I moved to a small town outside of Austin, Texas two years after he first sang this song on Austin City Limits.  If I had known he was going to be there I believe I would have moved two years earlier:-)

The song was on the 1969 album "A Portrait Of Merle Haggard" and the album went to #3.
Silver Wings has since become a Merle Haggard standard and a favorite at his concerts. See if you agree after watching this great Live performance from more than 40 years ago. 

Slowly fading out of sight....