I Think I'll Just Stay Here and Drink.

Featuring the Album
"Back to The Barrooms."
---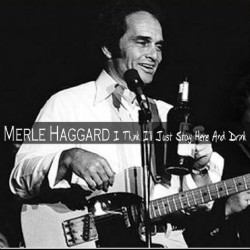 A No. 1 song for Merle Haggard following its October 1980 release, "I Think I'll Just Stay Here and Drink" features another great barroom song from an album filled with songs of bars, booze and the blues.
It's also one of the last songs he performed at the Grand Ole Opry, and helped along a career resurgence for "the Hag" in the '80s. "I Think I'll Just Stay Here and Drink" was also written by Haggard and released as a single off the album "Back to the Barrooms." It's a simple tune, about the emotional wreckage caused by love gone wrong and the boozing that seems to be the singer's only way to cope.
This whole album is filled with great honky tonk and broken down dreams. It's a "must have" in any country collection, especially if you're the kind to stay home and drink alone.

His only solo #1 hit at MCA, Haggard's, "I Think I'll Just Stay Here and Drink," features an extended jam, unusual for a country single at the time, consisting of Larry Muhobarec on piano, Don Markham on saxophone, and Reggie Young on guitar, who you can also see playing with The Highwayman on this site.
---
"Back to the Barrooms" - Just Stay Here and Drink.
How good was this album?
We'll let me tell you. Considered by many to be one of the finest stand alone country albums ever, this album was book-ended by "Misery and Gin" and "I Think I'll Just Stay Here and Drink."
The album contained eleven songs. The first single off the album was "Misery and Gin" and reached number three on the country music charts. The single also appeared on the soundtrack to the film Bronco Billy, in which Haggard had a cameo role, appearing as himself. 
The self-explanatory "I Don't Want To Sober Up Tonight" and the title track are also unabashed odes to getting drunk.
---
As the second single from the album, and the last song on the album, "I Think I'll Just Stay Here and Drink" would be Haggard's twenty-sixth number one country hit. The single stayed at number one for one week and spent a total of twelve weeks on the country charts.
A third song off this old country music album was "Leonard" a heartfelt tribute song to Merle's good friend, songwriter Tommy Collins (whose real name was Leonard Sipes.)

Merle Haggard recorded his first Tommy Collins song -- "Sam Hill" -- in 1964 and then moved on to such Collins-penned hits as "Carolyn" (1971) and "The Roots of My Raising" (1976), both of which went to number one.
Is this featured song as good as Misery and Gin,  a song I consider to be in the top 5 of all beer drinking songs?   

When you finish the lyrics below, read the story about the album, Back to The Barrooms and the talented man who produced the album.
---
"I Think I'll Just Stay Here and Drink"
Written by Merle Haggard
#1 song in 1980
Could be holding you tonight
Could quit doing wrong...start doin' right
You don't care about what I think
I think I'll just stay here and drink
Hey puttin' you down don't square no deal
Least you know the way I feel
Take all the money in the bank
Think 'll just stay here and drink
Listen close and you can hear
That loud jukebox playin' in my ear
Ain't no woman gonna change the way I think
Think 'll just stay here and drink
Hurtin' me now don't mean a thing
Since lovin' you, don't feel no pain
My mind ain't nothin' but a total blank
I think I'll just stay here and drink, yeah
---
"Back to The Barrooms"
Album History and Vinyl Record Memories.

This old Country music album is an absolute classic by a musical genius at the top of his game. If you want beer drinking music and a bar room atmosphere it would be hard to pass up this album.  

The album was produced by Jimmy Bowen who co-wrote "Party Doll" with Buddy Knox and went on to become a well-know record producer. Read the Jimmy Bowen story here.

One of the musicians listed on the back cover is Johnny Gimble, one of my all time favorite fiddle and mandolin players.  He was seen frequently on Austin City Limits.
This album, "Back to the Barrooms" was obtained in the early eighties from a musician friend in Austin, Texas.  The album is sealed and has never been played. 
Sadly, one of the great country legends of our time, died on his birthday, April 6, 2016. God Bless you Merle Haggard for making country music a pleasure to listen to and the way it should be played. 
---
---
Ever thought of having your own website? I built Vinyl Record Memories "from scratch" with SoloBuildIt! Click below to find out more....