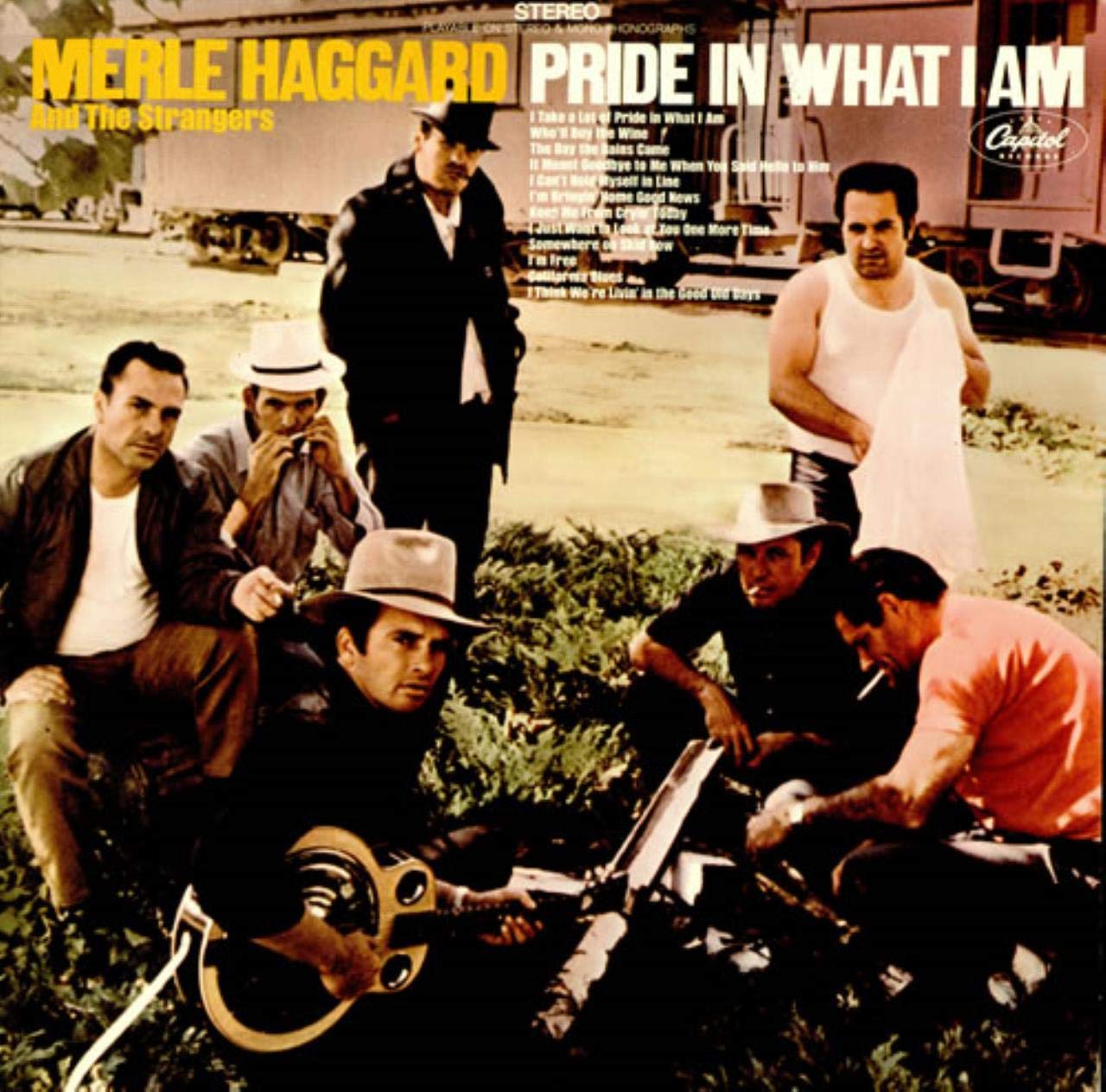 Merle Haggard turned in one of his finest album efforts to date in 1969's "Pride in What I Am."
This LP followed  the release of three top ten albums in 1968, including the number one album, "Sing Me Back Home," from January, and a solid #4, Mama Tried album, released in September of the same year. 
While "I Take a Lot of Pride in What I Am" was the only track on the album that was a hit, the album is certainly not lacking in strong material, as evidence by a respectable #11 placement on the US country album chart. The other selections may not be among his most celebrated songs, but they're all small gems that illustrate what a fine songwriter he is. "Pride In What I Am" may not be among his flashiest, but is another excellent record album by one of the most reliable recording artists in country history.
Merle Haggard wrote "I Take A Lot of Pride In What I Am" about being comfortable with who he was - he didn't care about what other people thought of him. The song is a first person narration by a homeless drifter who laments his lonely, rootless existence but at the same time celebrates "living off the side of our great land..." as he defiantly proclaims, "Things I learned in a hobo jungle are things they never taught me in a classroom."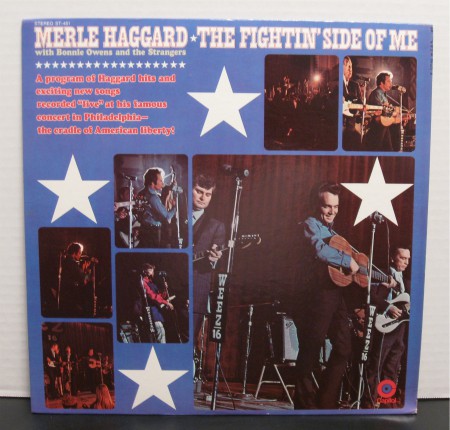 Merle Haggard's "Fightin' Side of Me" live album was recorded on March 14, 1970 at Philadelphia's Civic Center Hall where Haggard drew a capacity crowd. The songs on this album bring back great vinyl record memories ad are a good representation of a typical Haggard concert from the early seventies. This fifty year old album, remains my favorite Merle Haggard album in my collection. 
Merle starts off the Album singing "I Take a Lot of Pride in What I Am" and although I enjoy this album because of all the great songs, especially his impersonations, this one tops my album song list. As you listen to this song from the video below, take notice the slight popping noise as the needle is lowered onto the record. It strikes a piece of dust or doesn't hit the record groove just right, proof positive by that slight pop or crackle you hear, that many of us still play vinyl records and albums.
The "Fightin' Side of Me," song was written and recorded by Merle Haggard for the capitol label, on December 23, 1969, at Capitol Recording Studio, in Hollywood, California. Merle was accompanied at the recording session by: James Burton (guitar), Roy Nichols (guitar), Tommy Collins (guitar), Norman Hamlet (steel and dobro), Chuck Berghofer (fender bass), Sam Goldstein (drums), Glen Hardin (piano). 
This vinyl record memories classic was released on January 26, 1970, and reached # 1 on the charts of US Hot Country Songs, on May 14, 1970, remaining on the charts a total of 14 weeks. On April 4, 1970, it also reached # 1 on the Canadian RPM Country Tracks charts. It was the ninth number one in Merle's career.
The song was included in Merle's second live album titled, Merle Haggard -  The Fightin' Side of Me. The album was released on July 6, 1970, and on October 10, 1970, reached # 1 on the charts from US Top Country Albums, and remained a total of 41 weeks in the charts. The album was certified gold in the USA.
Country Music Promoter Carlton Haney introduces Merle, who opens up with this great hit...The Houselights blink, then dim. The crowd quiets. Then the intro and sound they've been waiting for...
This is Merle Haggard - Live!

More that 10,000 Country fans from as far away as Main, have come to see "The Okie." It's a Saturday night in Philadelphia's famous Civic Center Hall - radio station WEEZ's Country Shindig No. 18.
It's been a long journey for Merle but he's arrived. His records have all hit the top listings on the music charts. He's become a Country Legend, a man identified with some of the finest songs Country Music has to offer.
The applause shakes Philadelphia from one end to the other as the crowd responds to everything Merle feels, cheers him on, and is stirred by his talent and yes, his deep patriotic feelings that are expressed in "Okie" and "The Fightin' Side."
A lot of good things happened to Merle Haggard in 1970, the year this album was released. He was both entertainer of the year and Top male vocalist of the year in 1970.
His previous album "Okie from Muskogee" was also voted album of the year and the title song was single of the year.
This is a fun vinyl record and shows Merle's talent with his impersonations of Country Legends no longer with us, Johnny Cash, Marty Robbins, Hank Snow and Buck Owens. You have to hear this LP Album live to appreciate how close Merle gets to sounding exactly like these great artists. They may be gone but owning this "Fightin' Side" album, will keep their memories alive. With exception to the lead song, it's hard to pick a favorite off this great album. Here are a few I believe you would enjoy.

Merle's band, The Strangers, makes a live version of "I Take A Lot of Pride In What I Am" better than the original single cut. 

Next is one of Merle's newer songs, heard for the first time in an album, "Every Fool Has A Rainbow."
T.B. Blues is sure to have Jimmie Rodgers looking down and smiling at Merle's performance.
Merle introduces his "Strangers," who re-create one of their recently recorded instrumental hits, Stealin' Corn.
A comedy song written by BobbyWayne, Harold's Super Service, is fun song about a stripped down Model "A" and the owner's request for cheap, no charge service.
In this medly Merle does his impersonations of Marty Robbins, Hank Snow, three of Johnny Cash, then Buck Owens. Near perfect on every one.
Merle sings his own award-winning composition of "Today I Started Loving You Again."
And the two Haggard patriotic hits that bring down the house, and the curtain: "Okie From Muskogee" and "The Fightin' Side of Me."