The Chordettes
Vinyl Record Memories

The Stories Behind
Lollipop and Mr. Sandman.

---
The Chordettes Vinyl Record Memories of Lollipop & Mr. Sandman brings back warm, fuzzy memories of an era and the fabulous harmonies of these four talented ladies, a group of friends from Sheboygan, Wisconsin and devotees of the barbershop harmony tradition. 

The fact they were women, with a desire to master an a cappella vocal art that had been dominated by men forever, made them unique.
During the fifties it was not unusual for groups of young teen boys singing a capella on street corners to end up with recording contracts.  This, of course, would not have been appropriate for a group of young girls to do the same. 
The Chordettes were discovered after winning a talent contest on a popular radio program. 
---
The Chordettes Vinyl Record Memories.
How it all began.

Jinny Osborn-Lockard started the quartet in 1946 with Carol Buschmann, Janet Ertel and lead singer Dorothy Schwartz.
The Chordettes, whose name leaves little doubt as to what they were about, came to the attention of Arthur Godfrey in 1949.

Godfrey, who operated a national talent show radio program, hired the quartet as regulars on the TV version of the series which featured bandleader Archie Bleyer.  The group won the shows talent contest and later signed with  Columbia records. They would release several songs over the next few years while under contract with Godfrey and Columbia.

Bandleader Archie Bleyer envisioned something different for the group than Godfrey or Columbia bossman Mitch Miller had. Godfrey and Archie continued to struggle with their differences concerning the quartet and Bleyer made the decision to leave Godfrey and start his own record company.
It was around this time that Dorthy left and was replaced by non-Sheboygan-born Lynn Evans, who stepped right into the lead singer role.
---
Cadence Record Label Highlights
Chordettes Impressive Harmonies.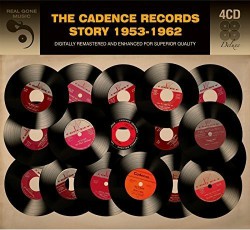 Archie Bleyer formed the Cadence label in 1953 and in early 1954 coaxed the Chordettes away from Godfrey.
Group founder Jinny got pregnant and had to leave the group for several months, thus missing out on being involved in their incredible breakthrough. Margie Needham, a flight attendant and barbershop practitioner from Chicago, temporarily stepped in.
A song penned by Pat Ballard titled "Mr. Sandman" had been recorded in May of that year by Vaughn Monroe.
Bleyer felt the lyrics were more suitable to a female interpretation. Because he viewed the quartet a better fit for the song, he purposely produced the session with a minimal band arrangement in order to highlight the Chordettes' impressive harmonies.

The quartet connected near year's end with "Mr. Sandman," and it became one of the decade's biggest hits.  The four ladies responsible for that hit song, Lynn Evans, Janet Ertel, Carol Bushmann and Margie Needham, are shown in the black and white photo above.

Archie Bleyer, is credited on the disc's label as percussionist (using his knees) and orchestra conductor. Bleyer's voice is heard in the third verse, when he says the word "Yeeees?"
---
Lollipop - A Second Chordettes Song
With Culture Staying Power.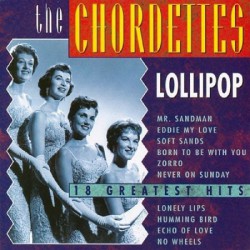 In 1958 The Chordettes would record another song that was so cute and simple it just screamed the fifties. 
Archie Bleyer took notice of the February '58 release of "Lollipop," written by Beverly Ross and Julius Dixon and recorded under the name "Ronald and Ruby."  Bleyer recognized the potential it held for his feminine quartet and rushed out a version the same month to compete.
The original reached the top 40 while the Chordettes blasted to number two in March (held at bay by those "Tequila"-drinkin' Champs).
The Chordettes version stayed in the top ten for 9 weeks and remained in the top 40 for a total of 13 weeks.

A True Family Connection
Revolved Around Cadence Records.

---
Archie loved the talented girl group Chordettes, so much so that he fell for Chordette Janet Ertel, and she for him. They were married in 1954 soon after he signed the group to a contract with Cadence, Bleyer's new record label. 

The Chordettes debut record, "It's You, It's You I Love," failed to gain any traction but their second recording was a huge hit for the quartet.
"Mr. Sandman, send me a dream...make him the cutest that I've ever seen..." rapidly found its way into the public's consciousness, climbing to number one within weeks of release and remaining there for most of December 1954 and January '55.
The record sold 800,000 copies in 12 weeks with only radio and record shops available at the time. 

---
Another Romance At Cadence Records.

Archie Bleyer always maintained a small roster of artists. His biggest stars were Andy Williams, Johnny Tillotson and The Everly Brothers. 

Archie introduced Phil Everly to Janet's daughter, Jackie, and after dating for 5 years, they married in 1963.

Three years before getting married, Phil wrote his most famous song, "When Will I Be Loved," about his relationship with Jackie.

Andy Williams and The Everly Brothers can been seen in the Lollipop video above. They were signed with the Cadence label at the time.

---
The Chordettes Vinyl Record Memories
Sadly Come To An End.

The group's final hit (# 13, 1961) was the theme from the movie "Never On Sunday", previously an instrumental hit for Don Costa and his orchestra (1960).

Group founder, Jinny Osborn-Lockard left the group soon afterwards.  The last non-hit single for the group was released in late 1963. 
Various members, two or three at a time, occasionally reunited to perform, but The Chordettes made no more records. The blockbuster hits "Mr. Sandman" and "Lollipop" have taken on lives of their own and still resonate today.

In 1964, Bleyer, who was unable to accept the changing pop music market at the dawn of the British Invasion era, sold the Cadence label and all its recordings to Andy Williams who formed Barnaby Records to manage the Cadence catalog.

He moved with his Chordette/wife Janet to her hometown of Sheboygan, Wisconsin where she died in November, 1988 at age 75. Four months later on March 20, 1989, Archie died of the effects of Parkinson's disease. He was 79.
Group founder, Jinny Osborn-Lockard, died on May 19, 2003 at age 76.

Nancy Overton, a former big band singer, died in 2009 after a long battle with esophageal cancer. She joined the group in 1958 replacing Janet Ertel on live performances, though Janet continued recording with the quartet. Ms Overton was 83.

Dorothy "Dottie" (Hummitzsch) Schwartz, age 89, died on April 4, 2016. 

Margie Needham Latzko, Carol Buschmann, and Lynn Evans are the only living members of the group as of this January, 2018, writing.
Sadly, another Chordette has passed away. Lead singer, Lynn Evans Mand, died on February 6, 2020 at a care facility in Elyria, Ohio. She was 95.

---
Who Could Forget The Chordettes?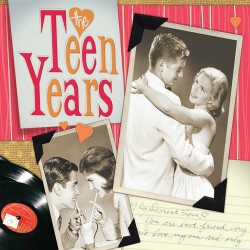 If you lived and breathed in the fifties those songs of the past reminds us of our connection to innocence and the fabulous harmonies of these four pretty gals.

The addictive "Lollipop" and "Mr Sandman" define a much happier, clean, fun-loving time that I feel privileged to have lived in.
The Chordettes were the first group to appear on American Bandstand when the legendary TV show went national on August 5, 1957. Their big hit "Lollipop" would follow a year later.

In 2001 the group was inducted into the Vocal Group Hall of Fame.
More than 60 years later the emotional power of these two songs still resonates with listeners, and as a result, still remain current.

"Mr. Sandman, send me a dream...make him the cutest that I've ever seen..."
---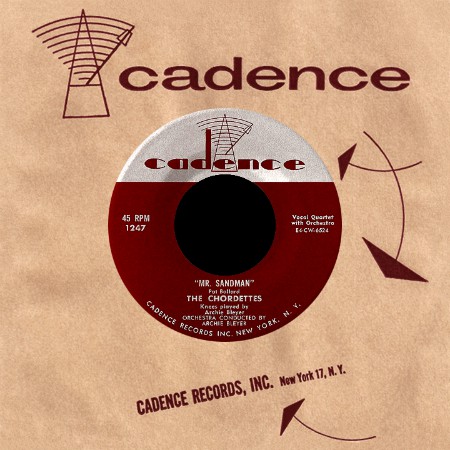 ---
---
Ever thought of having your own website? I built Vinyl Record Memories "from scratch" with SoloBuildIt! Click below to find out more....

Return to Girl Groups Main Pages.