Blue Moon Vinyl Memories

Doo-Wop Classic From 1961

---
Step back in time and relive those Blue Moon vinyl record memories with this unique cover of a Doo-Wop classic from 1961 recorded by The Marcels.

The Blue Moon lyrics was written in 1934 by Lorenz Hart with music by Richard Rodgers. The song was published in 1935.
The original group was formed in 1959 based on an idea baritone Richard Knauss had about putting together a Pittsburgh supergroup. Knauss was with an unnamed group when he heard Fred Johnson sing bass.

They got together and added tenor Gene J. Bricker from a third group and later found another tenor, Ron "Bingo" Mundy. The hard part was trying to locate an exciting lead, but when they heard Cornelius Harp they all agreed his sound was something special.

They practiced on Woodstrun Avenue on Pittsburgh's north side while attending Oliver Allegheny High School. During this period Knauss had auditioned for another group but then told their manager, Jules Kruspir, about a more exciting group he was working with.

Jules went to Fred Johnson's house to hear the group and liked what he heard. This is when the group decided to call themselves "The Marcels" after a popular hairstyle of the day that Cornelius wore called the marcel wave.

---
Blue Moon Vinyl Memories
The Unique Doo-Wop Opening Lines.

---
In 1960 Jules taped songs that The Marcels practiced using many of the fifties best acts, including The Spaniels, The Cadillacs, Little Anthony and The Imperials, and The Del-Vikings. 
Several of the songs they practiced ended up on a demo tape that Jules sent to Colpix Records, a division of Columbia Pictures. They didn't do original songs so the tape was made just to show their singing talent. They had no idea at the time that the vocal arrangements on "The Cadillacs" song Zoom would secure them a place in Rock and Roll history. 
The A&R director for Colpix records, Stu Phillips, liked the demo and asked the group to come to New York. When Phillips suggested a couple of songs they did not know they decided on the "Blue Moon Lyrics" that had been a 1935 number one hit for alto sax man Glen Gray. 
Stu Phillips still had that bass intro arrangement from the demo tape of "Zoom" stuck in his head and asked Johnson to apply the now famous intro note for note.
Just in case you don't remember that intro went "Bomp baba bomp, ba bomp ba bomp bomp, bbaba bomp baba bomp, da dang da dang dang, da ding and dong ding."
Sound familiar?

Record Label Not Prepared For What Happened Next.
---
A promo man for Colpix heard the Marcels master and played it for WINS disc jockey Murray the K. He was so excited hearing the song he reportedly played the "Blue Moon" vinyl record 26 times during his four-hour show.
The response from his listening audience and reaction to the song caused Colpix to rush-release the single in February 1961. Billboard's February 20th reviewer wrote; 
"Here's a wild and woolly old time rock & roll treatment of the well-known standard. There's a great deal happening on this arrangement and the side figures to have a strong chance." 
Boy was that an understatement...In four weeks,  it was number one on both the Pop and R&B charts and knocked Elvis' "Surrender" out of the top spot. Del Shannon's historic "Runaway" displaced the Marcels on April 24th, 1961.
---
Doo-Woop Groups Change...
But Original Recordings Last A Lifetime.

---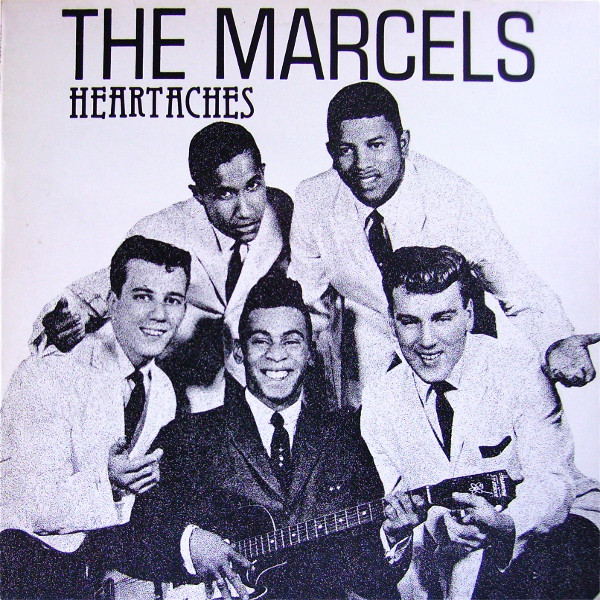 Blue Moon was recorded by The Marcels' first line-up, which included Richard Knauss (far left) and Gene Bricker (right).
Sadly the group began to break up in August right after the success of the song. An undocumented turn of events between Jules Kruspir and Richard Knauss caused the latter to leave with Gene Bricker in August.
This seemed to be commom place with Doo-Wop groups. That is one reason I do try to write about who was on the original recordings. By the end of 1961 Mundy had left and their February 1962 release, "Twistin' Fever," had stalled at number 103.

Cornelius Harp, the heart of the Marcels, left at the end of 1962 and Fred Johnson continued as the lone original.

The Marcels were inducted into the Vocal Group Hall of Fame in 2002 and the song "Blue Moon" is listed in the Rock and roll Hall of Fame's 500 Songs that Shaped Rock and Roll.

Enjoy this classic My Music concert produced by TJ Lubinsky and recorded at Pittsburgh's own Benedum Center in May 2010.

One more thing...watch the reaction from the audience as they sing along to the "Blue Moon Lyrics." Are these people having fun or what?  Such a wonderful way to spend an evening, listening to these great oldies.
---
---
Top of Page