Coney Island Baby Lyrics

1962 Song by "The Excellents"
This Coney Island Baby Lyrics page features a Top 20 Doo-wop hit made popular in 1962 by The Excellents, a group from the Bronx, New York.
Coney Island is a peninsula in southern most Brooklyn, New York City, with a beach on the Atlantic Ocean.
I've never been to New York so I am not an authority on Coney Island, but I can only imagine how much fun I missed out on back in 1962 by not being a part of a cool place like Coney Island.
But I am familiar with Nathans world famous Hot Dogs, also located on Coney Island, NY.
Coney Island Baby Lyrics - For all New Yorkers and their memories of Coney Island.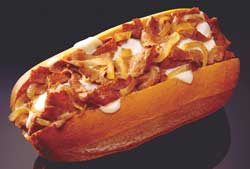 Nathan's world famous hot dog.
I can barely remember the song Coney Island Baby but it certainly must bring back fond memories for those of you who do remember the good old days at Coney Island when this song was popular.
And I'm sure some of you would love to have a Coney Island Freeze-Frame of a period in time.
After listening to this cool video with the original lead singer, John Kuse, this just might be the point where you can close your eyes and go back to Coney Island...no matter where you are right now.
Enjoy this Coney Island Baby Lyrics video.
---
Coney Island Baby
1962 song by The Excellents
Written by Peter Alonzo and Vincent Catalano
You're my Coney Island baby...You mean so much to me
You're my pretty little lady...I love you tenderly

You're my lucky star...That's what you are

You're my Coney Island baby...You're so precious, so sweet
Since the day I met you...My life has been complete

You're my everything...Soon you'll wear my ring...You're my girl
Just the two of us...Here on a blanket of love
Writing love letters in the sand...As long as there's sand
And as long as there's the sea...You'll be my Coney Island baby
Oh, you're my Coney Island baby...Don't ever let me down
You're my pretty little lady...Feel like I'm wearing a crown

Don't ever leave me, don't ever go...You're my Coney Island baby
I love you, I love you so...You're my Coney Island baby
I want you, I want you to know

You're my Coney Island baby...I love you, I love you so
You're my Coney Island baby...I want you, I want you to know

---

The Velvets Classic 1961 Song Tonight (Could Be The Night)

Return to the Doo-Wop main page from this Coney Island Baby Lyrics Page

Return to all-about-vinylrecords.com Home Page