The Velvets
Vinyl Record Memories

Featuring the 1961 Super Doo-Wop song
Tonight (Could be the Night)
---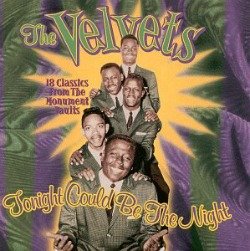 The Velvets, while singing their 1961 Super Doo-Wop Song, "Tonight (Could Be The Night)" can be heard chanting "doo-wop" behind lead singer Virgil Johnson.
This was one of the first uses of the phrase in a song.
Not the very first but certainly the most memorable as the sound was highly polished and the backing included stringed instruments.
The song was written by Johnson who was a teacher at Blackshear Junior High School in Odessa, Texas.
---
A Little Help From Roy Orbison.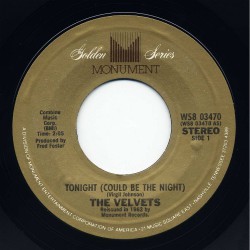 Virgil heard two of his students singing as a duo and recruited two more students to sing as a quintet with Johnson as the lead singer.
The group began singing at sock-hops and other functions and in 1960 Roy Orbison was in town visiting and heard them sing.
Orbison had already established himself as a dynamic impact in the music industry on the Monument label.
It was through his influence that The Velvets were brought to the attention of Fred Foster, president and founder of Monument Records and the producer of Orbison's hit at the time, "Only The Lonely."

---
The Velvets Famous Session Players.
In late 1960 the group's first session was held at the RCA studios in Nashville and produced four tunes.
One of those tunes was "Tonight (Could Be The Night)" and the accompaniment came from some of Nashville's finest session players, including Boots Randolph playing saxophone and Floyd Cramer on piano.

The song tells of a guy trying to get his nerve up to ask his girl to marry him, hence the title, "Tonight (Could be the night).
Johnson and his group The Velvets put out a few more songs, but even though some of the material was quite good, there were no more chart entries and the group called it a day, returned to Texas and Johnson went back to teaching school.
Virgil Johnson says he really knows why the group had a relatively short chart life.
He explains it this way.
"You got to realize, in the early sixties there were two music markets in the US. You had a black market and you had a white market. We were extremely popular with whites, but we were never extremely popular with blacks. We were black and we didn't sound like it. People didn't know we were a black group. We couldn't tour and that really hurt us."
---
A Little Side Note On This Great Video.
The original song was played over this "Live" concert so you can hear how the actual song was recorded in 1961.
This did cause some minor lip sync problems when Virgil was singing, however it was minimal and I decided to include this great sing-a-long video. Here is the original "Tonight" video as taped on the PBS show with musical director, Richard Mansfield, displaying his talents on the saxophone. (the video opens in new window)

These are not all original members of the Velvets but that is the original lead singer, Virgil Johnson.
Sadly, another Doo-Wop lead singer has left us. The number of remaining original groups performing is also sadly coming to an end.
I for one will miss these talented men and women who could actually sing and gave us all great memories growing up in the fifties and sixties.
So long Virgil, I'll continue to keep playing one of my all time favorite Doo-Wop songs with your group center stage. 
Virgil Johnson died on February 24, 2013 in a Hospital near Lubbock, Texas. Virgil was 77.

---
My Personal Take On This Great Song.
I think this should be the first song played at any Oldies or Classic event. I enjoy the song that much, and look at all the fun everyone is having behind the group.
---
---
Ever thought of having your own website? I built Vinyl Record Memories "from scratch" with SoloBuildIt! Click below to find out more....



Return to the Doo-Wop Home Page

Return Home.
Top of Page