Johnny Tillotson
Old Country Music Lyrics

From 1962 "I'm so Lonesome I could Cry"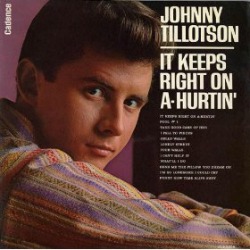 I wrote this Johnny Tillotson old country music lyrics page because I honestly believe his version of the song is the best cover I have ever listened to on this Hank Williams classic.
I don't ever remember purchasing the single when it came out but I did buy the album that included the song.
The album title and lead song "It Keeps Right On A-Hurtin'," was written by Johnny and was inspired by the terminal illness of his father.
Hank Williams Sr. wrote and recorded the song in 1949. The song, of course is about loneliness, and some say was written about his troubled relationship with his wife Audrey.
Why Johnny never got credit for a song he did so well.
My belief is that three songs off the album did well enough on the country charts to keep my favorite Johnny Tillotson cover from much air time.
"It Keeps Right On A-Hurtin'" finished at #3, "Send My the Pillow That You Dream On" at #17 and the flip side to "I'm So Lonesome I Could Cry," another Hank Williams song "I Can't Help it (if I'm Still in Love With You)" ended up at #24.
It is truly amazing to me that of all the artists that covered this beautiful song Johnny Tillotson never received the notice or credit he deserved for his flawless recorded performance.
He took this song and made it his own as much as anyone. I'll bet Hank would be proud of the way Tillotson treated his beautiful lyrics.
I have not heard anyone sing this song with Johnny's clear voice and perfect phrasing.
Who did better on the charts?
B.J. Thomas' version reached #8 on the Billboard Pop Singles chart in 1966. Hall of fame football player, Terry Bradshaw recorded the song and managed a #17 on the Billboard Country Singles chart in 1976.
I have a copy of that 45rpm single and Terry does a really fine performance on the song but I always liked Johnny's better.

Jerry Lee Lewis' version reached #43 on the Billboard Country Singles chart in 1982 but the Johnny Tillotson old country music lyrics cover only managed to chart at #89.
This Country Music standard still demands high rankings.
Rolling Stone magazine ranked it #111 on their list of the 500 Greatest Songs of All Time. It is the second oldest song on the list, and one of only two from the 1940s.
In 2003 Country Music Television (CMT) ranked Hank Williams' version #29 in CMT's 100 Greatest Songs in Country Music.
Elvis mentioned during his legendary 1973 televised concert in Hawaii that this song was one of the saddest songs he had ever heard. 
Please enjoy my all-time favorite cover of this wonderful song and as you listen to Johnny's version see if you may agree this song deserved better than a #89 performance on the Country charts.
---
Johnny Tillotson Old Country Music Lyrics
Written by Hank Williams
Original recording by Hank Williams 1949
Recorded 1962 by Johnny Tillotson

Hear that lonesome whippoorwill
He sounds too blue to fly
The midnight train is whining low
I'm so lonesome I could cry
I've never seen a night so long
When time goes crawling by
The moon just went behind the clouds
To hide its face and cry
Did you ever see a robin weep
When leaves begin to die
That mean's he's lost his will to live
I'm so lonesome I could cry
The silence of a falling star
Lights up a purple sky
And as I wonder where you are
I'm so lonesome I could cry
---


Return to Best Cover Songs main page

Return Home from Johnny Tillotson Old Country Music Lyrics