Johnny Cash Biography
Johnny Cash Vinyl Record Memories.




---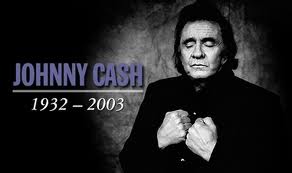 This Johnny Cash Biography includes the true story of the man who wrote the "Orange Blossom Special" and their memorable live performance over 50 years ago.
But first let me start with my Johnny Cash Story that also begins over fifty years ago.  As we all say at some point..."I can remember it as if it were yesterday."
I was walking down High Street in Hamilton, Ohio in 1958 with a couple of friends.  As we passed a bar near the downtown railroad tracks the music coming from inside pulled me closer to the door.  
On the JukeBox, Johnny was singing "Come In Stranger." As I peeked inside the open door a lady sitting at the bar turned and said...
"Well come on in stranger and have one on Johnny."
Don't know what she had in mind, but at 14 years old it didn't take us long to move on down the street. Yes, she really did say that to me...
I listened to Johnny's Rockabilly "boom-chicka-boom" freight train sound with his Tennessee Three band early on and being an Elvis, Ricky Nelson, and Carl Perkins fan, Johnny fit right in with my favorite music sounds back in the late fifties.
---
My Johnny Cash Biography - Favorite Johnny Cash Album memories.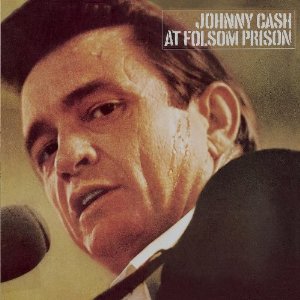 My best memories of the Johnny Cash albums are the ones I listened to with friends when I was stationed in the Philippines from '64-'66, and again from '68-'70.
I had some pretty good buddies who listened to mostly country music, including Johnny, Waylon Jennings, Merle Haggard and others. A big favorite was the "At Folsom Prison" album you see here. I still have the original album I purchased new.

We would get together about every 10 days and listen to some great vinyl records on some really good stereo equipment. At the time very good stereo equipment was a Sansui 5000A 180W amp, Sansui SP 2000 speakers, a Dual 1219 turn table and an Akai 360D reel to reel tape deck. Some of that equipment I still have.
Enjoy this video of Johnny singing "Folsom Prison Blues," recorded live at Folsom Prison and released in May 1968 on an LP of the same name. Continue below with my Johnny Cash biography and more vinyl record memories.  Note: This is a temporary youtube video.

If you listen to any vinyl record on good equipment there is no comparison to a CD. The vinyl sound will come to life. You will hear sounds that you do not hear on a CD.
One of my favorite Johnny Cash songs to listen to on vinyl is "Orange Blossom Special."
When you play this vinyl album it sounds as if Johnny is giving a live performance. Once you hear it on vinyl you'll use the CD for a beer coaster.
---
Orange Blossom Special
"Tore The House Down."
And my favorite Johnny Cash Album Content is the "Orange Blossom Special" story as told on the back of the album cover by Johnny Cash. Read the story here.
J.R. Cash (his given name) was born in Kingsland, Arkansas, in 1932. As a teen, he moved to Detroit and later worked on the Cadillac assembly line. Click Here and read how the #1 song of 1976, "One Piece at a Time," came about.
After serving in the Air Force from 1950-1954 he formed a trio with Luther Perkins (guitar) and Marshall Chapman (bass).
---
Johnny Cash Biography - The Beginning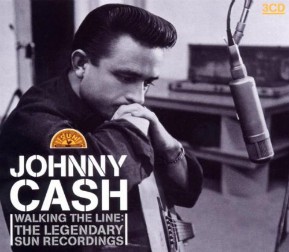 His first single at Sun Records in 1955, "Cry Cry Cry" was backed with "Hey Porter," a song he wrote while serving in the Air Force. The single met with reasonable success on the country hit parade.
In 1956 Cash recorded his first number one single, I Walk The Line, and according to the Johnny Cash Biography, became the first Sun Artist to release a Long-playing album in 1957.
But it was in 1956 that something unusual happened at the Sun recording studio.
It was December 4th and Elvis came by to pay a social visit to studio owner, Sam Phillips. Carl Perkins was in the studio cutting new tracks with Jerry Lee Lewis backing him on the piano.
Cash was also in the studio and the four started an impromptu jam session. Sam left the tapes running and the recordings survived and have since been released under what will always been known as the Million Dollar Quartet.
---
Till The End of Time
Johnny and June Carter Cash.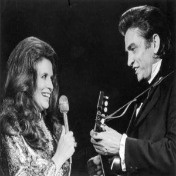 In 1968 he married June Carter, an established country singer. They continued to work together and tour for 35 years, until June Carter died in 2003.
Carter co-wrote one of his biggest hits, Ring of Fire and they won two Grammy awards for their duets.
Johnny Cash died on September 12, 2003, less than four months after the death of his wife.
---
Below are some of my favorite recordings by Johnny. I have placed videos with each set of lyrics so you can see Johnny perform live or on a slide show with each song.
Wanted Man - One of my favorite Johnny Cash songs
Johnny Cash Live from San Quentin Prison 1969

Click Here and watch this humorous video of Johnny and June

Johnny's First Song with his friend Waylon Jennings

Watch Johnny with his Cool Highwaymen friends here

If you missed the "Orange Blossom Special" Story Click Here

See the Merle Haggard Songs pages - Click Here

Return From This Johnny Cash Biography Page to My Home Page
---