Johnny Cash at San Quentin

The Story of "A Boy Named Sue"
---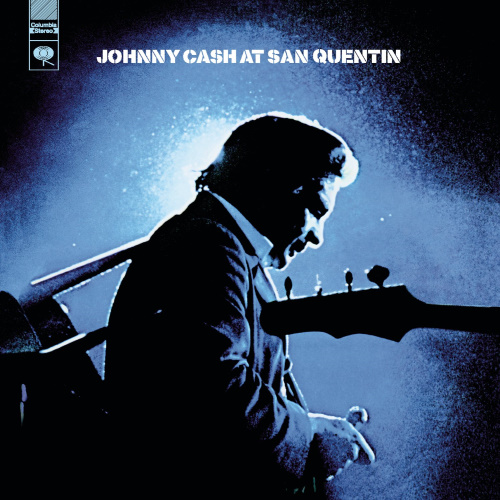 Johnny Cash at San Quentin was recorded live at the  state prison on February 24th, 1969 and released on June 4th of that same year.

The song "A Boy Named Sue" was performed for the first time and became one of Johnny's biggest hits on the Billboard Hot 100 chart.  

The song tells the story of a young man's revenge on an absent father.  Although the son did not realize it the father gave him the name as an act of love so he would grow up strong because he knew he would not be there for his son.
---
Was June Carter responsible for the song?
---
The songwriter was Shel Silverstein.  I've heard different views but according to a trusted music information source, Shel's nephew Mitch Meyers tells it like this...

In the days back in the late sixties in Nashville, for musician's to have some fun they would get together at someone's house and play music.

They would do what was called a "Guitar Pull," where you grabbed a guitar, played one of your new songs, then someone else next to you would grab it and do the same.

There were people like Johnny Cash or Joni Mitchell, people of that caliber in the room. Shel sang his song "Boy Named Sue," and Johnny's wife June Carter thought it was a great song for Johnny to perform. 

---
The Johnny Cash at San Quentin live album.
---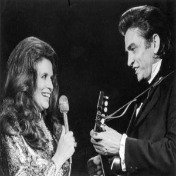 Not too long after that they were headed off to San Quentin to record a live album called Johnny Cash at San Quentin and June said "Why don't you bring that Shel song with you." And so they brought the lyrics.

On stage, he performed the song for the first time. Of course, it was in front of a captive audience so they had to listen.

Cash had to read the lyrics from a sheet of paper, but it didn't seem to matter.  It was an instant hit. It wasn't touched up or changed in any way. They just did it and it stuck.

The song was catchy and turned out to be one of Johnny's most popular songs on the album.

Just in case you failed to notice, the lead guitar player on this #1 song was none other than Johnny's good friend and my all time favorite Rockabilly king, Carl Perkins.
This was Cash's first album recorded without his longtime lead guitar player and Tennessee Two founder Luther Perkins, who had died several months earlier.
On the album, Cash is heard paying tribute to Perkins (who was not related to Carl Perkins, who appears on the recording as lead guitarist on several tracks).

Enjoy this great novelty song from 1969.

---
From the Album Johnny Cash at San Quentin
"A boy named Sue"
Written by - Sheldon Allan "Shel" Silverstein

My daddy left home when I was three..And he didn't leave much to ma and me..Just this old guitar and an empty bottle of booze..

Now, I don't blame him cause he ran and hid..But the meanest thing that he ever did..Was before he left, he went and named me Sue...

Well, he must of thought that is quite a joke...And it got a lot of laughs from a' lots of folk...It seems I had to fight my whole life through...

Some gal would giggle and I'd get red...And some guy'd laugh and I'd bust his head...I tell ya, life ain't easy for a boy named Sue..

Well, I grew up quick and I grew up mean..My fist got hard and my wits got keen...I'd roam from town to town to hide my shame...

But I made a vow to the moon and stars...That I'd search the honky-tonks and bars...And kill that man who gave me that awful name...

Well, it was Gatlinburg in mid-July...And I just hit town and my throat was dry...I thought I'd stop and have myself a brew...At an old saloon on a street of mud...

There at a table, dealing stud...Sat the dirty, mangy dog that named me Sue..Well, I knew that snake was my own sweet dad...From a worn-out picture that my mother'd had..

And I knew that scar on his cheek and his evil eye...He was big and bent and gray and old...And I looked at him and my blood ran cold...

And I said: 'My name is Sue How do you do?...

Now you gonna die!" That's what I told him...

Well, I hit him hard right between the eyes...And he went down, but to my surprise..He come up with a knife and cut off a piece of my ear..

But I busted a chair right across his teeth...And we crashed through the wall and into the street..Kicking and a' gouging in the mud and the blood and the beer...

I tell ya, I've fought tougher men...But I really can't remember when...He kicked like a mule and he bit like a crocodile...

I heard him laugh and then I heard him cuss...He went for his gun and I pulled mine first...

He stood there lookin' at me and I saw him smile..And he said: "Son, this world is rough...

And if a man's gonna make it, he's gotta be tough..And I knew I wouldn't be there to help ya along...

So I give ya that name and I said goodbye...I knew you'd have to get tough or die...And it's the name that helped to make you strong...

He said: "Now you just fought one hell of a fight..And I know you hate me, and you got the right...To kill me now, and I wouldn't blame you if you do...

But ya ought to thank me, before I die...For the gravel in ya guts and the spit in ya eye...

Cause I'm the son of a b***h that named you Sue...

I got all choked up and I threw down my gun...And I called him my pa, and he called me his son...And I came away with a different point of view...

And I think about him, now and then..Every time I try and every time I win...And if I ever have a son, I think I'm gonna name him...

Bill or George! Any damn thing but Sue! I still hate that name!

---


"One Piece At A Time" - Johnny and June having fun

Read my "Orange Blossom Special" Story Here
Johnny Cash and The Highwaymen.
Return to Johnny Cash Main Page.

Return Home.