Highwayman Lyrics
Country Supergroup
"The Highwaymen"
---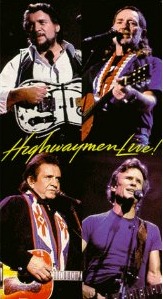 The Highwayman Lyrics was written by songwriter Jimmy Webb.
The song was released on an album in 1985 by the country super group Johnny Cash, Waylon Jennings, Willie Nelson and Kris Kristofferson and peaked at #1 on the Billboard Hot Country Singles on August 17th, 1985.
The song is about a soul with incarnations in four different places in time and history, a highwayman, a sailor, a construction worker on the Hoover Dam, and finally as a star ship captain. In 1984 the four decided to do a project together. 
Country singer and friend Marty Stuart played the song for Johnny Cash, saying that it would be perfect for them, four verses, four souls, and four of them.
Waylon, Willie, Kris, and Johnny have four unique and distinctive voices that shine well when put together and it was easy for all to see how really perfect this could turn out.

In the end each of the four verses was sung by a different singer. Nelson did the first verse, then Kristofferson, Jennings and finally Johnny Cash on the last verse.
---
Highwayman Lyrics - song writer believed he was actually a highwayman.

Their cover of the Jimmy Webb song remains the most popular and widely-known of The Highwaymen's songs and is their only song to reach number one.
The song spent a total of 20 weeks on the charts and ended up in 1985 as the #5 country song of the year.
Enjoy this great video and song written by Jimmy Webb while in a London hotel suite.
His suite included a piano, and after he woke up from a dream about being an English highwayman, he went to the piano and wrote the song.
---
The Highwayman Lyrics.
Songwriter - Jimmy Webb
#1 song in August, 1985

I was a highwayman. Along the coach roads I did ride
With sword and pistol by my side
Many a young maid lost her baubles to my trade
Many a soldier shed his lifeblood on my blade
The bastards hung me in the spring of twenty-five
But I am still alive.

I was a sailor. I was born upon the tide
And with the sea I did abide.
I sailed a schooner round the Horn to Mexico
I went aloft and furled the mainsail in a blow
And when the yards broke off they said that I got killed
But I am living still.
I was a dam builder across the river deep and wide
Where steel and water did collide
A place called Boulder on the wild Colorado
I slipped and fell into the wet concrete below
They buried me in that great tomb that knows no sound
But I am still around..I'll always be around..and around and around and around and around

I fly a starship across the Universe divide
And when I reach the other side
I'll find a place to rest my spirit if I can
Perhaps I may become a highwayman again
Or I may simply be a single drop of rain...But I will remain
And I'll be back again, and again and again and again and again...
---
---
Ever thought of having your own website? I built Vinyl Record Memories "from scratch" with SoloBuildIt! Click below to find out more....


Big River Lyrics - One of Johnny Cash's Best
City of New Orleans Train Song...

Return Home.
---