Kris Kristofferson Vinyl Memories.

"Help Me Make It Through The Night."
---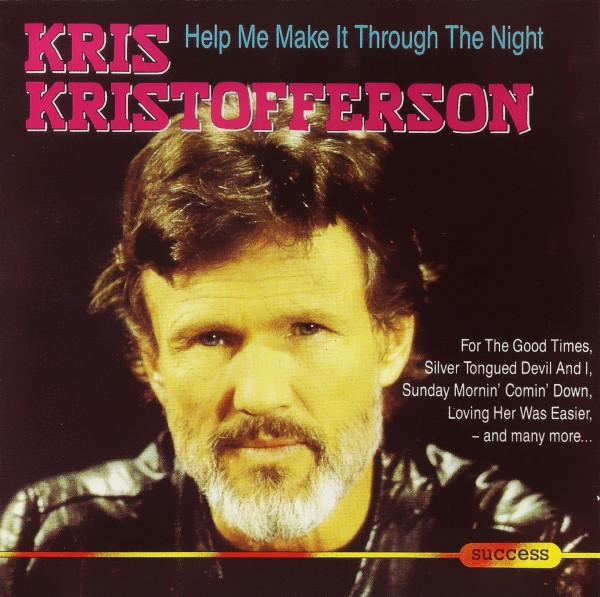 Our Kris Kristofferson vinyl memories returns to 1970 and one of his most popular written songs, "Help Me Make It Through the Night". You may recall this was a #1 song for Sammi Smith back in 1971.

Kristofferson said that he got the inspiration for the song from an Esquire Magazine interview with Frank Sinatra. When asked what he believed in, Frank replied, "Booze, broads, or a bible...whatever helps me make it through the night."

Kristofferson's original lyrics were controversial in 1970/1971 when the song was first covered by a woman, Sammi Smith in that case: "I don't care what's right or wrong, and I won't try to understand / Let the devil take tomorrow; Lord tonight, I need a friend."

Smith's classic cover of this song launched Kristofferson into a songwriters' spotlight reserved for the coveted few, and earned him a Grammy for best country song in 1971. It also won Smith a Grammy for best Country vocal performance female - as well as the Country Music Association's single of the Year Award.

Supposedly Kristofferson was sweeping floors at Columbia Records in Nashville before scoring big with this, as well as a series of other songs, which included "Me And Bobby McGee" (a #1 hit and an enduring rock classic for the late Janis Joplin), "Sunday Mornin' Comin' Down," and the mega hit for Ray Price, "For the Good Times."

After the recording by Ray Price became a #1 hit single in June of 1970, the song established Kristofferson as one of country and popular music's top songwriters while giving Price his first chart-topping country and western song in 11 years.

---
Kris Kristofferson Vinyl Memories - A Man of Many Talents.
The Kris Kristofferson biography reveals a pretty interesting life. He earned a Rhodes scholarship, attained the rank of Captain while in the Army, became a helicopter pilot and completed Army Ranger School.
He has also been in several movies and received a Golden Globe Award for Best Actor for his role in the 1976 move A Star is Born.
But he is best known for his songwriting ability and nearly all of the Kris Kristofferson songs are written solely by him. His one drawback is his distinctively rough voice and anti-pop sound kept his own audience to a minimum.
Fantastic Upbeat Version of This Classic #1 Song.
---
Kristofferson toured with The Highwaymen in 1985.
Watch this video and the other Highwaymen videos and notice how much fun these guys had playing together.
A really nice tempo for this original slow song.
Kris Kristofferson Awards and Honors.

---
The Songwriters Hall of Fame inducted Kristofferson in 1985, as did the Nashville Songwriters Hall of Fame in 1977.
He was inducted into the Country Music Hall of Fame in 2004 and in 2006 he received the Johnny Mercer Award from the Songwriters Hall of Fame.
I mentioned the Johnny Mercer Award because many know the songwriting talents of Johnny Mercer and some may not.
Johnny was a famous songwriter who wrote hundreds of songs but one of my all-time favorites Mercer wrote is "Moon River".
The song Moon River was included at our high school graduation theme and also won the 1962 Grammy Award for Record of the Year. 

---
---
Ever thought of having your own website? I built Vinyl Record Memories "from scratch" with SoloBuildIt! Click below to find out more....

---