The Elvis Presley Story

From The Vinyl LP Album
"The Complete Sun Sessions"
---
My Elvis Presley story comes from memory and the content written on the back and both inside covers of my album called "The Complete Sun Sessions."

But before I begin the story watch this video of Scotty Moore talking about his Gibson guitar history and his first meeting with Elvis.

This video is important as it sets the stage for my Elvis story and I can continue below with my exciting discovery of one of my most treasured Elvis Presley Albums.

Just to clear up any confusion it should be noted that there are two Elvis albums I have that contain, "Sun Sessions" in the title.

"Elvis, The Sun Sessions" was released in 1976 a year before his death and "The Complete Sun Sessions," released in 1987, ten years after his death.

The 1987 album is an RCA double album and is the one I am referring to on this page.
Elvis Presley Story - "The Complete Sun Sessions" Located on A Michigan Farm.
I purchased this album at a farm sale in Allendale, Michigan. The album was located in a wooden crate with about 50 other albums on the back of a hay wagon. To my surprise both LP records were in flawless condition with no noticeable scratches.
And then I discovered the best part about the album. The Elvis Presley Story and early Life of Elvis Presley were contained right between the covers of this fantastic vinyl album and even had quotes and story lines from Scotty Moore and Sam Phillips.
The album cover is in very good condition but has some minor water spots on the front cover. The album content was written by Peter Guralnich, an American music critic.
---
How "That's All Right" Became Elvis' First Big Recording.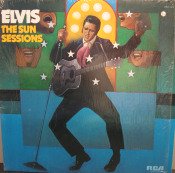 It was on a hot summer day in 1953 when Elvis came into the Memphis Recording Service, a custom studio whose motto was "We record anything-anywhere-anytime." He wanted to make a "personal" record of his own just for his mother. The cost - $3.98.
The lady behind the desk, Marion Keisker, took his name and after the recording wrote a note for the owner, Sam Phillips, who was at lunch. The note simply said "Elvis Presley good ballad singer Hold."
Elvis returned about six months later, recorded two more songs and left. Later Sam Phillips was listening to a demonstration tape from a publishing company and wanted to release the song under his new Sun label.
The publishing company could not locate the singer and Marion said "What about the kid with the sideburns?"
Elvis was contacted and came into the studio but things didn't work out. For whatever reason, Elvis Presley couldn't capture that special sound that Sam had heard on the demonstration tape. Elvis left and did not return.
Around the same time a guitarist named Scotty Moore had cut a record with Sun Records and became pretty good friends with Sam Phillips just by hanging around the studio all the time.
For Scotty Moore it was contact with Sam Phillips that gave him a sense of where music was headed. Over coffee at the cafe next door Sam mentioned Elvis' name to Scotty. Sam said "The best I could remember he can sing pretty good."
---
Elvis Dressed A Little Different From Everyone Else.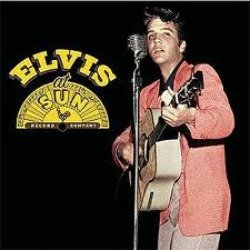 Sam asked Scotty if he could get Elvis over to his house and see what he thought of him. Scotty asked Bill Black, a bass player who lived a couple of doors down, to come over also.

Scotty said, "Well, you know, Elvis came in, he was wearing a pink suit, white shoes and a ducktail.  I thought my wife was going to go out the back door."

---
This Kid Elvis Was Better Than Anything Sam Phillips Had Put on Wax!
A few days later, around July 5th, 1954, Elvis was called into the studio for an audition. During a break for coffee and cokes Scotty said..."All of the sudden Elvis starting singing a song, jumping around and just acting a fool."
Bill Black picked up his bass, and he started acting the fool. So Scotty said "I just jumped in and started playing with 'em."
Scotty said Sam was in the control booth and had the door open. He stuck his head out and said, "What are you doing?" and we said "We don't know." Sam came back with...."Well back up and try to find a place to start and do it again."
The Following Elvis Presley Story video clip is from a made for TV series from 1990 that kinda pulls this all together and shows what that scene may have looked like well over 60 years ago.

And that, according to Scotty Moore, was the beginning of "That's All Right", a free-flying blues song with a country beat that was better than anything that Sam Phillips had ever put on wax.
Continue with Part 2 below as Scotty completes his story about how Elvis' first recording was released  while he was watching a Western double feature at a local movie theater.  
---
Ever thought of having your own website? I built Vinyl Record Memories "from scratch" with SoloBuildIt! Click below to find out more....

Next Up....
Part 2 - Scotty Moore talks about how "That's All Right" became Elvis' first recording.

Return To Elvis Presley Main Page. 

Return Home.