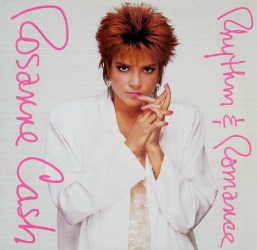 What Kinda Girl Lyrics was written by Steve Forbert and released in 1981 off Rosanne Cash's second Album titled Seven Year Ache.
Although three tracks reached #1 off this album this rockabilly song was one of my favorites.
I also added this fantastic Barbie-pink album jacket photo you see here of Rosanne from the 1985 album "Rhythm and Romance" because it is the same year Rosanne appeared with Carl Perkins and Friends in the Blue Suede Shoes Rockabilly session in London.
She has the same rockabilly girl hairstyle and I believe one of her better album pictures. Even though she is the daughter of the original man in black,  I wanted this sexy pose of Rosanne to appear on the page in full "Rhythm and Romance" living color.
I found this album in 2009 at a church parking lot sale in near mint condition. Price $1.00...Makes you wonder what kind of church service they had on Sunday afternoons.
The vinyl LP still has original plastic wrap with the original custom inner sleeve. The album appears to have never been played but must have since the LP was not sealed.
These vinyl albums are still out there folks, you just have to have that passion for collecting them.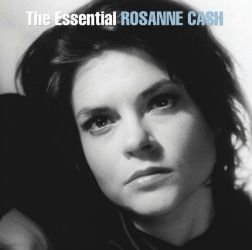 Although widely ignored by traditional country enthusiasts Cash's electric guitar-based country style and voice rank right up there with any female singer.

And among female country music albums, Rhythm and Romance and Seven Year Ache are as fresh today as when the needle was first dropped down on these two platters nearly 30 years ago.
Enjoy this great rockabilly video and the humorous lyrics, and do check out this Rosanne Cash video,  that  includes some legendary performers, and a guitarist who played with one of the greatest bands of all time.