Islands In The Stream Vinyl Memories.

---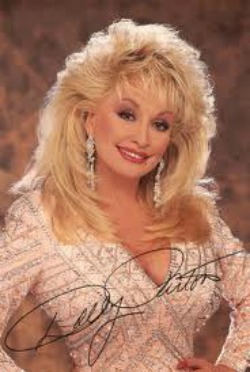 Islands In The Stream vinyl memories return to the year 1983 and her amazing duet with her dear friend, Kenny Rogers.

Dolly, of course, is an enormously gifted and talented singer/songwriter, and the most successful female artist in Country Music history.

As far as talent goes, in addition to singing, Dolly plays a dozen different instruments and has starred in eight movies. Her resume includes singer-songwriter, record producer, actress, author, musician and businesswoman.
She has performed on a top-five country hit in each of the last five decades. She and Reba McEntire are the only country artists with #1 singles in four consecutive decades and Dolly has sold an estimated 100 million records.
I do not know of another female on this planet in the entertainment industry that has accomplished what Dolly has.

Her performances are always stunning, whether she is accompanied by a small acoustic group or an orchestra.
When I watch Dolly on a live TV performance I stand up and applaud her accomplishments.  Dolly, you simply take my breath away!

---
Dolly's Duet with Kenny Rogers Voted #1 All Time.
The 1983 Country duet, "Islands in the Stream," sailed away with the distinction of being country's greatest duet during a CMT concert taping in Nashville in June, 2005.  The duet sung with Kenny Rogers, grew from a suggestion by Bee Gees star Barry Gibb, who wrote the song.
Until that point, Rogers hadn't been thrilled with the song. But then Parton joined him in the recording studio. "From the moment she marched into that room, that song never sounded the same," Rogers said, according to the AP. "It took on a whole new spirit." The way that they trade off from singing melody and harmony....Pure magic.
Sadly, Kenny Rogers passed away peacefully at home on March 20, 2020 from natural causes, surrounded by his family. Rest easy Mister Kenny Rogers. And thank you for the music.

Tough Beginnings For The Future Country Queen
.
It wasn't always so easy for Dolly. Early in her career in 1967, Dolly was asked to join the Porter Wagoner show. She replaced Norma Jean, one of the most popular country female artists at the time.
At first Porter's audience didn't warm up to Dolly and at times chanted for Norma Jean. But Porter took control of the situation and she was finally accepted.
Porter helped Dolly along and asked his record company to also sign Parton. RCA, protecting their investment, released her first single as a duet with Wagoner. Their first single reached the country top ten in early 1968 and started a six-year run of Top-Ten singles.
But even though Parton's first single for RCA, "Just Because I'm a Woman", reached number seventeen in 1968, none of her solo's were as successful as her duets. Porter & Dolly were named Vocal Group of the year in 1968, but Dolly's singles were continually ignored.
---
Frustration turns to Gold.
By 1970, both Parton and Wagoner had grown frustrated by her lack of solo chart success, and Porter had her sing Jimmie Rodgers' "Mule Skinner Blues", a gimmick that worked.
The record shot to number three on the charts, followed closely by her first number-one single, "Joshua." None of her previous releases were really big hits until "Jolene" reached number one in early 1974.
She had been with the Porter Wagoner show for seven years and when she left she wrote a song about her professional break from Wagoner. Her song "I Will Always Love You" was released and went to number one on the country music charts.
---
Elvis' Manager Suggested What!!!
And, Dolly Said No!

Around the time this song was written Elvis indicated that he wanted to cover the song. Parton was interested until Colonel Parker told her that she would have to sign over half of the publishing rights if Presley recorded the song.
This was supposedly standard procedure for top recording artists, and especially songs Elvis recorded while Colonel Parker was his manager.
Dolly refused and that decision is credited with helping Parton make her many millions of dollars in royalties from that song over the years.
Dolly showed her tough business savoy and it was decisions like these, in fact, that caused her to be called "The Iron Butterfly" in show-business circles.
---
Islands In The Stream Vinyl Memories.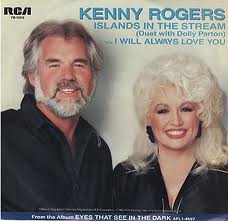 Additional Info: The 45rpm record with picture sleeve you see to the left was purchased new in 1983 and the vinyl record is still in perfect condition.
My wife and I also saw Dolly and Kenny live in concert in Austin, Texas in the early eighties. This Islands In The Stream vinyl memories record will always be a special addition to my collection and is now over 40 years old and in the same condition as when purchased new. 

Please continue to check back to view all my "Favorite Ladies" added to these pages.
---
---
Ever thought of having your own website? I built Vinyl Record Memories "from scratch" with SoloBuildIt! Click below to find out more....

---