Connie Francis Sings Spanish.
Spanish Favorite "Cuando Calienta El Sol"
---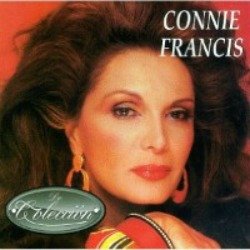 When Connie Francis sings Spanish love songs  she wraps her voice around each and every song in pure platinum.

Connie does a beautiful performance on this popular song, "Cuando Calienta El Sol," covered by no less than five artists on this site. 

If you have never listened to Connie sing anything but early Classic Rock, just listen to this song and see what a talented lady she really is.  If you love singing at its very finiest, then Connie Francis should be in every serious music lovers collection.
She is the sophisticated seasoned pro--the Connie Francis that will astonish and please many listeners. 

Singing in Spanish on her albums, Connie will take you to Spain and back, and have you dancing through your house.
She sounds as if she was born in Spain and sings with a passion on her Spanish language albums that will simply knock you out.

---
Is Connie Francis The Best
Foreign Language Female Artist?
---
I believe that it is commonplace that Connie Francis is the best at singing melodies in any language. Any hard listener of her unforgettable melodies would verify this.

Her beauty, charisma and sincere passion while performing, sets her apart from others, and her live performances are a testament to how comfortable she is appearing on any international stage.

Connie Francis is certainly one of the best all-around female vocalists of all time.
She was the top female vocalist of the late 50s and early 60s and is at home with big band, country, ethnic, and many other styles of music. You feel the passion and emotions with her rich powerful voice.

Listen to Connie sing this beautiful Spanish Love Song and then continue reading below the video.


Connie Francis Sings Spanish...
Two great ladies - One special album.
---
As you may have already figured out this particular song is my favorite Latino love song.  I have no less than five different singers perform this song on this site.
I have added the Hispanic-Latino sub-title on my navigation button on the left side of the page. 

Makes it easy for you to find and will lead you to the fifth version by the Ray Charles Singers from 1964. But what about a special album from two of the best female singers of all time? 

In addition to Patsy Cline there are two other lady singers/entertainers who really sing with their heart and mean it.  Connie Francis and Vikki Carr. 
I would love to see a compilation album by the two artists together. Now that would be an album to have in my collection, a vinyl record album of course.

A vinyl LP would allow photos of these two beautiful ladies on the cover and additional photos inside that could fold out for larger photos. 
A double vinyl LP with each lady singing their best songs on each record....that would be perfect.

---
---
Ever thought of having your own website? I built Vinyl Record Memories "from scratch" with SoloBuildIt! Click below to find out more....

Return to Connie Francis Main Page

Retrun to Home page.