Another Place Another Time

From Rock to Country.
The Jerry Lee Lewis Story.

---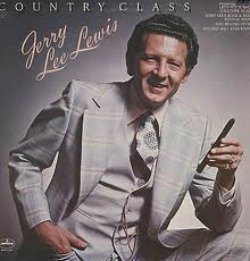 Another Place Another Time was the beginning of the country music side for Jerry Lee Lewis, the honky-tonk piano man know as the "Killer."
The song is an interesting representation of this early rock & roll star's dramatic change from rock-n-roll to pure country music.

Jerry Lee Lewis will always be portrayed as a huge Rock-n-roll star and legend, no one can deny that, but he can sing country better than 90% of Nashville's best.

He's an all around performer and has hits singing rock-n-roll, rockabilly and Country. Over the years my very favorite side of Jerry Lee Lewis has continued to be his country side.

More than a few Rock-n-Roll fans have often said that Jerry Lee Lewis is the King.  Elvis fans might dispute that title, but nobody else in the history of popular music would dare call himself  The Killer.

Of all the legends who came out of Sun Records in the 1950s, including Elvis, Johnny Cash, Carl Perkins, and Roy Orbison, no one would have bet the last one standing would be the pill-popping, whiskey-guzzling, gun-waving hellion from Ferriday, La.... Except The Killer, of course.

"Just point me to the piano and give me my money. In fifteen minutes I'll have 'em Shakin', Shoutin', Shiverin', and Shackin' " ......Jerry Lee Lewis - A Rockabilly Hall of Fame Excerpt.

---
Jerry Lee Lewis Story - The Beginning.
He was born on September 29, 1935 and raised dirt poor in the family's country home in Ferriday, LA. An older piano playing cousin helped Lewis learn the boogie-woogie styles he was listening to on the radio. There was also a night club across the tracks called Haney's Big House, owned by his uncle.
The club was a black juke joint and Lewis mixed those sounds with gospel, country and the boogie-woogie sounds and began coming up with his own style.
By the time he was a teenager he was ready for the big time but his mother had other ideas. She enrolled him in a bible college in Waxahatchie, TX, believing that her son would now be singing his songs to the Lord.
---
Lewis' opening song was not what this church was looking for.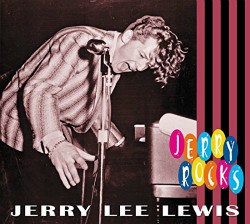 When Jerry Lee tore into a boogie-woogie rendition of "My God Is Real" at a church assembly, they sent him packing the same night.
By the time a 21-year-old Lewis showed up in Memphis at Sun studios, he had been thrown out of bible college, been turned down by many Nashville-based record companies and the Louisiana Hayride.
He also had been married twice, spent time in jail, and still believed with a passion....that he really was the next big thing.
Certainly few other artists came to the party with more ego and talent than Jerry Lee and when he broke on the national scene in 1957 with his classic "Whole Lotta Shakin' Goin' On," he was every parents' worst nightmare.
---
From his beginnings deeply entrenched with family and religion in Ferriday, Louisiana, sneaking underage into seedy clubs to hear how the blues should by played, and straining to hear "Mr." Hank Williams on a distant and fading radio station, he followed his own rules, regardless of the consequences, and laid the groundwork for generations of rock and roll bad boys. The Booker, 2015.

---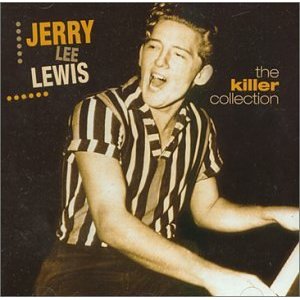 Sam Phillips spent lots of money to promote Lewis' song "Whole Lotta Shakin' Goin' On" but the gamble paid off. The song went to number one on the country and the R&B charts and reached #3 on the Billboard pop charts.
I was a teenager when Lewis released this pumpin' piano classic. Words cannot express my excitement as I walked into a Junior High School dance and heard "Come on over Baby, Whole lotta Shakin' goin' on" playing over the speaker system. 

Little did I know that nearly a half century later this song would be selected for permanent preservation at the Library of Congress. See more information below.      
---
Jerry Lee Lewis - Hard Times, Sad Times.
Over the years Jerry Lee Lewis has had some major set-backs and personal problems. He had several failed marriages, his parents died and two of his sons died in tragic accidents. He's had battles with the IRS and was hospitalized many times for alcohol and pill problems.
But his marriage to his 13 year old cousin would slow his Rock and Roll career for many years. When he started making his comeback in the late 60s he started with country music.
---
Another Place Another Time - The Brighter Side.
On the following pages I will include what I consider the brighter side of Jerry Lee Lewis' career,....his country side. I'll take you down that country road and share with you  some my favorites from the man I consider one of the best country singers over the past 50 years.  

Here's The Story....
---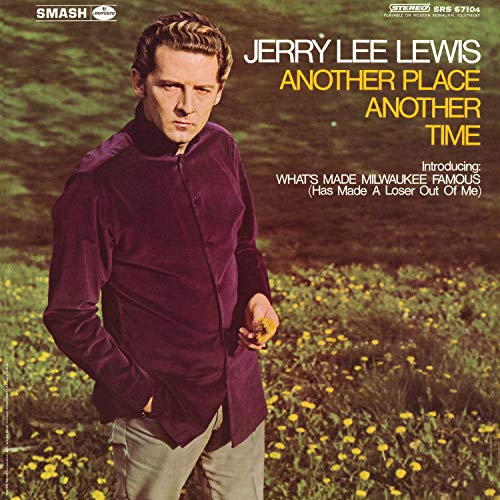 On Jan. 5, 1968, Lewis cut a quick three-song session before leaving for London. Among the tunes was a lean number about a backstreet affair, penned by Jerry Chesnut.

The setting included a small band featuring fiddler Kenny Lovelace, Lewis' bandleader for nearly half a century, and an intense, no-nonsense vocal by Lewis. The record date didn't take long and as he was in a hurry to get to London, Lewis probably forgot about the session. 

That number, Another Place Another Time completely reignited Jerry Lee Lewis' flagging career and began with these memorable barroom lyrics from the first verse of the song;

One by one they're turning out the lights
I've been feedin' that ol' jukebox just to hold you tight
I guess its for the best I just put in my last dime
I heard you whisper "We'll meet again, another place, another time"

It vaulted to No. 4 on the U.S. country chart and began a run of 1968-71 hits that encompassed 10 top-five country singles, including three No. 1 sides, as well as several lesser chart entries.

He never sounded better, and with this song and others that followed in the 1970s, you just knew he understood pure traditional country music.

I still believe some of his finest work was done during this time period. Obviously Jerry Lee really captures the honky-tonk sound, making Another Place, Another Time  one of my favorites by Lewis with pure cheatin' song lyrics.  
This live version of his 1968 #4 song sounds so good it almost duplicates the studio recording, even with a couple of minor blips at the beginning of the video.
Jerry Lee Lewis is still the King of rock & roll piano. There's only one Jerry Lee Lewis....there will never be another one like him.
In 1986, Lewis was one of the first inductees into the Rock and Roll Hall of Fame, but sad to say, he has yet to be inducted into the Country Music Hall of Fame as of 2021. 
In 2005, "Whole Lotta Shakin' Goin' On" was selected for permanent preservation in the National Recording Registry at the Library of Congress.
As of this Jerry Lee Lewis Biography writing, Lewis now lives on a ranch in Nesbit, Mississippi with his family.
Click on the links below for some great content and listen to the Jerry Lee Lewis music we once enjoyed on those great old 45rpm and LP records.
---
---
Ever thought of having your own website? I built Vinyl Record Memories "from scratch" with SoloBuildIt! Click below to find out more....

Return to Jerry Lee Lewis Main Page.
Top of Page