Del Shannon Runaway
The Del Shannon Story
---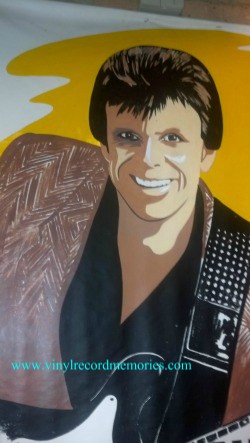 A look back on the classic Del Shannon Runaway story. Few songs in popular music are so enduring and haunting as the 1961 No. 1 hit, "Runaway." Written by Del Shannon and his keyboardist, Max Crook, it outlines in tear-streaked detail a guy who's lost his girl.
Was this song written on the basis of a high school experience where he was dumped by his prom date for his rival? I believe the words in the song "Runaway" nudges that experience in the opening line.

"As I walk along I wonder/What went wrong," he begins the song and refers to a time when he was young. 

The uncertainty of the opening line is soon replaced with gloom and despair as he sings, "I'm a-walkin' in the rain / Tears are falling, and I feel the pain / Wishing you were here by me / To end this misery." 

The girl, of course, has left him and years later may have been the basis for the song, and those classic Del Shannon Runaway vinyl record memories.  

---
The Del Shannon Bio - The Story Begins.

---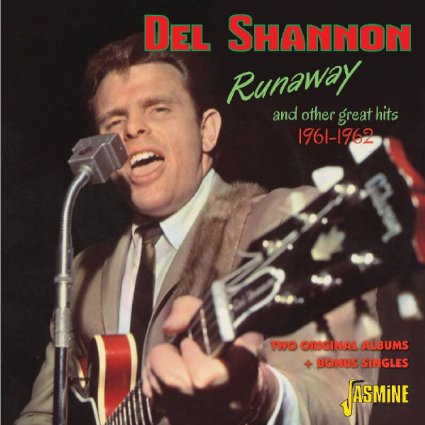 Born Charles Weedon Westover on Dec. 30, 1934, in Battle Creek, he grew up in the snoozy farming community of Coopersville, near Grand Rapids.
Young Westover grew up listening to country and western music.  At the age of 14, he walked to the Coopersville train station to await the arrival of his new five dollar Sears and Roebuck guitar. He had no pick, just pieces of cardboard and dreams.

While in high school, he met a local farm girl named Shirley at the Coopersville theatre on Main street. Shirley originally agreed to a date on the strength of his sending her the first flowers she had ever received from a boy.
Shirley Westover would later tell a Detroit newspaper she thought Shannon was kind of pushy and didn't like him at first.  But in 1954 they married. He was 19; she was 17. "Jobs were hard to come by anyway," Shirley remembers. Chuck picked strawberries in the fields of Coopersville, and later drove a delivery truck selling flowers.

That same year Shannon was drafted into the U.S. Army.  A stint in Fort Knox, Kentucky, was followed by a three year tour in Stuttgart, Germany.

During Christmas time in Germany, the Westovers attended a holiday party at the Stuttgart orphanage, where they sponsored orphan children. This was an early sign of Westover's compassionate side.

After a stint in the Army, which saw him play in a band called the Cool Flames, the Westover's settled in Battle Creek.

 He worked at Brunswick furniture store as a line worker during the day.  At night he played guitar for a small group at a dingy smoked-filled  Art Deco lounge called the Hi-Lo Club.
Max Crook later said "It was the kind of place roughnecks felt comfortable in."

---
The Spooky Sounding Music Solo of "Runaway." 

---
Soon, Chuck Westover was the group's singer and leader. He called himself Charlie Johnson and renamed the group the Big Little Show Band.
In 1959, Max Crook, a young keyboardist who had formed a band while attending college in Kalamazoo, came aboard, setting up on stage an odd-looking homemade machine he dubbed the "Musitron." 

It was a very early version of the synthesizer  and  produced some wonderfully futuristic electronic sounds.

---
Sudden Fame, A New Name &
The Max Crook Musitron.
---
One night, Del and his band caught the attention of Ann Arbor deejay and independent record producer Ollie McLaughlin. 
He recommended them to a Detroit management team, Irving Micahnik and Harry Balk, who were with Talent Artists in Detroit. 
Westover and Crook were signed to New York's Big Top label in July 1960. This was about the time Westover was asked to change his name to something more dynamic and came up with Del Shannon.

 "Del Shannon" would always be only his stage name; his legal name would remain the same.
Nothing that Shannon recorded in  New York caused any excitement, and he soon returned to playing in Battle Creek.

McLaughlin suggested that Shannon re-work one of his earlier songs, "Little Runaway," and somehow use Crook's Musitron as a lead-in.
---
"When Max played that solo," Shannon said,  "We had Runaway."
---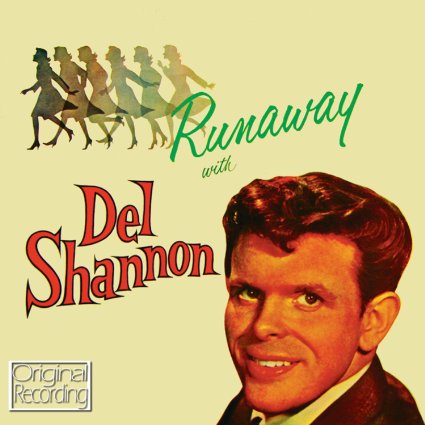 Shannon later recalled how that strategy came about. He and Max were on stage practicing and Max was playing some weird chord changes on his Musitron. 
Shannon thought it was a great sound and told Max to keep playing it.

After about 15 minutes of playing the unusual chord change over and over, the irritated club manager shouted out, "Knock it off — play something else." 

Shannon, inspired, wrote some lyrics the next day at the furniture store. That night, he went back to the club and told Max to play an instrumental on his Musitron for the middle part.
Crook used his invention to turn his riff into the spooky, unsettling music hook of "Runaway."
"When Max played that solo," Shannon said,  "We had Runaway."
Del and his band played "Runaway" at the Hi-Lo for three months before his managers finally sent him back to New York to record the single. 

Listen and watch Del Shannon in 1988 singing his hit song "Runaway" at Little Darlin's  in Florida.  Continue below for the conclusion of the Del Shannon Story.  I think you will be pleasantly  surprised by what this man accomplished during his short life.    
A "Runaway" hit, American Bandstand & Fear of success!
---
There were three songs recorded during a three-hour session at Bell Sound studios in New York in January 1961.
"Runaway" was released and the orders started pouring in. A station in Florida began playing the song and a huge record order from one vendor was a positive sign of a hit record in the making.

Dick Clark scheduled Shannon for an appearance on "American Bandstand" and the orders ignited, selling as many as 80,000 records per day. Runaway hit No.1 in late April and stayed there for a month.

The instant fame was a shock to Shannon and he was overwhelmed by the attention. Shannon said the fear was so great he just wanted to go back to Coopersville and pick strawberries.

Thanks to the success of "Runaway," Shannon was able to move his young family into a new home in Southfield.

---
Del Shannon Was A Gifted Artist & Keen Talent-Spotter.
---
Shannon wrote or co-wrote much of his own material, which was unusual for a rock performer back then.
He was extremely popular in England and in 1963 was billed with an up-and-coming young group, The Beatles.

Del Shannon became the first American to cover a Beatles song when he recorded a version of "From Me to You." 

The Beatles version was released first (May 6, 1963), but Shannon's version was the first to chart, when it entered on June 29, eventually peaking at #77. 
---
It wasn't until the first week of August that The Beatles version showed up on the Billboard charts.
And it wasn't until the song was re-released in February 1964 during the peak of Beatlemania that it cracked the Hot 100, going to #41 in the States. Years later, Paul McCartney remembered thinking, "how great and different "Runaway" was from the others of the time."

McCartney & Lennon took the A-minor chord we heard in "Runaway" and inserted it in "From Me To You." I find it interesting  that when Shannon recorded the song, part of the influence for the song came from him.

Shannon also wrote a hit song for Peter and Gordon called "I Go To Pieces" and said he always regretted not releasing the song himself at the time.

Along the way, Del Shannon became known as a keen talent-spotter. He produced Bob Seger's first demos, footing the bill and passing them on to Dick Clark, which helped lead to his first record deal.
He discovered country singer Johnny Carver and an L.A. band called Smith, whose Shannon-produced cover of the Shirelles' 'Baby, It's You' reached the Top 10 in 1969.
There were others...
---
Del Shannon Runaway - A Sad Ending For a Gifted And Compassionate Man.
---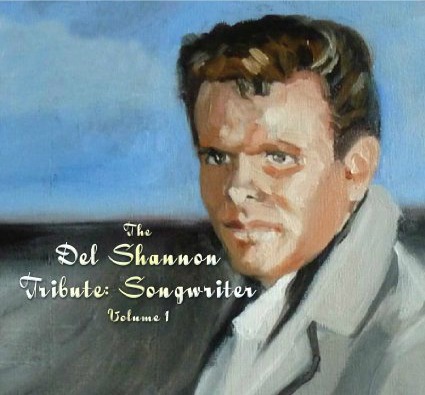 Shirley Westover has said that "Chuck came from a long line of alcoholics." 
"Chuck was very generous," Shirley says. "When he was with AA, he'd always leave food baskets on porches — you know, knock and run. He'd put a $100 bill in people's cars while they were inside at a meeting."

Dell Shannon would always reach out to friends and strangers alike, taking a genuine interest in their well-being.

Del Shannon played his last show on February 3rd, 1990, in Fargo, North Dakota. 

It was a memorial concert for three of Shannon's contemporaries—Buddy Holly, Ritchie Valens, and J. P. "The Big Bopper" Richardson—who had died in a plane crash on that day, 31 years prior. 

Later that week Shannon's second wife found him in a rocking chair in their California home. He died of a self inflicted gunshot wound on February 8th, 1990. Del Shannon was 55.
He'd suffered from alcoholism and depression most of his life, although he'd reportedly been on the mend just before his death; not that his prescription to Prozac did anything to keep his finger off the trigger. 

Throughout all the highs and lows of his career, he remained essentially the same person who had once picked strawberries, worked in a furniture store, delivered flowers and sold carpeting in western Michigan.

Nine years after his 1990 death, Shannon was inducted into the Rock And Roll Hall Of Fame. He is also a member of the Michigan Rock & Roll Legends Hall of Fame.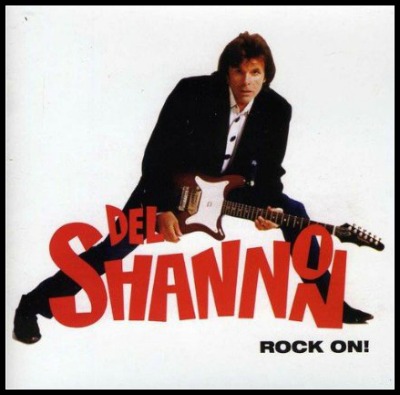 ---
My Special Side Note to Del Shannon Fans: I choose not to focus on the negative experiences of the artists I write about.
Del Shannon and all the wonderful artists and groups from the fifties and sixties made life growing up as a teenager a memorable experience. Over a half century later I still retain those fond memories. 
The Del Shannon story reveals some negative points in Del's life (that I would normally omit) but brings to light what a talented and compassionate man he was to accomplish all he did, while suffering from alcoholism and depression.
Del Shannon lived with a terrible disease and I believe the prescription drug Prozac led Shannon to make an equally terrible decision.  Again,  just my opinion. 
God Bless Charles Westover and his family.    
It was a great time to be growing up. The Drive-In's with car hops on roller skates, cruisin' in your classic custom ride and listening to Del Shannon singing "Runaway".  Nostalgia overwhelms me. 
Thank you, Del Shannon,  for all those wonderful memories.
---
Return to Golden Oldies Main Page.