Vinyl Record Memories Newsletter

(VIP CLUB)
The golden age of vinyl records and all things retro are the highlights of my Newsletter. Writing stories about my vinyl record memories with added content from my collection is my way of sharing memories and keeping the oldies alive.
I do hope that you enjoy these little stories, I write. They are short, they will not win any prizes for literature, but it's all about the music and our vinyl record memories.

We wish you lots of fun on this journey to the time of Drive-In Movies, Pizza Parlors, Malt Shops, and those memorable Friday & Saturday night school dances. 
Issue #124 - September, 2023
---
In This Issue:
Remembering Jimmy Buffett.

Country Doo-Wop Spotlight Song of The Month.
Billy Joel Live 1978 - Just The Way You Are

The She Cave - Framed Album Cover Art For The Ladies.

You Might Like These Stories - More Vinyl Record Memories.
---
What's New?

Remembering Jimmy Buffett: It's been nearly 50 years since this song was first released and it continues to be our favorite Jimmy Buffett song.
Country Doo-Wop Spotlight song of the month. This Oldies Classic is a rare Roy Orbison and Bobby Goldsboro penned Golden Oldie you seldom hear played on the radio, but you will hear it on Ned Ward's popular Country Doo Wop Show. You're gonna love this one...

It's July 2008 and you have the best seat in the house. Enjoy this really nice recorded live performance of our favorite Billy Joel song.

Framed Album Cover Art of The Month. September will feature the lady's answer to the "Man Cave" with suggestions on how to use Framed Album Cover Art to decorate that special "She Cave" hideaway for the ladies.
More Vinyl Record Memories. Selected pages with stories and songs about many of the  forgotten oldies classics. A trip down memory lane.
Let's get started...

---
Remembering Jimmy Buffett.
It was 1974 and the very first time I was introduced to the song, "Come Monday." Each Friday after a long work week it was customary to stop for a cold one at a local club called The Boulevard, located just North of Cincinnati. After the waitress took our order we each gave her some change for the jukebox and told her to play something she liked.

The first song played was "Come Monday" and I thought...what a nice easy flow and great voice. Buffett revealed a more thoughtful side on Living and Dying in 3/4 Time, with its song about marital separation, his first singles chart entry. From the 12 songs she entered  into the jukebox, "Come Monday" got four plays.
The downside to Jimmy Buffett's musical lifestyle is the time he has to spend away from his family. He wrote this song for his future wife, Jane, who he was missing while on tour. She is also the girl in the video.

Jimmy Buffett translated his easygoing Gulf Coast persona into more than just a successful recording career — he popularized beach bum soft rock with the escapist Caribbean-flavored song "Margaritaville" and turned that celebration of loafing into a billion-dollar empire of restaurants, resorts, and frozen concoctions. Jimmy Buffett, who dubbed his Sun Belt fans "Parrot heads" and made his concerts into Mardi Gras-like affairs, died on September 1st, 2023. He was 76.

---
Each month we give a little shout-out to our favorite radio program, Ned Ward's Country Doo-Wop show. Our friend, Ned, along with producer, Mr. Barney, airs the show from out Oregon way and if you tune in you just might hear Ned talk a little about Vinyl Record Memories. Listen in Monday thru Saturday from 1pm to 3pm, all times Pacific, on KNCP Newberry Mix 107.3 FM.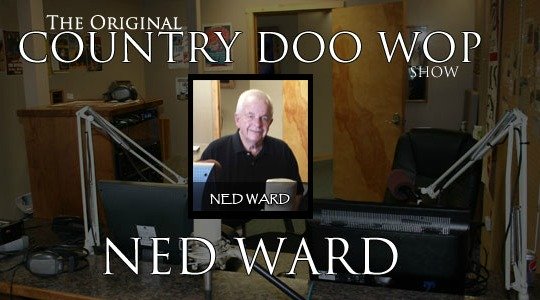 Country Doo-Wop Spotlight Song of The Month.

(Baby's Gone)
---
"Baby's Gone"  holds a special place in the hearts of many, as it captures the essence of lost love and heartbreak. With its soulful melodies and heartfelt lyrics, the song takes listeners on an emotional journey through the ups and downs of a failed relationship.
DJ Ned Ward plays the song on his daily 2 hour show more than a few times as it is a song you never tire of hearing. A song you do not hear on any of the other top radio stations.
The song explores the pain and longing one feels when a loved one leaves, leaving behind only memories. The hauntingly beautiful melody and heartfelt vocals make "Baby's Gone" a timeless piece that continues to resonate with listeners even after all these years. Enjoy this wonderful old song released nearly 60 years ago. Read my special Baby's Gone story about the girl I left behind.

The Song That Started It All For Billy Joel.
From 1978 "Just The Way You Are"
---
The song "Just The Way You Are," was written by  Joel for his first wife, and gave it to her as a birthday gift.
Joel's gift to his wife was similar to what Buddy Holly did for his wife when he recorded "True Love Ways" in her presence as a wedding present. Billy Joel is an amazing composer and performer and this song is my favorite of all his songs.

The song  was recorded in 1977 and won Grammys for the "Song of the Year" and "Record of The Year" in 1978. Do you remember this classic 45 year old song?
In the video below it's July 2008 and you have the best seat in the house listening to this really nice video of our favorite Billy Joel song, although I did enjoy the "Uptown Girl" video nearly as much because of the eye candy :-)
Framed Album Cover Art For The Ladies.
"All I Do Is Dream Of You"

---
In the July Newsletter, we showed you the reasons we love all the girls. Last month with some of our favorite ladies on vinyl the song, "I'm A Girl Watcher," was our featured video in our Album Cover Art of The Month series. 
This month it is the lady's turn to have their favorite "Guy" featured in our Album Cover Art of The Month series for the ladies. These albums are not doctored...they are as they were purchased new or from estate sales and have been in my collection for years, many since new.
The album photos were taken with my android phone. The black album frames come with a glass front, however, I remove the glass to reduce or eliminate glare.

Let's get started with an introduction to how some of you lady's might feel about your special guy with these few words and the  accompanying video...
All I do is dream of you
The whole night through
With the dawn, I still go on
And dream of you...
What Is A Female Man Cave Called?
The "man cave" is a home design trend that's seemingly been around forever. Often confined to a refinished basement they offer men a place to retreat and invite their pals over for a cold one. The concept of a man cave isn't hard to grasp. However, what might be a little more puzzling is why they're limited to men. Come on, girls, you also need that space where you can blast your most nostalgic songs without fear of reprisal...a place to let your hair down...that special hideaway for ladies only!

Since guys have these sanctuaries, it's only fair that women are afforded the same luxury with a special place to call their own. And in fact, these havens do exist–they're known as, "Woman Cave" - "She Shed" - "Lady's Lair," or "Fox Hole" - a few names women might use to describe their private, no men allowed space. We kinda like the "She Cave" title as the wording on the entry sign below suggests what some of the women might really want to talk about.

The options for using vinyl record covers as wall art are endless. Since record album covers are all uniform squares it is easy to arrange them in patterns which can create a variety of looks for your "She Cave" walls. You are limited only by your imagination.  The following LP Albums are a small part of my collection just for our Lady visitors...enjoy!

---
Frank Sinatra - All The Way - 1961
This Frank Sinatra LP titled, All The Way, was originally released in 1961. The 1976 reissue displayed here has been in my collection for more than 4 decades and is in like-new condition.
"All the Way" is a collection of singles and B-Sides gathered from Frank Sinatra's greatest hit singles from the last years Frank Sinatra spent at Capitol Records. While these may have originally been issued as B sides to his more popular late 50's recordings, these are all superior examples of why he reigned as the most recognizable vocalist of this period. If you like Sinatra and his late 50's sound, get this LP.
---
Neil Diamond - His 12 Greatest Hits - 1974.

---
Neil could write a good song. It's hard to argue with such standards as "Sweet Caroline," "Cracklin' Rosie," and "Song Sung Blue".
His 12 Greatest Hits is a compilation album issued in 1974 on the MCA record label. No greatest hits collection will ever make everyone happy. Yes, it's missing Kentucky Woman and Cherry, Cherry, but as the title suggests, it contains twelve great songs from Neil's catalog.
The album songs are from his tenure with UNI Records, from 1968 to 1972. After Neil had returned to Columbia Records, his earlier works were reissued on MCA Records, which was the parent company of UNI Records which had folded in the early 1970s.
"Forever In Blue Jeans." Many recall the uptempo pop classic that had a resounding effect on the sales of jeans in the late 1970s.
According to Cotton Incorporated: "Neil Diamond might have been right when he named his 1979 hit, "Forever in Blue Jeans" as 81% of women planned their next jeans purchase to be some shade of blue." The song finished at #2 on the Easy Listening chart that year. The noticeable crease at the bottom right of the album happened during a move. The vinyl record, surprisingly, was not damage.

---
Lionel Richie - Can't Slow Down - 1983
---
Lionel Richie was first connected with the popular group, The Commodores, who first set sail on the musical scene in 1968. They picked up steam in 1970 and crafted a funk masterpiece with 1977's "Brick House."
Richie then steered the Commodores in a softer direction. He penned their first number-one hit, 1978's "Three Times A Lady." Lionel Richie was once, twice, three times a singer, and fans loved him. Unfortunately, as his spotlight brightened, the other Commodores felt overshadowed.
Things started to unravel after he wrote the wildly popular "Lady" for Kenny Rogers and gave Motown its biggest single to date when he wrote "Endless Love" for Diana Ross. Suddenly, journalists no longer saw him as a Commodore and began to ignore the other members of the group.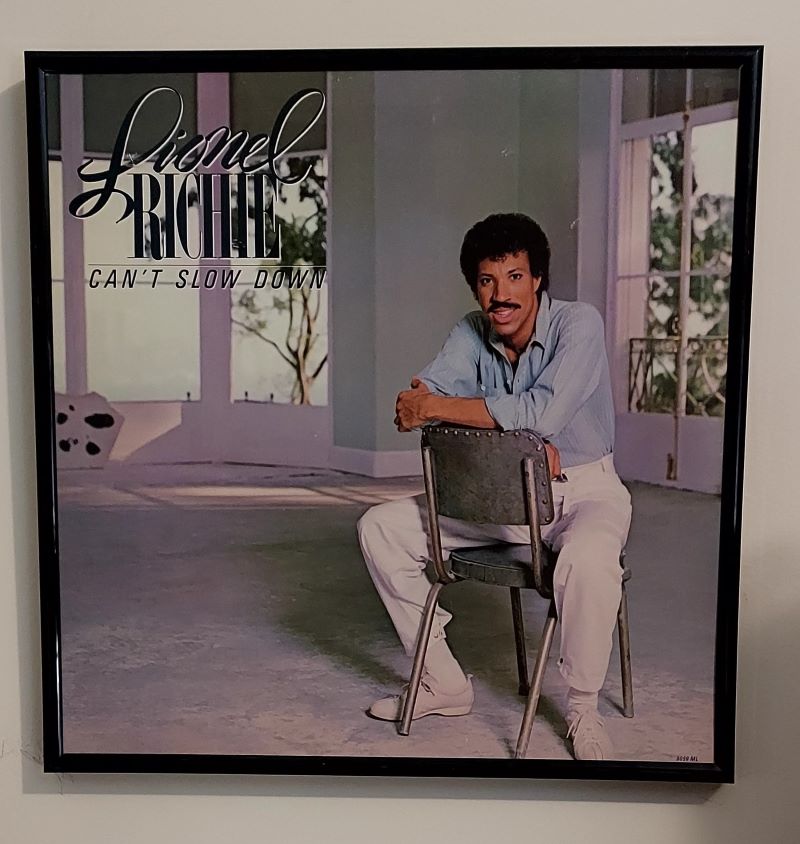 In 1982, Richie officially launched his solo career with the album Lionel Richie, which sold over four million copies. His second album, Can't Slow Down (1983), reached number one on the US Billboard 200 chart and sold over 20 million copies worldwide, becoming one of the best-selling albums of all time. Five of the album's tracks went on to become hit singles in the U.S.

---
Ronnie Milsap - It Was Almost Like A Song - 1977
---
This Ronnie Milsap album titled, "It Was Almost Like a Song," was released in 1977 by RCA Records and was the eighth studio album by Milsap. The album produced two #1 hits for Milsap, including the title track, which marked his debut on the Adult Contemporary chart, peaking at #7 and reaching #16 on the Billboard 100.
The album reached #3 on the Country album charts and was ultimately certified as Gold. The album also won "Album of the Year" at the 1978 Country Music Association Awards.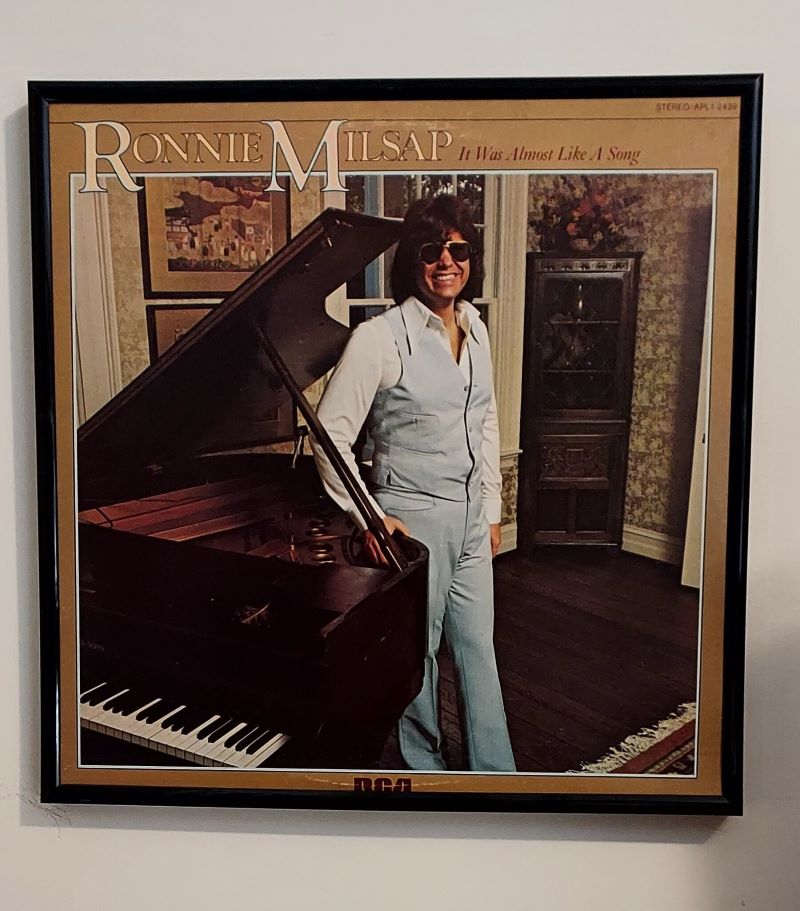 "What a Difference You've Made in My Life," was the other #1 single from the album.  It was re-recorded for his 2009 album "Then Sings My Soul."
"It Was Almost Like a Song" was released in May 1977 as the first single and title track from this album. It became one of the greatest hits of his recording career upon its release in 1977.
"It Was Almost Like a Song" provided the basis for the title of Milsap's biography, Almost Like a Song, which he co-wrote with Tom Carter, and was nominated for two Grammy Awards. This album cover shows some signs of wear up close as I played it often, however, the vinyl record is in excellent condition. Read more about which song started it all for Ronnie Milsap.

---
The Best Of Jerry Lee Lewis - 1978
---
Okay, Ladies...the "She-Cave" just got a little on the wild side.
Of all the legends who came out of Sun Records in the 1950s, including Elvis, Johnny Cash, Carl Perkins, and Roy Orbison, no one would have bet the last one standing would be the pill-popping, whiskey-guzzling, gun-waving hellion from Ferriday, La.... Except The Killer, of course.
"Just point me to the piano and give me my money. In fifteen minutes I'll have 'em Shakin', Shoutin', Shiverin', and Shackin' " ......Jerry Lee Lewis - A Rockabilly Hall of Fame Excerpt.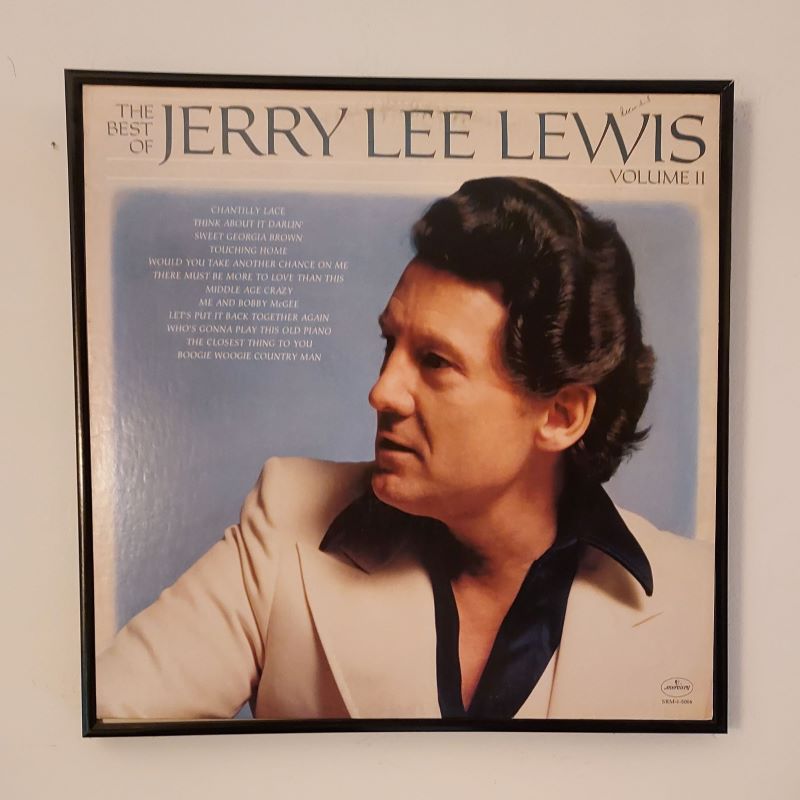 This vinyl LP is an original 1978 Mercury Records release with catalog number SRM-1- 5006. It is in like new condition as is the vinyl record inside. I purchased this LP along with several others over thirty years ago at an estate sale.

---
Tom Jones "Live In Las Vegas" - 1969
---
When twenty-four-year-old Tom Jones' first single was released in mid-February 1965 it seemed to take everyone by surprise. It entered the chart on the week of its release and a month later in April 1965 the magnificent, "It's Not Unusual" charted at No.10 on the Billboard Hot 100.
Tom Jones' greatest strength is as a showman, making "Tom Jones Live in Las Vegas" one of his strongest records. This Live Album is without a doubt one of his best live recordings with great song selection and quality. Not surprisingly, it was also his biggest hit album, peaking at number three on the American album charts.
As he tears through his well-constructed show, the vocalist works the reserved crowd into a near-frenzy, which makes him sing stronger and more dramatically. If you appreciate The Voice as I do, you will not be disappointed. It's as close as you will get to having him in the room with you!

Some may not be aware that Elvis and Tom Jones were good friends. Elvis would watch some of the Tom Jones live shows and Tom would appear in the audience when Elvis was on stage. It was mutual respect for the talents of each entertainer.
This album in excellent condition can still command over two hundred dollars on some sites and Amazon had it listed at one point for $239.00. The original album with the original sleeve insert shows 76 different albums available from different entertainers. I have maintained this album in my collection for nearly 55 years and it has no split seams, tears or other imperfections and maintains a glossy finish. 
---
Bob Seger - "Stranger In Town" - 1978

---
The album, Stranger in Town, is the tenth studio album by American rock singer Bob Seger and his second with the Silver Bullet Band, released by Capitol Records in May 1978. It became an instant success in the United States, being certified platinum by the Recording Industry Association of America less than a month after the album's release.
"Old Time Rock And Roll" is a song from the album Seger substantially rewrote the lyrics for, and peaked at No. 28 on the Hot 100.  However, the song achieved greater popularity after being featured in the 1983 Tom Cruise film Risky Business, in which Tom Cruise's character dances in his underwear to the song.
Seger has said he rewrote the verses and never took credit. All he kept from the original (written by George Jackson and Thom Jones) was "Old time rock and roll, that kind of music soothes the soul, I reminisce about days of old with that old time rock and roll."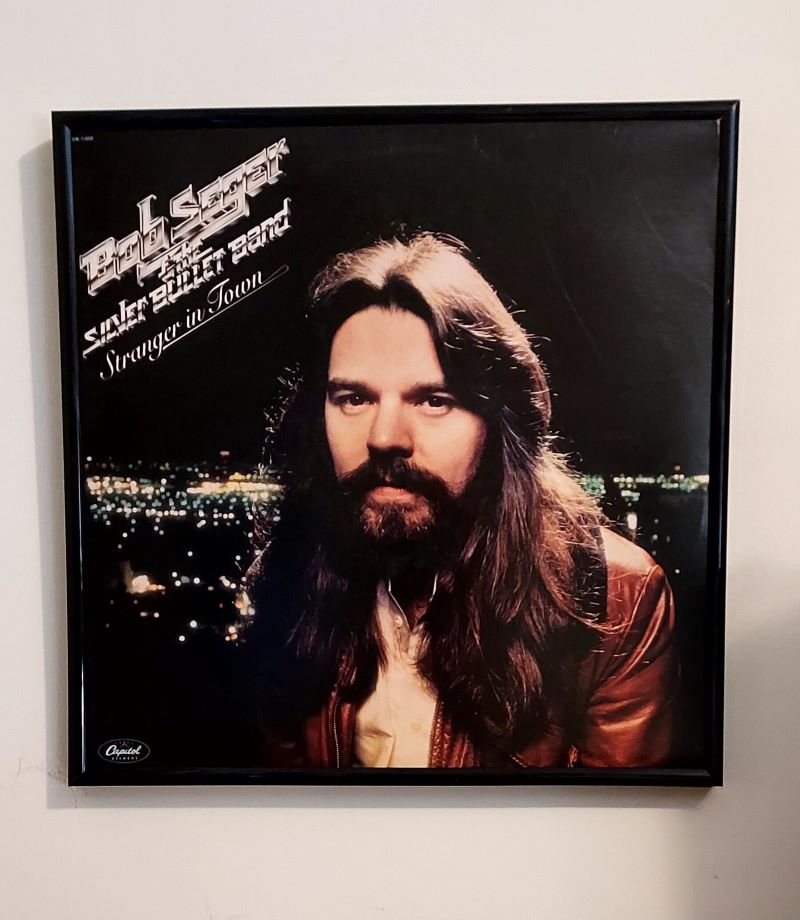 It has since been ranked the second-most played Jukebox Single of all time, behind Patsy Cline's "Crazy". "Old Time Rock and Roll" was named one of the Songs of the Century in 2001. Seger has since remarked that not taking one-third writing credit on his recording was, financially, "the dumbest thing I ever did".
Seger also co-wrote the Eagles' No. 1 hit song "Heartache Tonight" from their 1979 album, The Long Run; their collaboration about Seger's and Glenn Frey's shared early lives in Detroit. This original 1978 Album cover shows minor surface scratches but the vinyl inside the black insert showing all the credits, is in excellent condition.

---
Mickey Gilley "You Don't Know Me" - 1981

---
The original idea for the song came from country music legend, Eddy Arnold. His idea was for the lyrics to portray a man who is too shy to approach a woman he cares about. And, stands in the shadows as he watches her settle down with another man. He presented the idea and title to songwriter Cindy Walker.
Although the title and the basic storyline were Arnold's, the first rendition of "You Don't Know Me" was issued by pop singer Jerry Vale who placed it at #14 on Billboard's pop chart in early 1956.
Arnold's country version made it to #10 two months later. Six years later in 1962 the Ray Charles version was #2 on the Hot 100 chart.  The popular Ray Charles version was blocked from the top spot by Tommy Roe's "Sheila."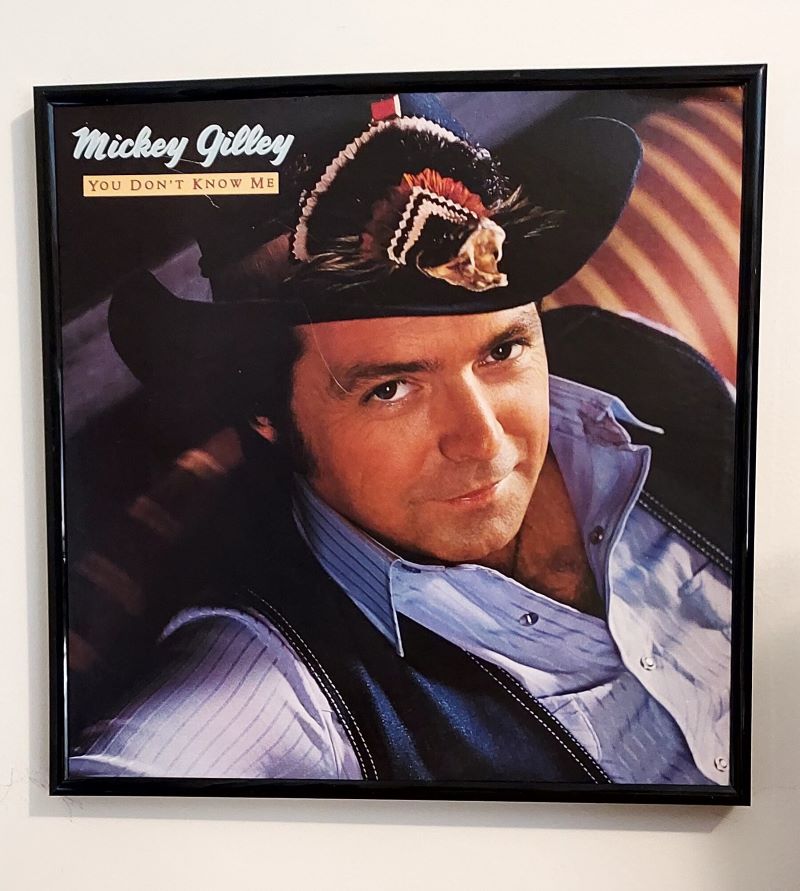 No. 1 at last...42 years ago this month.

With all of the great recordings of "You Don't Know Me" over the years, it finally reached #1 on the Billboard country singles chart on September 19, 1981. The song "You Don't Know Me" at last made it to No. 1 by Mickey Gilley.
"You Don't Know Me" was cut through the years by dozens of other top artists but only Mickey Gilley placed it at #1. Those artists include Elvis Presley, Anne Murray, Bob Dylan, Patti Page, Rick Nelson, Kenny Loggins, Juice Newton, Charlie Rich, Floyd Cramer, Michael Bolton, Emmylou Harris, Harry Connick, Jr. and Willie Nelson.
Another Great vinyl album with a glossy finish, no split seams or discoloration. Slight hairline scratch near Mickey's right eye. Vinyl inside cover is near flawless.

---
Kenny Rogers - "Love Or Something Like It" -  1978.
---
The 1978 Album, "Love Or Something Like It" was Kenny Rogers' fifth studio and #1 album released in July 1978: The album's title cut ("Love or Something Like It") also topped the charts.
"Love Or Something Like It" was sandwiched between two other great Kenny Rogers albums, "Every Time Two Fools Collide" released in January 1978 was a duet album with Dottie West. This was the duo's first album together after Rogers entered the country market earlier with his massive country-pop crossover hit "Lucille" in the spring of 1977, followed by a string of more big crossover hits.
West, though, was struggling to keep afloat as a country singer and needed help to bring her career back to where she was in the early part of the decade. Together, they recorded and released "Every Time TwoFools Collide" in 1978, and it was certified gold by the RIAA.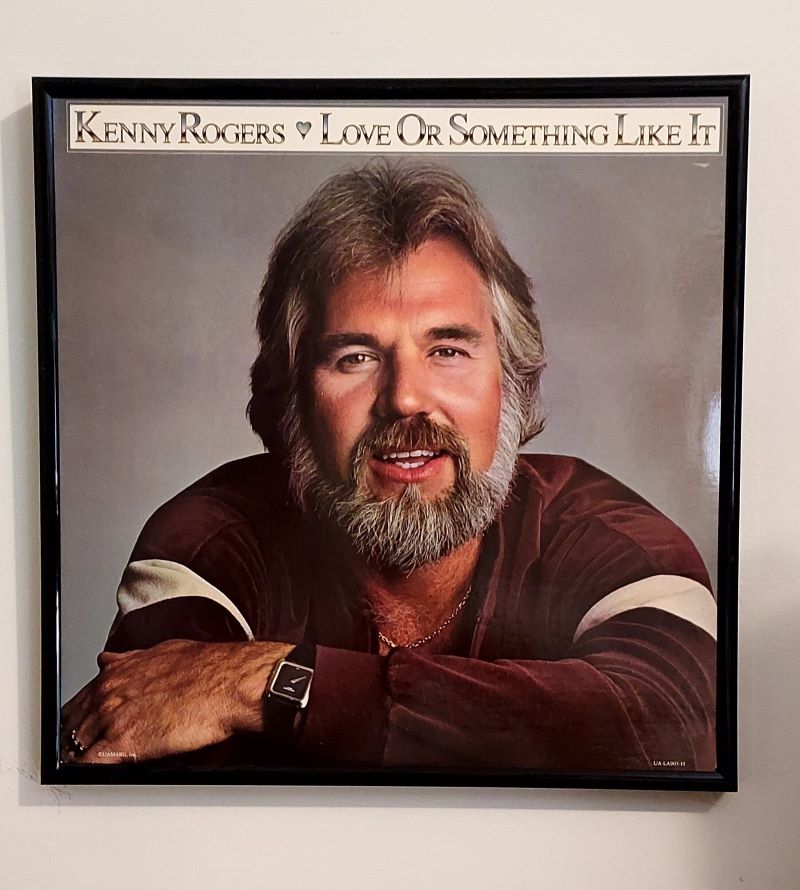 The Gambler, released by United Artists in November 1978 after "Love Or Something Like It" is the sixth studio album by Kenny Rogers. One of his most popular, it has established Rogers' status as one of the most successful artists of the 1970s and 1980s.
This 45 year old album is in excellent condition as is the vinyl record inside the album.  I have several Kenny Rogers albums and will begin to highlight more of his albums in our "Album Cover Art of The Month" series.

---
Elvis - "His Hand In Mine" - 1960

---
Church music and hymns made up the first music Elvis Presley ever heard. Church music was also the first music Elvis ever sang. Growing up in a small quiet town it was a place where families grow together in harmony and mutual kindness and where heartfelt religious belief lies at the center of life.
Elvis' first and only previous album of hymns - Peace In The Valley - was released in April of 1957 and greeted with tremendous enthusiasm. It confirmed the feeling of Presley fans that Elvis could sing almost anything with an astonishing sincerity and feeling.
This album cover is in excellent condition with a minor flaw at the top right corner. The vinyl record inside is in fair condition with noticeable scratches. The original record sleeve inside shows a catalog of previously released Elvis Albums. 

---
Ever thought of having your own website? I built Vinyl Record Memories "from scratch" with SoloBuildIt! Click below to find out more....

You might also like these stories...
Remember having your shirt collar turned up Elvis style on your multicolored pin-stripped shirt and your duck tail hair cut?  This 1959 original will once again put you on that memory train back to the fifties. Songs like "It Was I" were hits of the day back in 1959.

 Pink Shoe Laces was a pretty cool song. All these years I've wondered about that 12-foot yacht and a guy that would take a girl deep sea fishing in a submarine. Check out this cool lady in 1959 and again 40 years later in a live performance about a guy named Dooley.
"Only The Lonely" screamed hit from its first few bars. A team of vocalists, The Anita Kerr Singers, gently crooning "dum dum dum, dum-be-doo-wah" and other such syllables to an instantly memorable bittersweet melody, ending by singing the title phrase. A rare live performance. 
I hope you find time to visit more great stories about growing up in the 50s, 60s and 70s. You can start here.... 
Looking for that special song, artist, or group on this site?


What's Next?
We will begin to add some of our Kenny Rogers albums for our "Album Cover Art of The Month" feature. First up will be "Every Time Two Fools Collide" with Dottie West, a nice original of their 1978 gold album.
Ricky Nelson sings Rockabilly style with "That's All Right" (Mama) originally released in 1946 and covered by Elvis with his first release in 1954.
Top of Page