Skip and Flip Vinyl Memories

"It Was I" - Remember This Classic From 1959?

---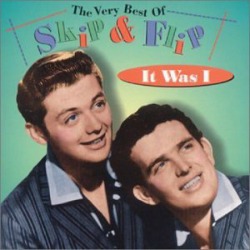 It was 1959 and this Skip and Flip vinyl memories classic, "It Was I," was all over AM radio.
Remember having your shirt collar turned up Elvis style on your multicolored pin-stripped shirt and your duck tail hair cut? 
This 1959 original will once again put you on that memory train back to the fifties.  Close your eyes and give it a few Na-na-na's and you'll soon find yourself hanging out with your cool friends at one of those Friday night school dances more than sixty years ago.  

Songs like "It Was I" by Skip and Flip were the classic sounds I grew up with back in 1959. 
Skip was Clyde Battin and Flip was Gary Paxton. Both met in college while attending the University of Arizona in the late 50s.

Paxton wrote "It Was I" and after their next song "Fancy Nancy" only charted at 71, they recorded a cover of an R&B hit single "Cherry Pie" that also made it to #11. 

This would be their last chart entry together.

---
Skip and Flip Vinyl Memories.
Doing Just Fine On Their Own.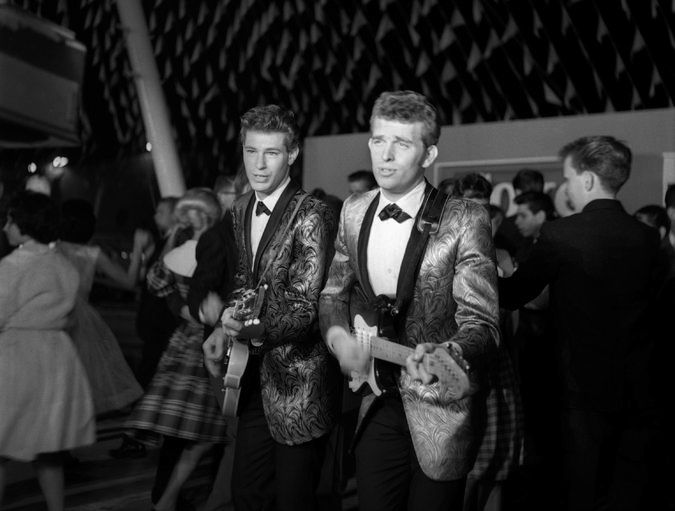 In 1960 you may remember the Hollywood Argyles, who topped the charts that year with the novelty song "Alley-Oop". 

Gary Paxton (Flip) was the lead singer on that song. I listened to that song all summer long that year and had no idea that Paxton was the same artist on one of the coolest songs in 1959, "It Was I." 

He went on to record for several labels using different names and in 1962 produced my favorite Halloween song under his own label, Garpax records.  The song, "Monster Mash" by Bobby "Boris" Pickett.

Gary Paxton is one amazing individual and has had a very interesting life.

It is written that he has worked for more than a thousand groups.  Brian Wilson was known to admire his talents, and Phil Spector to fear him. 
He has been shot three times by hit-men, went from drugs to religion and was inducted into the Country Gospel Music Hall of Fame in 1999.  Did I mention he was an interesting man?
Paxton died at his home in Branson, Missouri on July 17, 2016, at the age of 77 from complications of heart surgery and liver disease.

---
The Other Half Of This Talented Duo.
As a musician, Clyde (Skip) Battin is probably best known for his position as bass guitarist and songwriter with the The Byrds from 1970 to 1973.

Battin recorded for at least six different labels and played with New Riders of the Purple Sage and The Flying Burrito Brothers.

He also did session work with many different artists.

Skip Battin died in 2003 of complications from Alzheimer's disease in a care facility in Salem, Oregon. He was 69.

Enjoy this wonderful old song I enjoyed so much as a teenager in 1959.  

---
Skip and Flip
"It Was I"
Written by Gary S. Paxton
Recorded 1959 charted #11

You're tellin everybody I'm the one
To blame for all the wrong that you have done
The day that you walked out and left, didn't say goodbye
Who was home alone to sit and cry?
It was I, it was I........

I gave you all the love I ever had
The only things I got from you were bad
The times you didn't show up, the times you didn't call
Who was left alone through it all?
It was I, it was I........

My love was always yours to treasure and to hold
But when you let a love grow idle it will soon grow cold
Temptation is too strong to hide, are you really satisfied
With my love the way it is? Let me tell you how it is

Please come back and try to start anew
I know that it's the proper thing to do
Darling, if we make up I know well never break up
Then I know it's only me and you-ou-ou-ou
Me and you-ou-ou-ou-ou

(Fade out singing `Na-na-na` to the tune)


---
---
Ever thought of having your own website? I built Vinyl Record Memories "from scratch" with SoloBuildIt! Click below to find out more....

---
Return to Golden Oldies main page.