Vinyl Record Lovers Newsletter
The golden age of vinyl records and all things retro are the highlights of my Newsletter. Writing stories about my vinyl record memories with added content from my collection is my way of sharing memories and keeping the oldies alive.
I do hope that you enjoy these little stories, I write. They are short, they will not win any prizes for literature, but it's all about the music and our vinyl record memories.

We wish you lots of fun on this journey to the time of Drive-In Movies, Pizza Parlors, Malt Shops, and those memorable Friday & Saturday night school dances. 

Issue #118 - March, 2023
---
In This Issue:
Country Doo-Wop Spotlight Song - Remember This One?

Skeeter Davis Turns 50s Pop Song Into A Country Hit & Our Favorite Version.

Framed Album Cover Art of The Month - "If The Shoe Fits."
A Rock-n-Roll Timeline - The Year 1960.

You Might Like These Stories - More Vinyl Record Memories.

---
Vinyl Record Memories and
The Original Country Doo Wop Show.
---
Each month I give a little shout-out to my favorite radio program, Ned Ward's Country Doo-Wop show. My friend, Ned, airs his show from out Oregon way and if you tune in you just might hear Ned talk a little about Vinyl Record Memories. Listen in Monday thru Saturday from 1pm to 3pm, all times Pacific, on KNCP Newberry Mix 107.3 FM.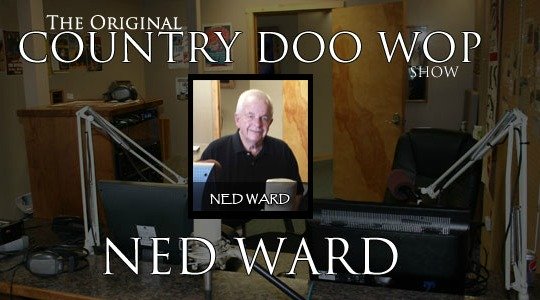 Let's get started...

---
Country Doo-Wop Spotlight Song!
"Coney Island Baby"

---
Coney Island Baby was a Top 20 Doo-wop hit made popular in 1962 by The Excellents, a group from the Bronx, NY. Classic cars on stage and Nathan's famous hotdogs take you back to those vinyl record memories when the early sixties and Coney Island was the perfect place to hang out and watch all the girls go by.
Best Cover Songs
(Where The Best Version Isn't Always The First Version.)
---
We've all been there. You hear a song, take it to heart and love it as your very own. And then comes the day you learn this special song you adore is actually something else, a remake or cover of the original recording.
I've come to realize that some songs do turn out better with a different artist and new arrangement, and have provided many examples on the Best Cover Songs pages.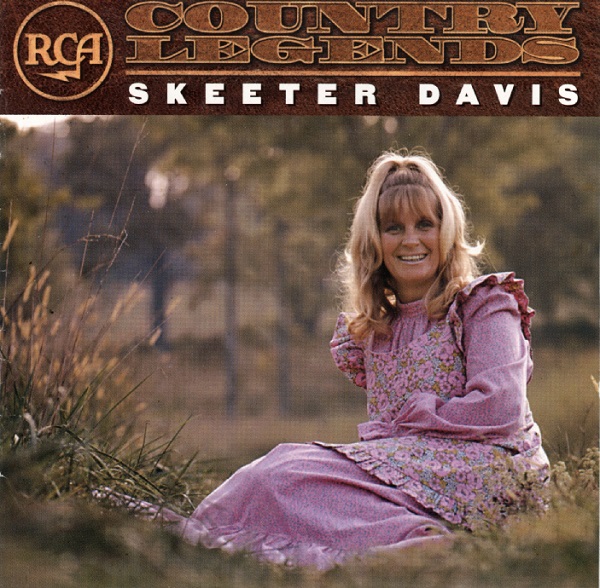 "Gonna Get Along Without You Now" was originally recorded by Teresa Brewer in 1952 and then by two sisters, Patience, and Prudence McIntyre nearly 70 years ago, in 1956. Their father was a musician and accompanied Frank Sinatra on the piano during the mid-'40s.
Patience was only 14, and Prudence was 11 when their version of the song reached #11 in the U.S. and #22 in England in 1956. There were other covers of the song, with Skeeter Davis doing our favorite cover in 1964. The Skeeter Davis cover reached #8 on the Country chart but managed only #48 on the pop chart. After you hear her version you may find it hard to believe it did not do better on the pop chart.

What makes this record so great? A simple melody is sung by two sisters in 1956, and again in 1964 by Davis with great orchestration, and above all, you hear each and every word. This is the kind of music that America at one time knew and understood.
In 1963, Skeeter Davis achieved her biggest success with the country-pop crossover hit "The End of the World" which became Davis's signature song. Purchased new, I still have the original vinyl RCA 45rpm record #47-0898 in my collection in excellent condition and no ring wear.

---
Betcha Didn't Know!

---
It's been 65 years since the novelty tune, "The All American Boy" was recorded in 1959 by Bobby Bare; however, his name was not on the record. The name on the record is Bill Parsons. How could that happen? Let me explain.

The music business, at the time, was new and fast-paced so incidents like this happened in addition to songs and lyrics being outright stolen from the original artist.
Bill Parsons was a friend of country singer Bobby Bare. Prior to entering the US Army, Bare agreed to help Parsons, who was just leaving the service, make a record.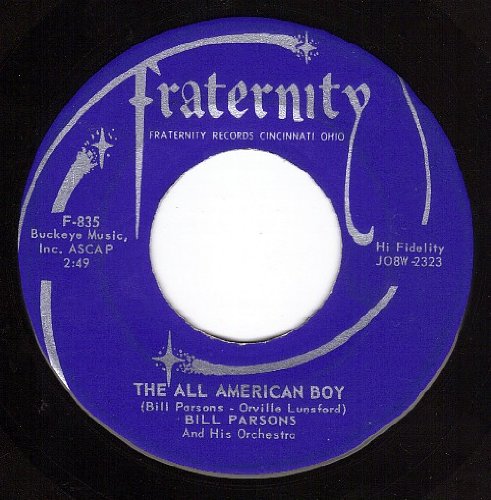 The song was recorded at King Studio in Cincinnati with Bare playing bass on the side that Parsons recorded.
Bare had recalled to Billboard magazine: We had about fifteen minutes. I said, "Let me put down this thing I've been working on. So I did." It was a talking blues song about Elvis going into the army. Bobby uses the name (Orville Lunsford - see 45rpm on the left above) because he had a contract with Capitol Records at the time.

That same day, they wanted to make a copy of it. Bare said the guy who was paying for it went to Fraternity Records to get an acetate made. Both King and Fraternity records were located in Cincinnati.

When they heard the two sides to the record they asked who was singing, and the guy told him Bill Parsons – which it was on the back side of that record. So, they put it out with Parsons name on both sides. It scared him to death. He didn't even know the song.
It rose to number 2 in the US pop charts as the real Bill Parsons stood on the sidelines watching. Bobby Bare was drafted by the army just before the song's release so Bill Parsons toured with the hit, lip-syncing to the record. As Bobby Bare had not yet gained any attention within country music, the deception was continued for one other single, which did not chart.
Bare then reverted to his true name and, beginning in 1962, launched a very successful country career, and is best know for the songs "Marie Laveau," "Detroit City," "Shame On Me," and "500 Miles Away from Home." As for the real Bill Parsons, he retired from the music business after recording two unsuccessful singles for Starday Records in 1960.

Framed Album Cover Art of The Month.
---
When writing about music, especially music that was recorded before you were born, you only have the luxury of listening as an outsider. It is the Album Cover Artwork that will be a constant reminder how good the music inside really is.
Musicians could escape the confines of the three-minute pop single and express themselves as never before with glorious artwork and adorning gatefold sleeves.
The Framed album cover art below features the cowboy character from a Norman Rockwell painting and was later used on the Pure Prairie Leagues' 1976 album titled, "If The Shoe Fits." This cowboy character shows up on nearly all of Pure Prairie League's album covers, and has been part of my collection for more than forty years.

From their beginnings in mid-60s Southern Ohio as a group of friends playing cover tunes to the present-day, Pure Prairie League continues to enhance the rich history of one of Country-Rock's pioneering forces for over 50 years.

As one reviewer wrote: "PPL's trademark sound combines sweet memories with edgy contemporary muscle. Their vocals are as strong as Kentucky moonshine and the musicianship and performance skills are as sharp as a straight-razor."
Please visit the Pure Prairie League website for tour dates, music and products.

---
A Rock-n-Roll Timeline

(When did Rock-n-Roll Begin)
---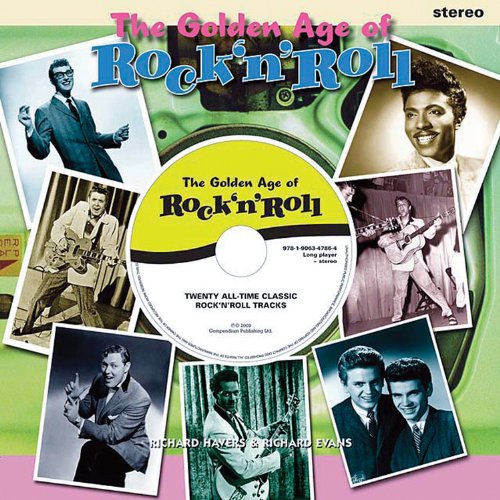 Excerpts from the book...The Golden Age of Rock-n-Roll.

This month we continue with our Rock-n-Roll Timeline and the year 1960.  The series will take us through 1962 with added entries in future newsletters. Stay tuned and subscribe to our newsletter so you don't miss a single timeline issue.
---
1960
March 2nd - Elvis appears on the Ed Sullivan Show following his release from the Army.
Twist is the biggest dance-craze in the year of the dance-crazes.
Sam Cooke signed with RCA Records in 1960, bringing his hits on Keen Records with him.
---
Ever thought of having your own website? I built Vinyl Record Memories "from scratch" with SoloBuildIt! Click below to find out more....

You might also like these stories...
This haunting ballad is about a plea from a heartbroken teenager trying to understand why her boyfriend is going out of his way to treat her unkindly. Read more...
Find out What Kinda Girl Rosanne Cash really is in this Rockabilly Session with Carl Perkins and Friends.

I hope you find the time to visit my other stories about growing up in the 50s, 60s and 70s. You can start here.... 
Looking for that special song, artist, or group on this site?

What's Next?
Another visit with DJ Ned Ward and the Country Doo-Wop show.
More original framed album cover art.

April will continue the "Rock'n'Roll Timeline" with special dates from the year 1961.